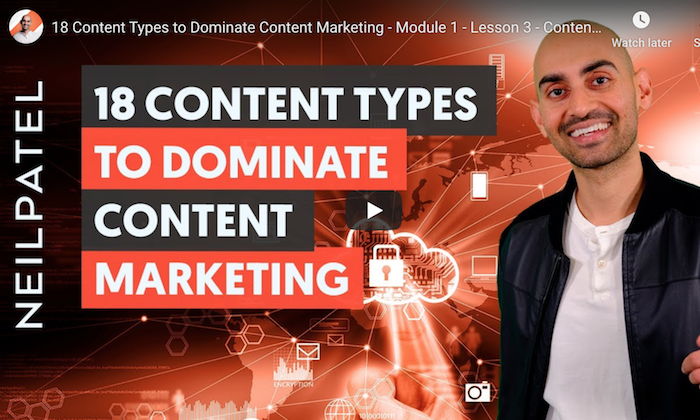 Blogging is so effective that there are over a billion blogs on the web.
Just think about that… that's roughly 1 blog for every 7 people.
Sure, we don't really need any more blogs, but people still create them because they can be such effective marketing channels.
And best of all, unlike social sites, the moment you create a blog that has an audience, you can continually reach them without having to worry about algorithm changes.
So, to help you with your content marketing efforts, I've created a free 4-week training course called Content Marketing Unlocked.
Introducing Content Marketing Unlocked
As I mentioned, over the next 4 weeks I am going to teach you all about content marketing.
Everything from the basics of content marketing and how it works to the advanced parts such as generating traffic and sales from blogging.
To get you started, make sure you watch the welcome video:
The welcome video breaks down what you'll learn over the next 4 weeks and, under the video, you'll find a goal worksheet and a course outline.
Then you'll learn about the history of content marketing:
In that lesson, you'll find 2 worksheets:
Content outline – this will show you how to outline and create content.
Content steps – this breaks down the steps you need to follow in order to write amazing content.
After you get the hang of writing content, you'll want to learn how to rank your older (existing) content on your site.
And in that lesson, you'll also get a list of tools that you should use and a master resource guide that'll help speed up the process.
From there I teach you about the different types of content you can leverage to get more traffic. Believe it or not, there are actually 18 types you should be using.
Over time I will continue to add more lessons, but I don't want to drown you in information by embedding all the lessons in this post.
So, what else will you learn?
The four lessons above are a great start, but there is much more to the content marketing course. This is what you can expect from Content Marketing Unlocked:
Week #1
Lesson #1: Getting Started
Course Introduction
Strategies You're Going to Learn
What Google Wants
Content Production Strategy Overview
Understanding the Algorithm & Updates
The Right Mindset
Lesson #2: History of Content Marketing
History of Content Marketing
Fact & Fiction About Content Marketing
Understanding Your Target Audience
How to Find Keywords That Will Make You Money
Refining Your Keyword Lists
Content Examples
Lesson #3: Optimizing Your Existing Content
How to Audit Your Existing Content
How to Optimize Your Content the Right Way
How to Re-Write Your Content So It Gets You Traffic
Step-by-Step On-Page Optimization Tactics
Content Templates to Rewrite Your Content
Week #2
Lesson #1: Major Content Types
Credibility & Trust Through Content
Types of Content
Blogs
Articles
Infographics
Videos / Visual Content
Podcasts / Radio Shows
Facebook Posts / Pages
Courses / Digital Classes / eBooks / Checklists
How-to Guides
SlideShare / PowerPoint / Webinars
Photographs / Graphics / Art
Instructional Guides
Magazines (Digital & Print)
Streaming Media (Periscope, Facebook Live, Snapchat)
Forums / Wikis / Groups / Resource Centers
Whitepapers / Case Studies
Memes (Twitter/Facebook)
Testimonials / Reviews
Content Templates for Different Content Types
Lesson #2: Pilar & Cluster Pages
Turn Your Keywords Into An Outline
How to Write Content That Gets You Traffic
Topical Clusters
Pillar Pages
Cluster Pages
Pillar & Cluster Templates
Lesson #3: Alternative Content Strategies
Building Authority Through Guest Posting
Content Production Tools
Plugins to Use
FAQ Schema
Live Case Studies, Market Data & Field Reports
Share Worthy Content
Content Outline Templates
Week #3
Lesson #1: Marketing Your Content
Site Structure
Theme & Topic
How to Rank Your Content Faster
Promote Your Content on a $0 Budget
Content Marketing Strategy
Content Promotion Workflow
Lesson #2: Link Building Tactics
What is Link Building?
External Link Building
Internal links
Your Link Profile
Advanced Linking and Off-Page Optimization Strategies
How to Build Links from Authority Sites
How to Launch Link Campaigns
Lesson #3: Tracking & Analytics
Setting Up Google Analytics / Google Tag Manager
Setting Up Google Search Console
Must Have Content Marketing Tools
Live Ranking Case Studies, Market Data & Field Reports
Determining KPI's
Budget Planning
Week #4
Lesson #1: Ranking 1 Long Term
You've Got Content & Links, What's Next?
Content Marketing in a Competitive Space
How to Get Started if You Are New & Have Little to No Budget
How to Scale if You Do Have a Budget
Build a Brand Long-Term
Lesson #2: Media Outlets
Getting on Huge Media Websites (Forbes, HuffPost, NYTimes, etc)
Guest Blogging
Podcasts
Social Media
Connecting with Influencers
Lesson #3: Omni-Channel Strategies
Going Omni-Channel
Back Office Infrastructure
Analyzing and Measuring Results
More Content Marketing Case Studies
Become A Great Content Marketer
Summary – How to Get the Most Out of This Course
How can I follow along?
You can go to the training section of this site as I keep all my courses there.
Every Monday, Thursday and Saturday I will be adding new lessons and content.
Each lesson is roughly 10 minutes in length and contains worksheets, templates, cheat sheets, checklists, spreadsheets, and more that will make your life easier.
In general, if you take the time to follow along each week and complete your homework assignments, it shouldn't take you more than two to three hours each week.
Some weeks will be less work, but because this course involves writing and promoting content, you will have to put in a little bit more effort than some of my other courses.
As a heads up, I won't be blogging about each lesson, so the easiest way to keep up is to subscribe to my YouTube channel.
Once you click the link above, you'll see a subscription box popup on YouTube. All you have to do is click the "SUBSCRIBE" button.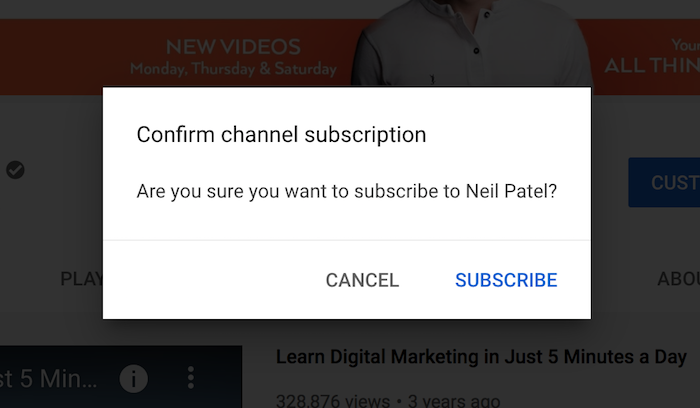 Once you click "Subscribe," you'll notice a bell image next to the subscribe button. Make sure you click that as well.

When you click on the bell, you'll be given a few options.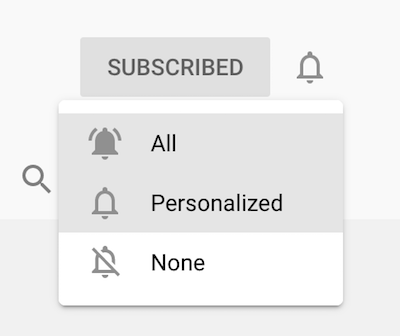 Click on the "All" option. Next to the "Subscribed" button, you should see a new bell notification:

This makes it so YouTube notifies you when I release a new Content Marketing Unlocked lesson.
Conclusion
I hope you enjoy Content Marketing Unlocked.
I created this course because content marketing is one of the best ways to market your business and compete with the large companies.
Best of all, you won't have to spend a dollar on marketing.
Let me know what you think about the course so far.
And also, what free course would you like me to create next?
The post Welcome to Content Marketing Unlocked: Your Free Blogging Course appeared first on Neil Patel.
Article link
There are over one million businesses that make up Shopify. We are lucky to have the chance to share their stories and inspire others to follow their passions and create change through commerce. Here, to offer some inspiration, we've compiled a list of 50 inspirational stores that are making a difference in different industries and communities.
Article link
Create your online shop now!
SiteGround has a formidable reputation in web hosting but recent price hikes have prompted some to look towards cheaper alternatives. With plans now starting at close to double in price, users might consider a range of options.
On one end, there may be a temptation to move towards cheaper hosting to reduce prices to manageable levels. However, there is also the consideration of moving towards more specialized categories of hosting at comparable prices.
Today we'll look at a mix of solutions made possible by SiteGround's increase in pricing. These include a mix of cheaper solutions, and a look towards VPS and Managed WordPress hosting as well.
Best Budget-friendly Options to SiteGround
1. Bluehost
Website: https://www.bluehost.com/
One of Bluehost's best features is its reliable and friendly customer support. With its speedy response through live chat and extensive knowledge base, Bluehost exceeds regular customer service expectations.
Why Bluehost A Budget Option to SiteGround?
Bluehost limits their most basic shared plan to 50GB of storage space, which is already pretty good. If you need more, simply moving up a tier will give you unmetered amounts. Site owners can also leverage on their web design and marketing services – for a fee.
More about Bluehost in our review.
Bluehost Pricing
Their starting price of only $2.95 in shared hosting is less than half the price of SiteGround's cheapest plan at the moment.
2. TMDHosting
Website: https://www.tmdhosting.com/
TMDHosting currently offers three shared hosting plan levels which are extremely well-priced. Starter, Business, and Professional plans all include a free domain name, unmetered storage and bandwidth, and more.
Why TMDHosting an Alternative to SiteGround?
The Starter – which is their cheapest plan, offers single CPU core use along with 1GB of RAM. While not a lot, it's still more than enough for low traffic volume sites to run reliably. The only main thing to note is that the cheapest plan doesn't allow add-on domains. 
Learn more in our TMDHosting review.
TMDHosting Pricing
TMDHosting shared hosting starts from $2.95/mo. The pricing is also now significantly lower than SiteGround. Reputation-wise, they also make a good alternative for those hoping to control cost.
3. GreenGeeks
Website: https://www.greengeeks.com/
One of GreenGeeks' biggest draws is that it's an environmentally responsible platform. Data centers consume a massive amount of energy and GreenGeeks pays that back to the environment in the form of renewable energy credits.
Why GreenGeek?
Surprisingly, this hasn't led to them increasing prices but in fact, making very affordable plans available to their users. For those who want to move to a green hosting company that offers a cost-effective solution – GreenGeeks is a good choice.
Read our comprehensive GreenGeeks review to find out more.
GreenGeeks Pricing
GreenGeeks shared hosting starts from $2.95/mo. For those looking for greater scalability though, do be aware that GreenGeeks is pretty much capped at high-end VPS plans.
4. Hostinger
Website: https://www.hostinger.com/
Hostinger is what I consider to be the king of budget hosting. Their entry-level, single-web hosting plan is quite limited but at 99 cents, offers a proposition in value. Still, if you're looking for more there is an upwards trajectory and you can move on the better solutions on the same platform.
Why Hostingr an Alternative to SiteGround?
They are also a fairly innovative host, coming up with a range of solutions like the Zyro website builder. Still new, this feature comes along for free. In fact, if you go for the website building package, you can even host a starter site for free on their Zyro platform.
Learn more from our Hostinger review.
Hostinger Pricing
With entry price from $0.99/mo, users who need highly cost-effective yet scalable plans can find a good home with Hostinger. Perhaps not on the same performance scale as SiteGround, but still good and at a fraction of the price.
---
VPS Hosting Alternatives to SiteGround
Now that SiteGround plans start at $6.99/mo, there are even some VPS plans that you can look towards that are even cheaper, or at the very least, more cost effective for similar pricing. Possible options include:
5. ScalaHosting
Website: https://www.scalahosting.com/
ScalaHosting's pricing structure is simple – there are three plans available for both shared and VPS hosting, with advanced plans including better resources and more features. The price of shared plans is pretty much in line with the industry average but VPS hosting here is impressive.
Why ScalaHosting VPS?
The key imperative for looking at Scala VPS is their innovative take on cPanel. As the prices of licensing for that increased, ScalaHosting came up with their own SPanel alternative. This has made them the go-to choice for those seeking to escape the cPanel trap.
Read our in-depth ScalaHosting review to find out more.
ScalaHosting Pricing
ScalaHosting's Managed Cloud VPS plans start at $9.95/mo – just a few dollars over what SiteGround wants for shared hosting. This makes them an interesting migration choice for those who are considering upgrading plans anyway.
6. Interserver
Website: https://www.interserver.net/
Interserver has over 19 years of experience in the web hosting business. It offers everything from shared hosting to reseller plans. Their VPS plans are interesting because they start at the remarkably low price of $6/mo.
Why Interserver an Alternative to SiteGround?
Of course, at that price you can't expect all the bells and whistles but the cheapest Mercedes is still a solid car. Having said that, the price is still lower than what SiteGround now charges for their entry-level shared hosting plan.
Find out more from our Interserver review.
Interserver Pricing
Interserver VPS starts from $6/mo. If you move on to Interserver from SiteGround, you're essentially getting an upgrade for a lower price. Managing the VPS environment may be a bit of a challenge for newbies, but you'll have to learn eventually, right?
7. InMotion Hosting
Website: https://www.inmotionhosting.com/
InMotion is another host with a solid reputation but in their case, we mostly look towards the breathtaking scope of plans available. Even if you don't take into consideration what else is available, VPS here is simply stunning.
Why InMotion VPS?
At the lowest end you get unmanaged VPS for just $5/mo. That stretches to managed VPS plans that seem more like dedicated servers. In any case, what I'm trying to say is that this is yet another example of how low a buy-in you can get with VPS.
Learn more from our review of InMotion Hosting.
InMotion Hosting Pricing
Even better is that there is a clear scalability of resources within VPS itself that you can look towards here. InMotion VPS starts from $5/mo.
---
Options in Managed WordPress Hosting
If you're running WordPress, you might also consider moving to a host that offers dedicated environments for this. Admittedly, the choices in this range are significantly higher, but you will benefit from everything ranging from high performance to specialized support for WordPress.
8. WP Engine
Website: https://wpengine.com/
WP Engine starts at $25/mo which is still significantly higher than SiteGround's new shared hosting prices – close to triple in fact. However they are also a stalwart when it comes to WordPress hosting, supporting more than 120,000 customers in 140 countries.
Why WP Engine?
For those who are getting serious about their WordPress sites and want to grow their volume, WP Engine offers high-performance hosting environments. These are specifically optimized for WordPress websites right down to the support team level.
Here's the in-depth review of WP Engine.
WP Engine Pricing
WP Engine is a strong contender for anyone who needs more than what regular shared hosting web hosts can deliver. Their Managed Cloud WordPress plan starts from $25/mo.
9. Kinsta
Website: https://kinsta.com/
When it comes to Managed Cloud WordPress providers, Kinsta is an easily recognized brand. With them you get access to a ton of great features such as automatic website backups, security monitoring, and an easy-to-use staging environment.
Why Kinsta?
More importantly, their support staff are extremely helpful and especially trained in WordPress to offer what is likely to be the best dedicated support money can buy. This comes at a cost and Kinsta is significantly more expensive than SiteGround shared hosting.
Read our comprehensive review of Kinsta.
Kinsta Pricing
However, if you are looking for dedication to WordPress, powerful performance, and aren't afraid to splurge on it – Kinsta is the way to go.
Kinsta Managed Cloud WordPress plan starts from $30/mo
10. FlyWheel
Website: https://getflywheel.com/
Flywheel makes it easy to build a website from the ground up through its free demo sites and one-click staging features, which could be highly valuable for beginners. Overall, they deliver the speed and other mechanics needed to keep WordPress sites running smoothly.
Why FlyWheel?
Considering them as an alternative to SiteGround, there are two points of focus I'd call attention to. The first is pricing – although FlyWheel starts at almost double the entry level plan on SiteGround, this is a dedicated and specialized environment, not shared hosting.
Secondly, FlyWheel has interesting features for freelancers and developers. They offer a client billing transfer function that you can use to easily build then move everything with to your own clients.
FlyWheel Pricing
FlyWheel Managed WordPress Hosting plan starts from $11.25/mo.
---
Conclusion: Is SiteGround Still the Right Choice?
As you can see from this list, SiteGround's new pricing has put it in the crosshairs of many competitors. Users now have lots more to think about when considering them as a host. At the lower end, there are many cheaper options.
Alternatively, the move towards a better category of hosting (VPS or Managed WordPress) doesn't seem to be priced as far away as it used to be. Still, at the end of the day, reliability matters and SiteGround remains well anchored.
For those who want to look for alternatives, there are many. If you're adventurous and want to try something new – go for it. My advice as always is not to simply look at price, but to carefully assess your own needs as well.
The post 10 Cheaper Alternatives to SiteGround Hosting appeared first on WHSR.
Article link
Find out how SEMrush Authority Score may help you to get better at your link building efforts when looking for quality domains, and improving your own website's authority.
Article link
Looking to scale your content production? Then you'll need guidelines to keep your content consistently on-brand. Learn how to create a style guide here.
The post Content Guidelines: Why Your Brand Needs a Style Guide via @annaleacrowe appeared first on Search Engine Journal.
Article link
Table of Contents
Facts you must know before deciding to dropship or buy wholesale
What is the meaning of dropshipping?
What is the meaning of wholesale?
Why is making a comparison between dropshipping or wholesale so important? If you want to triumph in the eCommerce industry, establishing the type of your online business model is mandatory. This step will determine whether you are going to boost your profits straight away or struggle throughout the process.
To define your business model, firstly, you need to research and understand which are the methods for selling goods online. Later, you will need to measure their pros, cons, and challenges.
The two most popular options to choose from are dropshipping or wholesale. Across the communities and forums, there is an ongoing debate about which method is better and more profitable.
The reality is subjective. You can't relate to every owner of an eCommerce business out there. Each one has its own specific approach and, therefore, can argue for its own unique experiences. You mustn't strictly rely on others' opinions as every business story is fundamentally different compared to another.
Both dropshipping and wholesale have their advantages and disadvantages, so you need to figure out which method is the most appropriate and applicable to your business idea. In the end, many factors need to be taken into consideration before deciding which approach is the best for you.
We will start by explaining both methods with a simple dictionary definition.
---
What is the meaning of dropshipping?
As the Google dictionary indicates: "Dropship is providing goods by direct delivery from the manufacturer to the retailer or customer".
---
What is the meaning of wholesale?
On the other hand, as stated in the Google dictionary: "Wholesale is the business of selling of goods in large quantities and at low prices, typically to be sold on by retailers at a profit".
Now, let's explore the concepts more in detail and examine the advantages and disadvantages they bring.
---
How does dropshipping work?
The process of dropshipping involves selling goods online without having to stock them yourself. For this method, the chain is the following – your customer places an order through your online store that is automatically forwarded to your dropshipping supplier who packs and ships the package directly to the customer. More specifically, you don't own stock or an inventory, but the products are shipped directly from your supplier's warehouse. Where is your profit from dropshipping?
The difference in the retail price that your customer pays and the price you pay to your supplier is your actual profit.
---
The pros of dropshipping
Low startup costs
The first positive thing for starting a dropshipping business is that you don't need a large amount of capital to launch and manage the online store. Give or take, the costs for starting a business include buying a domain name and setting up an online store with some of the available eCommerce platforms with a monthly subscription. After this step is completed, finding a dropshipping supplier and purchasing some of its products to test their service and quality is the next step. In the end, after you complete the previous steps, you will need to invest in marketing. To summarize, even if you don't have a successful start, you won't have to worry because you won't spend much money on setting up the store.
Zero inventory costs
When opening a traditional online store, the management of a physical inventory is a must. This comes with additional costs for proper organization and management. But this is not the case with a dropshipping store. In the dropshipping business, you don't need to own an inventory which saves a great deal of money, time, and energy. As a dropshipper, you won't have to store the products you sell ever – your supplier will handle that.
Higher security
You can't crash and burn in the dropshipping industry. You can even open an online store as a trial run to see which products are in demand. If you experiment with selling a certain product and don't have much success, you can always shift to another one. Even in this situation, you won't risk losing money because you won't have to invest in stock in the first place. With dropshipping, you can always test selling different kinds of products with no risk.
---
The cons of dropshipping
Dense competition
Since dropshipping doesn't require a large investment and is simple to set up, the market is quite competitive. Many online entrepreneurs decide to try their hand at dropshipping. It is a low-risk and safe business option that most newbies in the eCommerce sector pursue. Thereby, the industry is even more popular, and the competition is becoming very strong. This could put up quite a challenge when deciding which products to sell. So, you will need to perform competitor research to see who you would go up against.
Non-reliable dropshipping suppliers
Another downside in dropshipping could be picking up the wrong supplier for your store. Today, there are hundreds of thousands of suppliers that offer a myriad of products. You need to detect the most reliable suppliers and test their products yourself to check if what you see is what you get. Also, look for platforms with reviews for suppliers to see if they are trustworthy. You don't want to wind up with a supplier that will send damaged goods, or low-quality products to your customers.
Lower profit margins
If you make the choice to go with dropshipping, you won't be able to enjoy the perks of bulk pricing. You will have to pay a larger price for each product you sell as compared to buying in bulk. This will eventually result in lower profit; however, there are some solutions to this hazard. For example, you can contribute by setting up higher prices for your products or negotiate a better deal with your supplier. In the end, if your business takes off well and you sell great quantities of products, you won't be dealing with the problem of less profit.
---
How does wholesale work?
Buying wholesale involves buying merchandise in bulk and stocking them in your own inventory. More precisely, with dropshipping, you pay for your supplier's goods only if and when your customer places an order. On the other hand, when buying in wholesale, you purchase goods in bulk from a wholesale supplier. Once bought, you are the owner of these products, which you store in your own storage space, pack, and ship after an order has been made.
---
The pros of buying wholesale
Bigger profit margins
It stands to reason that if you buy wholesale, you will get products at lower prices, which will be a fair deal for your brand new store. Besides, later on, you will put retail prices on the products you have bought, which will lead to a bigger profit for each sale. In addition, when teaming up with a wholesaler and buying larger quantities of products, dropshippers get many other benefits, including special discounts.
More control
As compared to dropshipping, where you don't have control over your supplier's operations, when buying wholesale, you control your business processes. If you have a dropshipping supplier, you can never be one hundred percent sure that he will deliver premium services at all times. Due to this, buying wholesale is a better option for those who want to have total control of their services.
---
The cons of buying wholesale
Lower security
With wholesale buying, the threat of losing money is much probable. With dropshipping, you can test products practically for free to see if they sell well. On the other hand, if your store is based on bulk purchasing, you could risk losing money in case your products are not purchased. With wholesale, you could invest a lot in equipping your store with a large collection of products and don't get the expected results. However, if you have significant capital, you can always proceed with this and see what happens.
Inventory costs
In contrast with dropshipping, buying wholesale goes hand in hand with inventory management. Purchasing larger quantities of goods requires a warehouse or a storage space, depending on your needs. Managing an inventory is a rather complex and costly activity. You will have to prepare yourself to invest money, time, and energy in running up well-organized storage space. In accordance with your store's demands, you may have to hire more people or implement software for automation of your operations.
Finally, just like in every industry, in the eCommerce as well, you should always measure the pros and cons. Based on your needs, requirements, resources, and preferences, you can make the best choice. Dropshipping or wholesale – whichever your decision might be, go for it and do your best to build and grow a successful business.
Focus Keyword: 
The post Facts You Must Know Before Deciding To Dropship Or Buy Wholesale appeared first on BrandsGateway.
Article link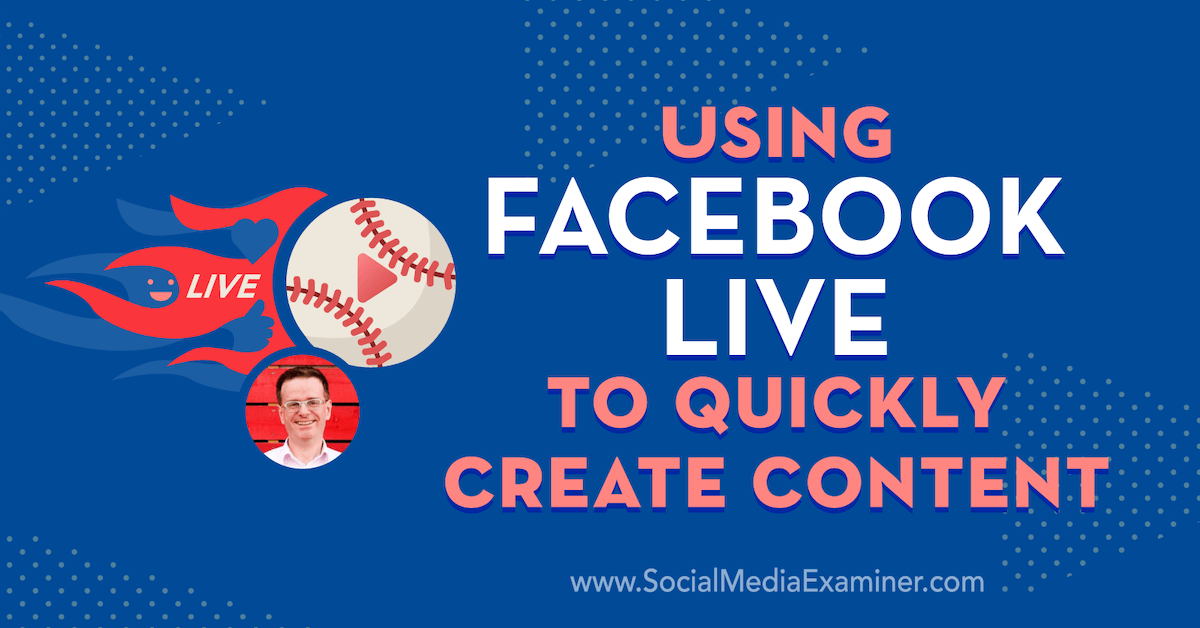 Need to create more content but don't have a lot of time? Have you considered using Facebook Live to speed up your content creation process? To explore how to use Facebook Live to quickly create content, I interview Ian Anderson Gray on the Social Media Marketing Podcast. Ian is a live video expert. He's host […]
The post Using Facebook Live to Quickly Create Content appeared first on Social Media Examiner | Social Media Marketing.
Article link
Creating a great shopping experience online isn't just about features—it's also about speed. That's why we built a new report to help improve awareness of your Shopify store's speed and measure it against businesses like yours.
Article link
Create your online shop now!
Did you know that less than 3% of people who visit your website or landing page for the first time will buy from you?
But, when you build a connection with your audience and learn what interests them, you can send them emails with personalized content that cater to their needs and interests.
Imagine how your business could grow if you were able to communicate with your subscribers about what they found interesting on your website.
What if you could even trigger an automated, personalized message if an item was left in their shopping cart but never purchased?
Well, now you can when you use AWeber's Page Hit Automation feature to track webpage visitors.
The best part is you don't even need a website to start using AWeber's Page Hit Automation. The AWeber Landing Page Builder automatically includes everything you need to get started.
How Can Your Web Traffic be Monetized?
Webpage tracking with AWeber's Page Hit Automation lets you tag email subscribers who visit certain website pages or landing pages after clicking on a link in your email.
For instance, let's say you send your subscribers a link to your website. If a subscriber links the link to your website, but then navigates to a page to check out the products you're selling, you can apply a web tag which could indicate that subscriber as "interested" since they expressed interest in your products by hitting that web page.
Pretty neat, right?
Here's how it works: all you have to do is add a piece of javascript code on your website to gather data. The javascript is invisible to subscribers who visit your website page.
Don't worry, adding javascript code to your website is not complicated at all.
AWeber has step-by-step instructions and our Customer Solutions team is always there to help 24/7 by phone, chat, or email if you get stuck.
Plus, if you use AWeber Landing Pages, enabling Page Hit Automation is even easier.
"All AWeber Landing Pages come automatically equipped with the requisite javascript to tag subscribers on page hit, so you don't even need a website to use it. That means, without even having a website, you can use Page Hit Automation to start campaigns, stop campaigns, and add/remove subscribers from your dynamic segments," says Chris Fox, AWeber Junior Product Manager.
Once the javascript is in place, you can add web tags for event tracking or behavior tracking on your website or AWeber landing page. And then begin monetizing your web traffic.
When a visitor takes a specific action, a tag is generated and automatically added to that individual's contact information in your AWeber account.
4 ways to use web tracking to increase sales
Here are 4 of the most common ways AWeber's customers are using website visitor tracking with our Page Hit Automation to monetize their web traffic.
Track subscribers' on-site action using tags
Website visitor tracking helps you learn how many subscribers return to your website or AWeber landing page, and what they click, abandon in their cart, or purchase.
How users interact with your website or landing page helps you define your marketing campaign's goals. Do you want to set up a campaign to grow your email list, generate leads for a webinar, boost sales for a particular product, or test a lead magnet?
Or, you may want to send a welcome message to a first time subscriber and visitor. If you know they have an interest in a particular service, product, or piece of content, a tailored message can go a long way to convince them to buy.
Create dynamic segments based on tags
You can use webpage tags to create dynamic subscriber segments. When you set up a dynamic segment, it eliminates the need to manually set search criteria every time you send an email to a particular audience segment. Dynamic segments instantly add new subscribers with the same search criteria.
For example, you may set up a segment to automatically add any subscriber (new or existing) that purchases a particular product or clicked on a specific link on your website or AWeber landing page.
That segment is perfect for sending relevant and personalized content to help drive more sales and build a more intimate and impactful relationship with that subscriber.
Trigger automated email campaigns based on on-site actions
A great example of a customer successfully using this technique is James Maher Photography.
Maher sends subscribers an automated campaign based on the content they downloaded from his site. Maher sends all visitors who downloaded a particular piece of content an in-depth automated email to share information and tips, build relationships with new subscribers, and promote paid products.
Maher only has to set up the automated campaign once and then AWeber handles the rest.
Trigger Cart Abandonment campaigns using Web Tracking
Have you ever visited a website, put an item in your cart but decided to hold off purchasing, and later that day received an email from the company, reminding you of the item you purchased (and it may even include a code for a discount to purchase)? That company monetizes their web traffic using technology similar to AWeber's Page Hit Automation to track your behavior and send you relevant information.
There's tangible value to setting up an automated campaign for cart abandonment, too. Nearly half of all cart abandonment emails are opened, and over a third of those clicks lead to a purchase back on site.
AWeber even has a prebuilt abandoned cart message that you can easily automate when a cart abandonment tag is added to your subscribers' contact information.
"My favorite use of Page Hit Automation is when people connect it to an Abandoned Cart flow. If a user never reaches the receipt page and they left an item in a cart, an Abandoned cart tag triggers a campaign message to be sent in a few hours later, urging them to return and complete the purchase," says Fox.
4 Reasons why you should use AWeber's Web Tracking Tool
You want to wow your subscribers by sending them the perfect message at the ideal time!
One size fits all, generic emails are not going to cut it in today's personalized world. Your subscribers and customers want to feel appreciated and valued. With the data from Page Hit Automation, AWeber's marketing automation allows you to deliver the perfect message to the right people.
Understand your customer's journey to move a passive prospect to an engaged customer.
"Page Hit Automation provides a deep level of insight into how users are interacting with your content beyond email. It ties together how your email performance is connected with your website or AWeber landing page performance. It helps you understand how effective your entire sales funnel is and where you may have room for improvement," says Fox.
Understand what content interests a subscriber so you can send more relevant emails to move them closer to a purchase.
You will start to see strong preferences and trends to identify if you need to provide more content on your website to answer questions and how you may want to bucket subscribers to send more personalized and relevant content.
Identify your best prospects
Page Hit automation makes it easy to track website visitors who made it to your product pages or shopping cart but never hit the receipt page. With Campaigns, you can send them an automated cart abandonment email or win-back email to drive your audience back to the cart. Track how the campaign message performs, and if they don't bite, maybe you need to sweeten the deal with a discount coupon. AWeber drag-and-drop email builder includes an easy to use coupon element and prebuilt templates that already include the coupon element.
How to set up Website Visitor Tracking
If you are using one of AWeber's landing pages, you can skip to the video below, since the javascript tracking code is already part of the landing page.
If you have a website, you need to set up your website domain in AWeber's Email Web Analytics.
By adding a short snippet of code to your website, you can also track the pages you want. AWeber includes easy to follow, step-by-step instructions on how to install Email Web Analytics. Once you add AWeber's Email Web Analytics to your webpage, follow the video below to set up your Page Hit Automations.
Set up your Page Hit Automations
Go to the List Options tab on your AWeber dashboard and click "List Automation."
Return to the AWeber List Automation page and click "Add Automation" to apply tags to a Page Hit.
You can either put in a URL that is an exact match or use 'contains' to track multiple pages on a given website
Next, select the action and result. You can only choose "Page Hit" and "Add/Remove Tag."
Input any tags that you would like to add to your subscribers when they visit this page.
Input any tags that you would like to remove from your subscribers. Once complete, click "Save."
Click save
After you save, you will see your automation rule under the "Page Hit Automations" section.
Select the campaign you want to automate.
Click "Replace trigger", and select tag applied.
Enter the Page Hit Automation tag that will now trigger this campaign in the "Tag Applied" box on the left.
Now your automated campaigns are set up to trigger when a page hit automation tag is added to any of your subscriber's contact information.
Start Monetizing Your Visitors today with AWeber's Page Hit Automation!
Does Page Hit Automation sound too good to be true? It gets even better. Page Hit Automation is available at no extra charge with an AWeber Pro subscription. Upgrade your AWeber Free account to unlock this feature, or contact AWeber's Customer Solutions team to help you move to AWeber Pro.
Whether you're starting a new business, need to grow your audience, or you run an established e-commerce business, AWeber provides a powerfully-simple email marketing solution for any small business.
AWeber's email marketing platform includes unlimited landing pages with every plan, unlimited emails, email automation, sign up forms, and email analytics.
Start for free and quickly grow your business with powerfully-simple email marketing from AWeber.
The post Monetizing Your Web Traffic Has Never Been Easier appeared first on AWeber.
Article link
Try AWeber's Autoresponders for Free
Start your FREE Email Marketing Trial Today!
There's a lot that goes into managing your website. You can carry out many of the tasks necessary to keep your installation running smoothly from an admin dashboard, but there are some situations where you'll need to access your server directly. By choosing cPanel hosting, you get one of the most comprehensive and user-friendly server control panels on the market.
Article link