It has been over four decades since China opened up its economy. Over that period of time, the nation has spread its wings over everything from oil exploration to technology. At the same time however, it maintains a very secretive hold over its own citizenry.
If there was ever a country where Virtual Private Networks (VPNs) are needed, it is China. Sadly the country knows this and has moved both openly and silently to solidify its hold over the Internet.
Legal Status of VPNs in China
Although there is no specific law against VPNs, China's policies on the Internet are crouched in terms that give it a wide scope of powers. As an example of it, we first examined a small segment of a white paper released by the Chinese government in 2010.
Since then the country has solidified regulations into what it calls the Cyber Security Law (CSL), effective June 2017. Both documents are extremely long and particularly vague (in context of Internet terminology).
However, we can relate some of the content with incidents that have happened in the country for VPN service providers. For example, the case of the Guangdong man who was fined $164 for using a non-approved VPNs service.
In the case of VPN service providers, the fines get heftier and another man who sold VPN services in China was fined $72,790 and sentenced to a five and a half year jail term. It is interesting that the fine is equivalent to almost an exact RMB 500,000, the maximum allowable fine (when paired with jail time) as stipulated under Article 63 of the CSL.
Increased Crackdown on Non-approved VPN Providers
Since then the country has stepped up efforts to wipe out VPN use in the country. To date, we have noted that a number of service providers including IPVanish openly state that their services no longer work in the country.
In more recent times, the country has leveraged on the Coronavirus pandemic to crack down on VPNs even more. Users in the country have been noting that even top VPN brands have stopped working during this period.
The Result: Crowding Towards Chinese Owned VPNs
The main issue with VPNs from my standpoint is that while users understand basically what they do, a failure to understand the finer implications of each service can result in consequences. For example, failing to learn the roots of a service provider.
Avoid China-owned VPNs
Reports have emerged that roughly 30% of the top VPN brands in the world are owned or associated with the Chinese government. If this were the case, the central government could simply order them to hand over user logs whenever necessary.
As an example of China-influenced VPN services, the mainland registered company "Innovative Connecting" alone owns subsidiaries which develop and market VPN apps. These include Autumn Breeze 2018, Lemon Cove and All Connected.
It should be noted however that this situation is not unique to China and happens around the world. Which brings me to the next point;
VPN Jurisdiction Matters
Aside from the obvious question of ownership, where a VPN is registered matters. Each country has its own laws and regulations. An ideal location for a VPN service provider would be a place that has a combination of tight privacy regulations and lax data retention laws.
Examples of these would be ExpressVPN's British Virgin Island registration or NordVPN in Panama. The reason why is that should any country decide to try and prosecure a VPN user, those based in free jurisdiction zones can simply snub the 'requests for information'.
In contrast with this, I bring to mind the case of IPVanish which shot to notoriety a few years back when it tamely handed over user logs on request of the US Department of Homeland Security.
And it is not alone. It joins others who have also done so, including HideMyAss and PureVPN, among top names noted.
Safe VPNs That Still Work in China
With the harsh crackdown on VPN service providers in China, there are few options for users to turn to. Tentatively, I have begun covert investigations into several VPNs that can still operate despite China's restrictive Great Firewall.
At the moment, I've only found two which can work (more or less) reliably within the country – ExpressVPN and NordVPN.
1. ExpressVPN
ExpressVPN as I mentioned earlier is based in the British Virgin Islands and has a global network of over 3,000 servers. These are spread across 160 locations so there is a much higher chance of line stability and reliability.
More importantly, regular tests with ExpressVPN from within the Country suggest that ExpressVPN is one of the remaining key players which allow unrestricted Internet access to China-based users.
For those who subscribe to their annual plan, prices drop to $6.67/mo – thanks to an exclusive deal we got from the company. While not the cheapest around, we have monitored this service provider for some time now and find it to be the most reliable option.
More details in our ExpressVPN review.
2. NordVPN
NordVPN on the other hand is a highly aggressive player in the market. They are not afraid of innovating and have in fact hopped on the WireGuard protocol already. To make up for its experimental status, NordVPN has even modified it into what they call NordLynx.
Still, this option gives you access to a massive network of over 5,500 servers globally. It is extremely user friendly and intuitive to use, no matter where you are in the world. NordVPN is also priced aggressively and a 3-year plan will only set you back $3.49/mo.
Learn more about NordVPN in Timothy's review.
Beware of Free VPNs
As the hedging implies, free in the context of a VPN service is usually dangerous. Keep in mind though, that there are 100% free VPN services, and those which offer a freemium model.
The first option is where the danger really lies. VPN services require a massive investment in hardware, software, and expertise. Companies that are giving it away have to earn money somehow and the only thing that it has is access to your data.
Even if these free VPNs are not selling your data, at the very least they are earning from advertisements – which kind of defeats the purpose of a VPN since those ads will likely be tracking you as you use the service.
Final Thoughts
While the case of China and its crackdowns on VPN service providers may be the most impactful we've seen, they are not alone in trying to prevent free access to the Internet. VPNs survive because more countries around the world are trying to censor what should be free.
Can you imagine, living in a country like China that blocks access to something as basic as Google? Or even in the US, where the government freely decides that it can seize any information it likes from any company operating there?
The right to digital freedom and our personal privacy on the Internet should be inviolate. This is why choosing the right VPN service to partner with is such an important choice. It goes far beyond the desire to access multi-region content on Netflix.
The post Beware: Not All VPN that Works in China are the Same appeared first on WHSR.
Article link
Learn how to find post ideas with a strategic and data-led approach that will drive organic traffic to your business blog. From creating topic lists with clusters and performing keyword research for individual article ideas, you will learn how to craft an effective content plan for your blog in this guide.
Article link
Finding yourself without a choice and having to work from home? It gets easier. All you need is determination and these tricks and strategies.
The post 10 Ways to Minimize Distractions & Still Get Work Done via @JuliaEMcCoy appeared first on Search Engine Journal.
Article link
If you run an online store, putting some of your profits towards tax-deductible business expenses can help your business grow and give you a break come tax season.
Even day-to-day expenses—car trips to the post office, or the electricity bill for your home office—could be saving you money, so long as they're recorded and reported.
Read on to learn about the write-offs you may be missing, and some ideas on how to use them as a means to reinvest in your ecommerce business.
Article link
Create your online shop now!
Table of Contents
The 10 Best Dropshipping Suppliers In South Africa
The South African e-commerce landscape
The South African online shopper
Online shopper characteristics
Shopify for the South African dropshipping market
South African consumers' payment habits
Dropshipping Suppliers in South Africa
With a population well into the 1 billion mark and a median age of 19.7 years, based on the latest United Nations estimates (May 14, 2020), Africa is the world's youngest continent. For instance, add to this factor the e-commerce revolution seen in recent years, and what do you get? A young continent with a huge opportunity for boosting profits.
Many African countries are deemed by many industry experts a great opportunity for starting an e-commerce business. The e-commerce landscape in South Africa is certainly growing at a fast pace. As a result, young entrepreneurs are seeing the potential of the popular e-commerce business model – dropshipping.
Online shopping habits
The territory of the African continent has seen rapid mobile and internet advances. This contributes to the fact that the young population is more and more inclined to shop online. For example, it is a known fact that young people in African countries, including South Africa, prefer making purchases via mobile phones. This, because the majority of them don't have access to banking accounts. In fact, in 2019, 62% of South African online shoppers purchased something from an overseas retailer, compared to 43% in 2018.
The trend for online shopping with credit cards and via mobile devices is steadily increasing, and it is the reason why more and more types of payment methods are introduced in Africa. Dropshipping in South Africa seems to be considered a gamechanger. Therefore, if you are looking to explore the potential in the South African e-commerce landscape, first you need to learn the country's characteristics and its 59 million consumers' habits. Only then you can proceed with finding the best dropshipping suppliers in South Africa.
The South African e-commerce landscape
According to a study published on Statista, the numbers for e-commerce penetration in South Africa are rather amazing. For example, there were 30 million e-commerce users in 2019, 52% e-commerce penetration, and 63% Internet penetration. Most importantly, dropshippers know that there are many possibilities to test out new products into this market.
The South African online shopper
Online shopper characteristics
The number of e-commerce users is expected to grow by 24% to 38 million users in South Africa until 2023;
35% of South African online shoppers have a high household income.
Online behavior
South Africa ranks 40th regarding e-commerce penetration: 52% of the population shop online.
Shopping preferences
According to Bizcommunity, the three most popular online shopping categories for South African consumers who shop online are clothing with 53%, entertainment/education with 51%, and event tickets with 51%. Additionally, among the popular categories for online shopping in South Africa are electronics and media, as well as furniture and appliances.
Shopify for the South African dropshipping market
The world's leading e-commerce platform, Shopify, has teamed up with leading South African payment providers to support setting up and running an online store. This comes as an indispensable element for achieving success in the dropshipping business, as the most popular payment methods used for e-commerce, PayPal, is still considered inconvenient by many South Africans.
South African consumers' payment habits
According to Statista, as of January 2020, it was found that 41% of e-commerce transactions in South Africa were completed by using a credit card. However, only 13% of South African adults above 15 years possess a credit card, which imposes the need for additional options for secured payment methods. And here come the trends for mobile phones and mobile banking – as of today, the available payment gateways in South Africa are:
PayFast
PayGate
BitPay
GoCoin
PUT IT ON LAY-BUY
Coinbase Commerce
Payment Express PxPay
PayPal Express Checkout
Now that we have explained the key features of the South African e-commerce market, we will dive into the next important part of the dropshipping business. When it comes to the process of seeking for authentic suppliers, we have distinguished the steps one must take to avoid risks to its business.
Dropshipping Suppliers in South Africa
We gathered a list of the best dropshipping suppliers in South Africa that cover different industries including clothing, electronics, gadgets, pet items, and more. Here, you'll get a few good options before you decide to start your own online business.
1. BrandsGateway
If you decide to follow what statistics show about the South African online shopper, you should definitely go for a supplier like BrandsGateway. To illustrate, the most popular category for South African consumers who shop online is clothing with 53%. Therefore, teaming up with BrandsGateway will allow you to offer your customers premium clothing collections for both women and men. They use FedEx Economy or FedEx Express shipping that takes up to 3-5 business days.
2. Men's Republic Distributors
Men's Republic Distributors is considered one of the leading dropshipping suppliers in South Africa. It is a wholesale supplier of unique gadgets, smartphone accessories, RC toys, novelties, and gifts for men. In fact, they have at hand over 80 products and offer a wide range of benefits for dropshippers. None of their stock needs to be held by dropshippers. Instead, orders are picked, packed, and dispatched automatically, and all products' listing info is supplied by them.
3. The Scents
As the name itself implies, The Scents is a wholesale supplier of genuine, designer fragrances and other beauty products for both men and women. They ship all their orders via shipping carriers that ensure tracking information (DHL, UPS, SAPO, POSTNET, USPS, etc.). In addition, they accept payments with all major credit cards. Moreover, they use EFT – the second most popular online payment method in South Africa.
4. ParcelNinja
ParcelNinja supports dropshippers by giving them a smart warehouse solution. By adopting these solutions, as a dropshipper, you can drop your stock off at their warehouses and schedule items to be delivered. Besides, you can get real-time tracking that will allow you to follow your order from the shelf to your customer's door.
5. Dropstore
By streamlining and simplifying product sourcing from various suppliers, Dropstore lets dropshippers find products, add them to their online store, and ship them directly to their customers fast and easy. Once your customer makes an order, the order is automatically sent to the South African supplier, who will later ship the item with provided tracking information.
6. Gadgetgyz
For the technology and smart gadget-fanatics, Gadgetgyz is the right dropshipping supplier in the whole South African territory. More specifically, it offers a broad collection of Android phones, accessories, smartwatches, and gadgets from brands like OnePlus, Cubot, Ulefone, Xiaomi, and more.
7. Mantality
Another South African supplier of gadgets and accessories is Mantality. With products ranging in several categories including gadgets and gear, living and leisure, geek and gaming, and also electronics and tech, Mantality is a perfect choice for those planning to start up a store that will target mostly the male audience.
8. Planet54
Planet54 is a dropshipping supplier that offers over 7000 products that fall under several categories, such as footwear, clothing, accessories, and tech. In case you are looking to build a strong relationship with a trustworthy supplier and increase your profits, check Planet54. You can choose to become a part of their reseller entrepreneurship program or source their products on Dropstore.
9. Wheelatrend
If you are looking for a supplier of niche products, such as personalized swimwear, mugs, or t-shirts, you should try Wheelatrend. It is a widely known South African dropship supplier for printing on demand. They offer dropshipping of their products directly through their website and when you join as a reseller you will be able to buy products at wholesale pricing as well.
10. Cosmic Pets
Finally, the last company on the list. When it comes to selling pet products and items, Cosmic Pets is a wholesale supplier that is known and respected within the industry. For more than 10 years, Cosmic Pets supplies more than 500 retailers. For instance, these include pet shops, veterinary clinics, and pet care professionals throughout South Africa. They offer premium pet products with high-quality branding that they deliver within 5 days from order placement.
The post The 10 Best Dropshipping Suppliers In South Africa appeared first on BrandsGateway.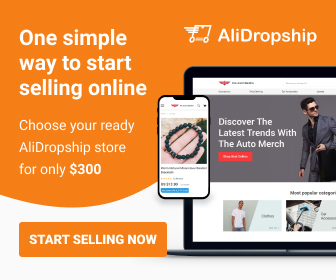 Article link
Historically cloaking was considered bad because a consumer would click expecting a particular piece of content or user experience while being delivered an experience which differed dramatically.
As publishers have become more aggressive with paywalls they've put their brands & user trust in the back seat in an attempt to increase revenue per visit.
Below are 2 screenshots from one of the more extreme versions I have seen recently.
The first is a subscribe-now modal which shows by default when you visit the newspaper website.
The second is the page as it appears after you close the modal.
Basically all page content is cloaked other than ads and navigation.
The content is hidden - cloaked.
That sort of behavior would not only have a horrible impact on time on site metrics, but it would teach users not to click on their sites in the future, if users even have any recall of the publisher brand.
The sort of disdain that user experience earns will cause the publishers to lose relevancy even faster.
On the above screenshot I blurred out the logo of the brand on the initial popover, but when you look at the end article after that modal pop over you get a cloaked article with all the ads showing and the brand of the site is utterly invisible. A site which hides its brand except for when it is asking for money is unlikely to get many conversions.
Many news sites now look as awful as the ugly user created MySpace pages did back in the day. And outside of the MySpace pages that delivered malware the user experience is arguably worse.
Each news site which adopts this approach effectively increases user hate toward all websites adopting the approach.
It builds up. Then users eventually say screw this. And they are gone - forever.
Audiences will thus continue to migrate across from news sites to anywhere else that hosts their content like Google AMP, Facebook Instant Articles, Apple News, Twitter, Opera or Edge or Chrome mobile browser new article recommendations, MSN News, Yahoo News, etc.
Any lifetime customer value models built on assumptions around any early success with the above approach should consider churn as well as the brand impact the following experience will have on most users before going that aggressive.
One small positive note for news publishers is more countries are looking to have attention merchants pay for their content, though I suspect as the above sort of double modal paywall stuff gets normalized other revenue streams won't make the practice go away, particularly as many local papers have been acquired by PE chop shops extracting all blood out of the operations through interest payments to themselves.
Article link
Dogwood Adventure Play is a magical place for Dogs. Founder Katie Guastapaglia offers dog training, walking services, and private secure fields that include adventure play equipment and a sensory garden with dog-friendly plants.
Due to social distancing rules, Dogwood Adventure Play had to pivot their business when they could no longer offer their dog training services in person.
While other businesses transitioned to paid online programs, Dogwood Adventure Play didn't feel this was a good option. They had a small, disengaged email list, which would make it difficult to sell an online program.
Guastapaglia knew she needed to come up with a creative solution to stand out in the inbox and build her list. So she decided to create a 30 Days of Dogwood Challenge to help her audience train their dogs and keep them active during COVID-19.
Her new email challenge was a huge success, growing her email list by 110% and earning average open rates of 70%. Armed with a highly engaged, larger email list, her business now sells an online experience package — Scentventure a new online dog training program.
Learn the simple steps she took to create her email challenge and see the strategies she used to get an average open rate on her emails of over 70%.
9 strategies to grow your email list and increase email engagement.
Strategy 1: Test out a concept by focusing on your audience's pain point.
Dogwood Adventure Play has two customers: dogs and their owners. During the lockdown, Guastapaglia realized that dogs needed to keep moving despite being in a limited space, and their owners needed a structure to provide activities for their canine.
So she focused on the pain points her customers were experiencing and created a free 30 Days of Dogwood Challenge to help her customers and grow her list.
She used an AWeber sign up form on her blog to promote the free challenge and collect email subscribers.
Strategy 2: Consider creating a theme to make it entertaining.
To make her content more entertaining for humans, Guastapaglia creates a new theme every month for her email challenge. For April, she used an Easter egg hunt theme.
Strategy 3: Include additional valuable content with your emails.
For the 30 Days of Dogwood Challenge, each email contains links to content hosted on Guastapaglia's website for users to complete their challenge.
If you create your own email challenge, your content doesn't need to be elaborate. In her challenge, Guastapaglia includes simple PDFs her audience can download, shares video on YouTube, and connects with her audience on Facebook Live and webinars. All of these tools are inexpensive and easy to use.
Strategy 4: Create a reward system for engagement.
In the 30 Days of Dogwood Challenge, participants are encouraged to share their challenge successes for a reward.
To make it easy for users to post their successes, Gustopaglia created a private Facebook group.
Strategy 5: Add bonuses that allow you to connect directly with your audience.
Consider adding a bonus that lets your audience connect with you. For the 30 Days of Dogwood Challenge, Guastapaglia invites her audience to join her on a webinar so participants can ask her questions directly and discuss the training and challenges in greater detail. She even includes a pop quiz on the theme of the month to keep the event entertaining.
Strategy 6: Give subscribers multiple opportunities to engage with your content by sharing it more than once.
At the bottom of her challenge emails, Guastapaglia includes links to her previous YouTube video challenges to remind subscribers of past content and to give them another opportunity to participate if they missed a challenge.
AWeber allows you to structure your emails however you feel will most benefit your audience.
Guastapaglia has found that a roundup at the bottom of the email works well for her and her audience.
Strategy 7: Cater your email content to your audience's unique needs.
Everyone learns differently, so Guastapaglia includes multimedia options in her emails: written content, videos, and tasks to do off-line.
"I think it's the best way for people to learn. To give them options based on their learning style. There's hopefully something for everybody," says Guastapaglia.
Strategy 8: Personalize your email content.
Another strategy Guastapaglia uses to get high open rates is adding subscribers' first names to the emails they receive. She alternates between personalizing the subject line and the body of the email. She only uses personalization in emails that are particularly important so as not to dilute the impact.
"I love using the customizable field to drop somebody's name in the email. I have found my open rates are better when you can do that. it really makes a difference," says Guastapaglia.
Strategy 9: Vary frequency based on the circumstance.
During the height of COVID-19 and when Guastapaglia was testing out her free 30-day Challenge product, she emailed her contacts daily. She felt people needed her support a lot more, and she was trying to help everyone through the crisis.
Connect with your own audience and start growing your email list today!
In your AWeber account you'll get everything you need to grow your own business online — including sign up forms, newsletters, and landing pages.
Start your 30-day free trial today.
The post 9 Simple Strategies This Dog Training Business Uses to Get 70 Percent Open Rates appeared first on Email Marketing Tips.
Article link
Try AWeber's Autoresponders for Free
Start your FREE Email Marketing Trial Today!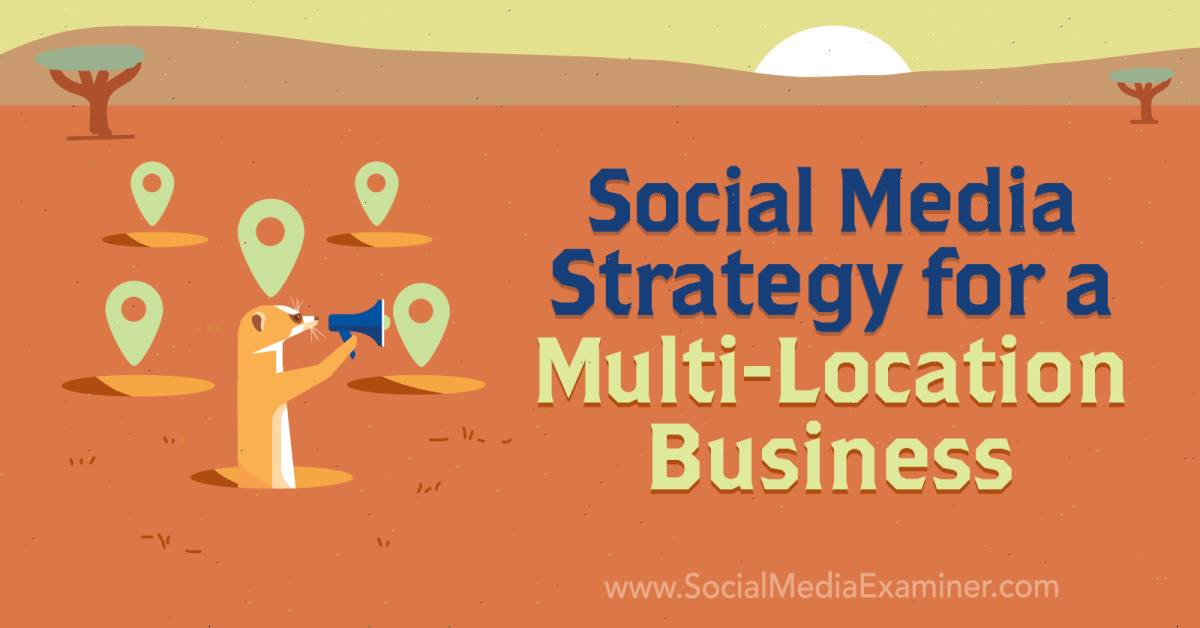 Does your business have multiple locations? Need a better social media strategy? In this article, you'll find a four-part plan to structure a social media marketing strategy you can execute seamlessly across all markets. #1: Create an Overarching Brand Message As you look to extend your business operations into different markets (countries, states, cities, or […]
The post Social Media Marketing Strategy for a Multi-Location Business appeared first on Social Media Marketing | Social Media Examiner.
Article link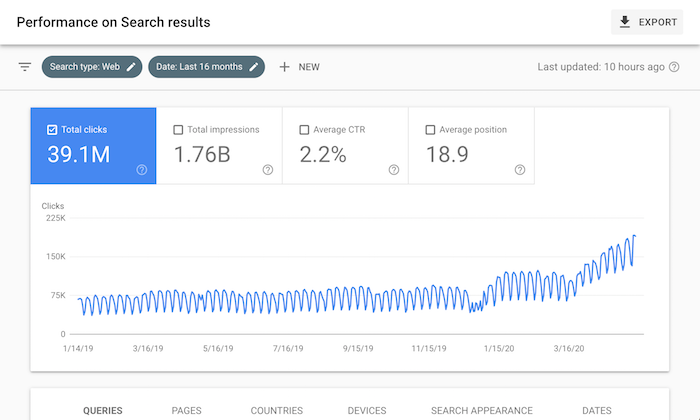 As you can see from the screenshot above, I've driven 30 million visitors to my website from SEO.
Technically it's more, but who's counting.
What's funny, though, is I barely look at my traffic, even as Google continually rolls out algorithm updates.
I know that sounds contradictory because if you are an SEO, why wouldn't you obsess about traffic, right?
Well, it's because I've learned some hard lessons over the year… mainly because I've made a lot of mistakes.
So today, I wanted to share them with you so that you can learn from my mistakes… so here goes:
Lesson #1: Don't obsess over rankings, obsess over conversions
I used to check my rankings every single day. Literally.
On top of that, I would log into Google Analytics 4 to 5 times a day and continually check my traffic.
That's all I cared about back in the day… boosting my organic traffic.
But here is the thing: As my rankings and traffic went up over the years, my revenue didn't go up proportionally.
For example, during one quarter in 2017, my SEO traffic went up 39.52%, but my revenue from SEO went up only 4.29%.
I quickly learned that traffic isn't everything. If you can't convert the traffic into revenue it doesn't matter.
That taught me that you need to focus on the right keywords that drive conversions and continually optimize your site for conversions.
An easy first step for you to take is to install Crazy Egg and run a heatmap to see where people click so you adjust your design and copy to get more sales.

Lesson #2: The easiest way to grow your SEO traffic is international expansion
You already know that I get a lot of SEO traffic, but do you know what country drives most of my traffic?
If you guessed United States, you are wrong.
Brazil is my most popular region, followed by India.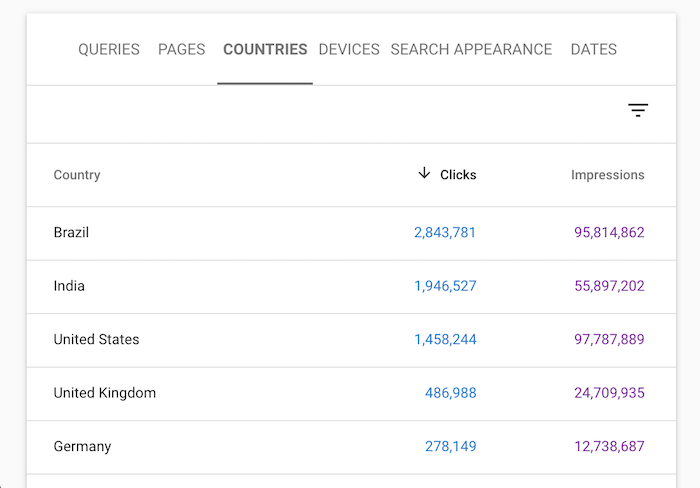 International SEO is the easiest way to expand and grow your traffic. Here are a few posts that you should read before you expand your SEO globally:
Lesson #3: Keywords are very, very, very, very important
When I used to write my content, I didn't obsess about the keywords when I should have.
My team actually proved me wrong on this.
I used to focus on writing content for humans and didn't worry about search engines. My team, on the other hand, obsesses about keywords.
Just look at the growth of our traffic in Brazil because of our obsession with the right keywords.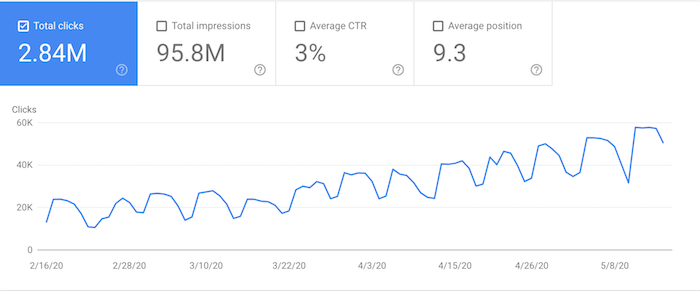 One simple thing I do before writing that has really helped is I head over to Ubersuggest and type in a few of the keywords that I want to go after.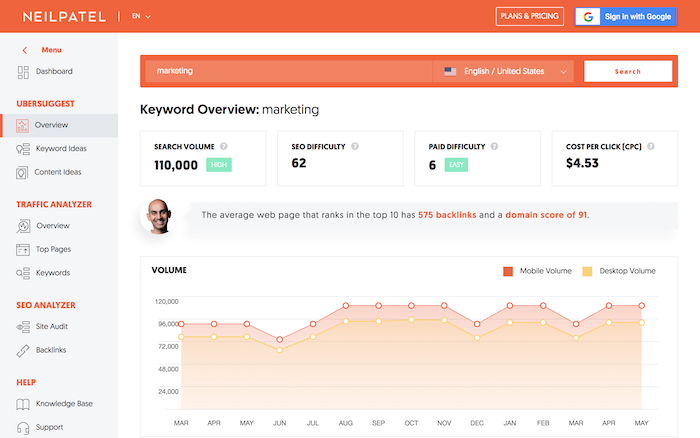 Once it loads, you'll see a report like the one above. I want you to then click on "Keyword Ideas" in the left-hand navigation.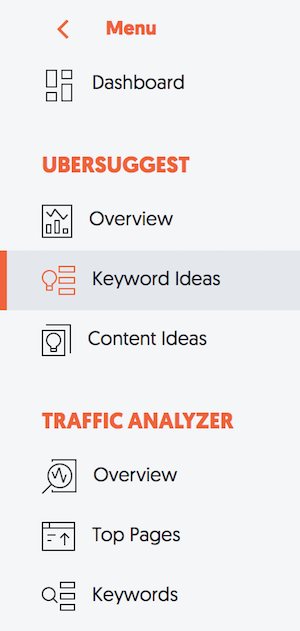 You'll see a report that contains a list of keywords that you could potentially be targeting.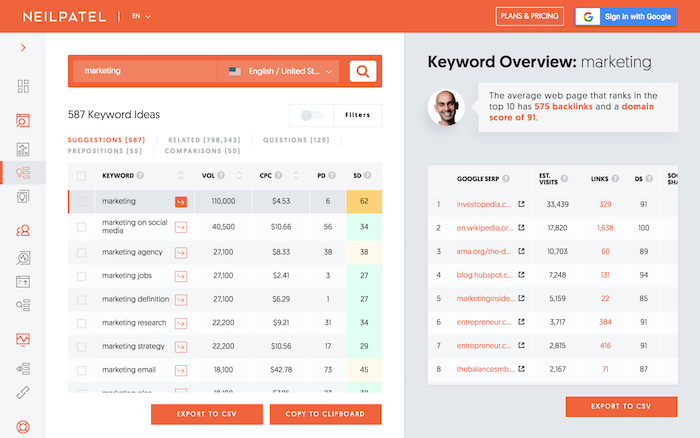 Make sure you click on the "Related" tab, as well as "Questions" and "Comparisons" … scroll through the list. You'll see hundreds of keywords. Pick all of the ones that are relevant and ideally have a high cost per click (CPC). These are the keywords that'll not only drive traffic but revenue as well.
Whenever I write a blog post, I go through this step. Every single time.
Lesson #4: AMP pages can drive more SEO traffic
AMP pages load faster on mobile devices than non-AMP pages.
If you aren't familiar with the AMP framework, read this.
What most people won't tell you about AMP pages is that:
In regions like the United States, Canada, and the United Kingdom, countries with decent Internet infrastructure, you won't see much of an increase in traffic.
In regions with poor Internet infrastructure, like Brazil, you'll see a 10 to 15% lift in mobile SEO traffic by having AMP pages.
AMP pages don't convert visitors into customers as well as normal responsive web design. So, you'll have to work on testing your AMP pages so you can boost your conversion rates.
Lesson #5: SEO will never convert as well as paid ads
When I started off with SEO, I would run projections on how much the traffic would make me.
But the numbers were always off, even if I was able to get the rankings.
Here's the main reason: If you are bidding on terms like auto insurance through ads, you can drive people to a landing page that looks like this: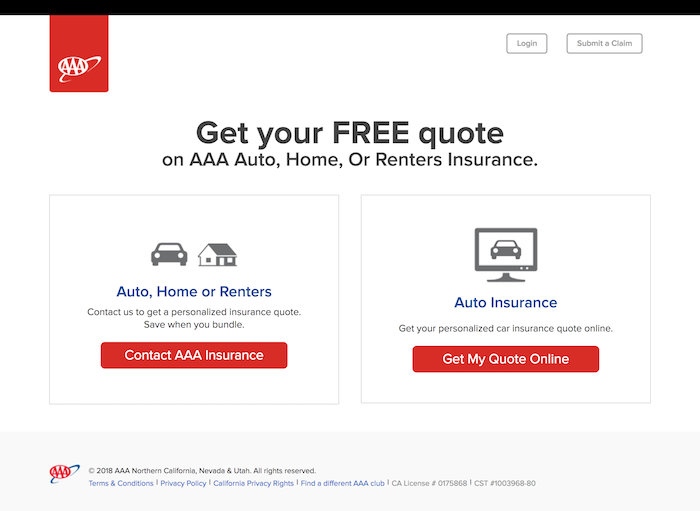 But if you want to rank organically, you'll have to do it through content. So, your page that ranks well will look more like this and convert less…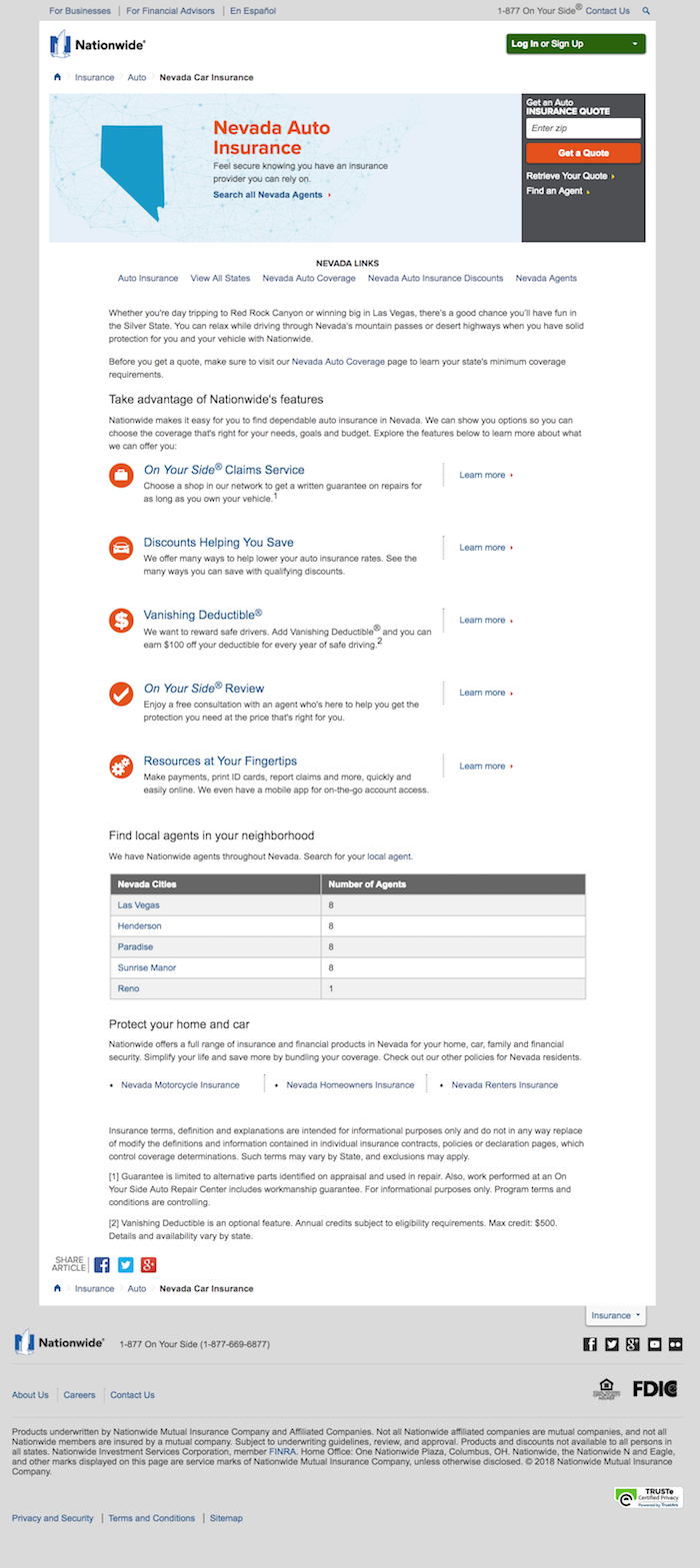 It doesn't mean SEO is bad. In reality, it's much cheaper in the long run than paid ads and will produce a better ROI. But don't just assume that if you get 100 visitors from paid ads and 3 purchases that you'll have the same conversion rate with your SEO traffic.
Chances are it will be significantly lower by maybe 2 or 3x, but because SEO is cheaper, it will be much more profitable.
Lesson #6: Remarketing is one of the best ways to generate an ROI from SEO
If you get a ton of traffic from SEO, there is a simple strategy you can implement to boost your conversions.
Remarket everyone on Facebook, Google, and YouTube.
That way people come to your site, read your content, and build trust with you and your brand.
Then you remarket them throughout the web with ads that prompt your products or services and send them to a landing page that will drive sales.
I've been doing this for years, just look at my old remarketing ad…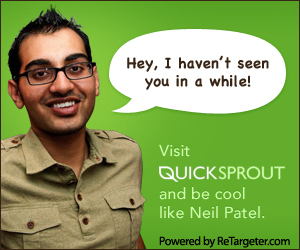 For the regions I use remarketing in, it is responsible for 46% of my leads.
Lesson #7: Don't forget to update your old content
I publish one new blog post a week. I'm working on increasing this as I get more time, but for now, it is one a week.
Can you guess how many blog posts I update on a daily basis? Technically it is 0 (me at least), but my team focuses on updating at least 3 old blog posts per day. That's roughly 90 a month.
Once you have a few hundred pages, make sure you focus on updating your old content or else your traffic will quickly drop.
You can use this content decay tool to see which posts you should update first.
This will help you continually grow your SEO traffic instead of hitting plateaus or seeing your traffic take massive drops.
Lesson #8: Don't forget to optimize your title tags
One of the easiest ways to grow your rankings is to optimize your title tags.
If you can write persuasive copy and get more clicks, you'll quickly move up on Google.
In Brazil, we spend more time doing this than we do in the United States.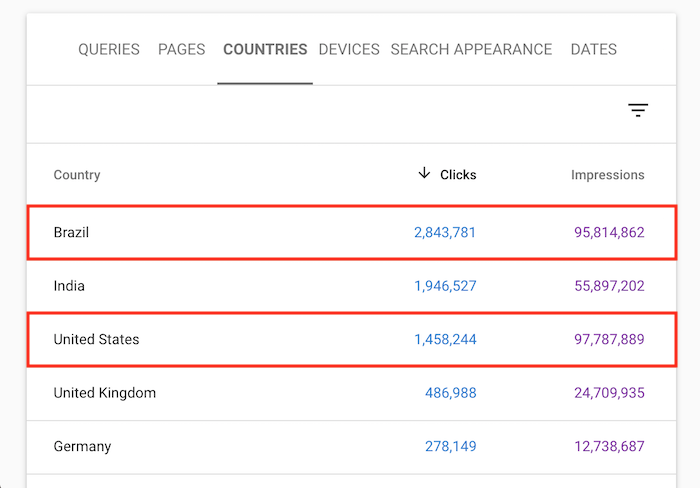 We get a similar amount of impressions in Brazil, but we have more people focusing on improving our title tags and testing. Hence, we get 95% more SEO traffic in Brazil.
If you want tips on boosting your clicks, check out this article.
Another simple hack is to use the "Content Ideas" report in Ubersuggest.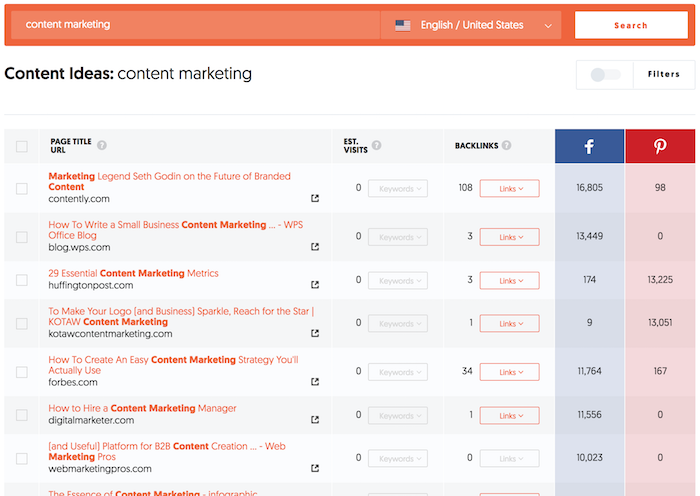 On the right side of that report, you can see social share counts from Facebook and Pinterest. And on the left side, you see titles of articles.
Typically, if people like a title they share it more. So, look for titles that have a lot of shares as it will give you ideas on what you can use on your website to get more clicks and boost your rankings.
Lesson #9: Don't put dates in your URL
I used to put dates in my URLs like:
Neilpatel.com/2017/12/title-of-post/
This causes search engines to assume that your content is related to a specific date. And after that date gets old, search engines assume your content is irrelevant and outdated.
The moment I removed the date from my URLs, I grew my SEO traffic by 58% in 30 days.
If you have dates in your URL, make sure you 301 redirect your old URLs to your new ones once you make that change, or else your rankings will drop.
Lesson #10: Don't be afraid to use popups
Don't you hate popups? Well, who doesn't?
But people use them because they work.
The majority of your pages that will rank are blog-related content. And blog posts tend to drive fewer direct conversions because people are on your site to read the content.
In order to maximize your conversions from SEO, you should consider using exit popups so you can convert more of those visitors into customers as they leave.
When you leave this site in most cases, you'll see a popup that looks like: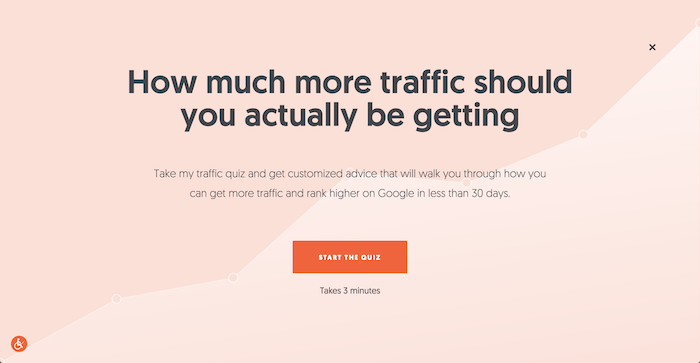 And it drives you to this quiz, which allows me to convert SEO visitors into customers.
You can easily copy me by using Hello Bar. It works for all industries including B2B and ecommerce and even lead generation sites.
Lesson #11: Brand queries affect rankings
Everyone talks about how you need links to boost rankings.
But very few people talk about brand queries.
As Google's ex-CEO and ex-head of web spam both emphasized how brands are important.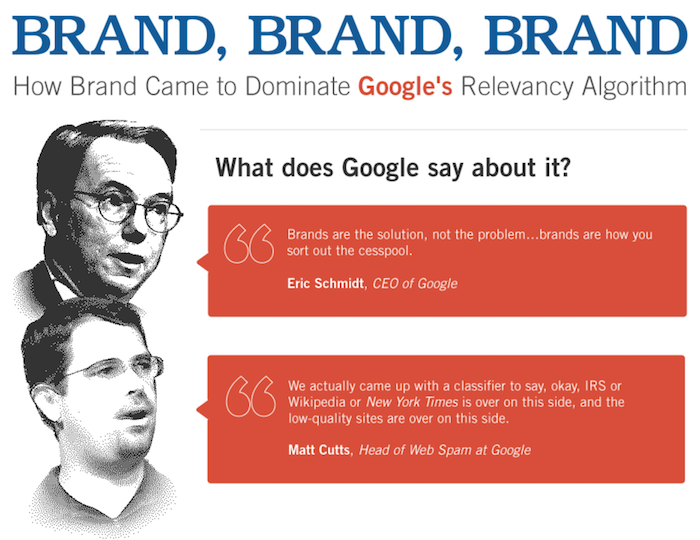 One of the big reasons for my growth in SEO traffic is the growth in my brand. I've seen a direct correlation in which the more people who find me from my name, the more SEO traffic I get.
Just look at my brand growth over time: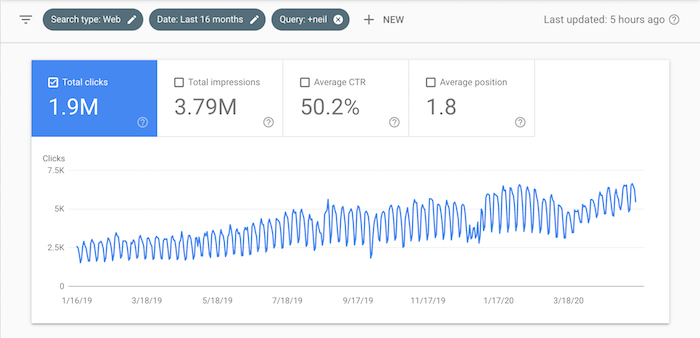 I've received over 1.9 million visitors over the last 16 months from people typing in variations of my name in Google.
Lesson #12: Don't waste your money on paid links
I've been doing SEO since I was 16 years old. That's a long time…
When I started off as a kid, I dabbled in paid links and I used to dominate Google for terms like online casino, online poker, web hosting, auto insurance, and even credit cards.
And I was making a killing off of affiliate income from these sites.
But it was all short lived.
Why?
Because I bought links. And eventually Google penalized all of those sites.
If I never purchased links, those sites would have taken longer to rank, but they would have been around today, and I would have generated more income overall.
Don't buy links, it's bad and shortsighted.
Lesson #13: Guest post to build a brand, not to build links
I already covered the importance of branding above.
A great way to build your brand and indirectly boost your SEO traffic is through guest posting.
But don't use guest posting to build links.
Most sites that offer guest posts, nofollow them (which they should), and Google is smart enough to know what a guest post is, hence they ignore guest post links from sites like Forbes.
It's pretty easy to spot a guest post for both a human and algorithm…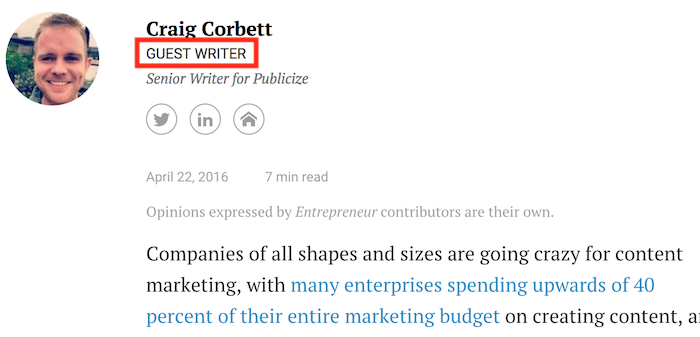 But if you are using it to build a brand, great. Focus on the content quality and not links.
Lesson #14: Don't forget to interlink
Do you know what some of my highest ranked pages are?
The ones that are interlinked.
It takes anywhere from 6 months to a year for many of the interlinks to kick in, but it is still effective none-the-less.
Every time I wrote content, I used to make sure I link out to my older pieces of content when it made sense. But I made a big mistake… I wasn't going into my older pieces of content and then adding links to my newer pieces of content.
That one change was game-changing for me. It took time to see the results but it worked exceptionally well.
It's how I rank high for terms like "email marketing".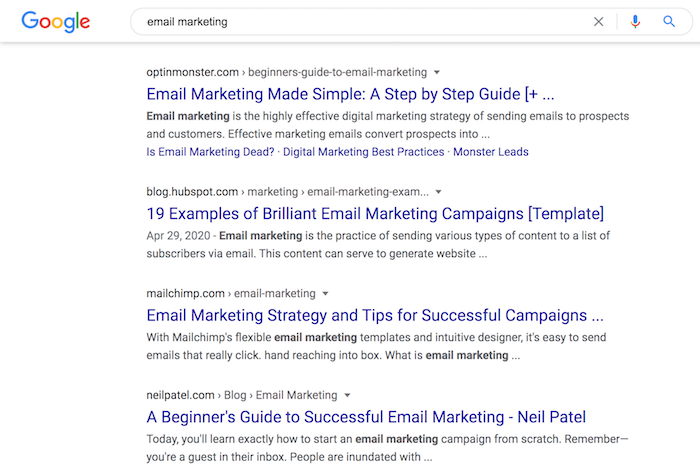 Lesson #15: Google isn't the only game in town
Although Google is the most popular search engine, it isn't the only one you need to focus on.
Did you know that YouTube is the second most popular search engine?
Even Bing gets a lot of traffic.
If you want to rank high on Bing, follow this.
Or if you prefer video, watch this:
As for YouTube, this guide will teach you YouTube SEO. It works really well, just look at my YouTube SEO traffic: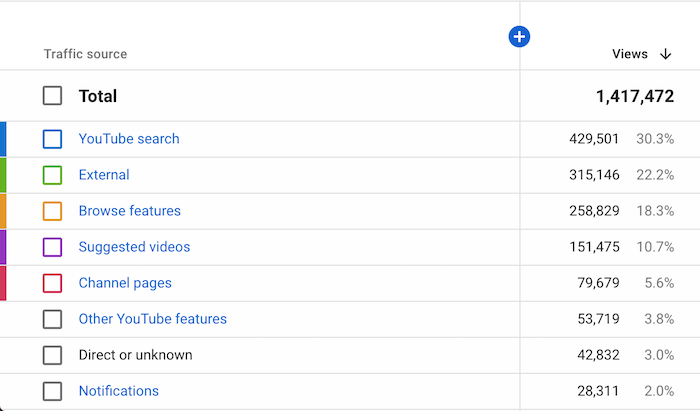 Over the last 28 days, I received 429,501 video views through YouTube SEO.
Lesson #16: Speed is everything
The faster your server and the more optimized your site, the more traffic you'll get.
Years ago, my friend Otis added more servers to his site GoodReads.
Within a month, his SEO traffic went up over 20%.
Speed is part of Google's algorithm, so optimize it for both web and mobile.
A quick way to see your site's speed is to enter your URL here.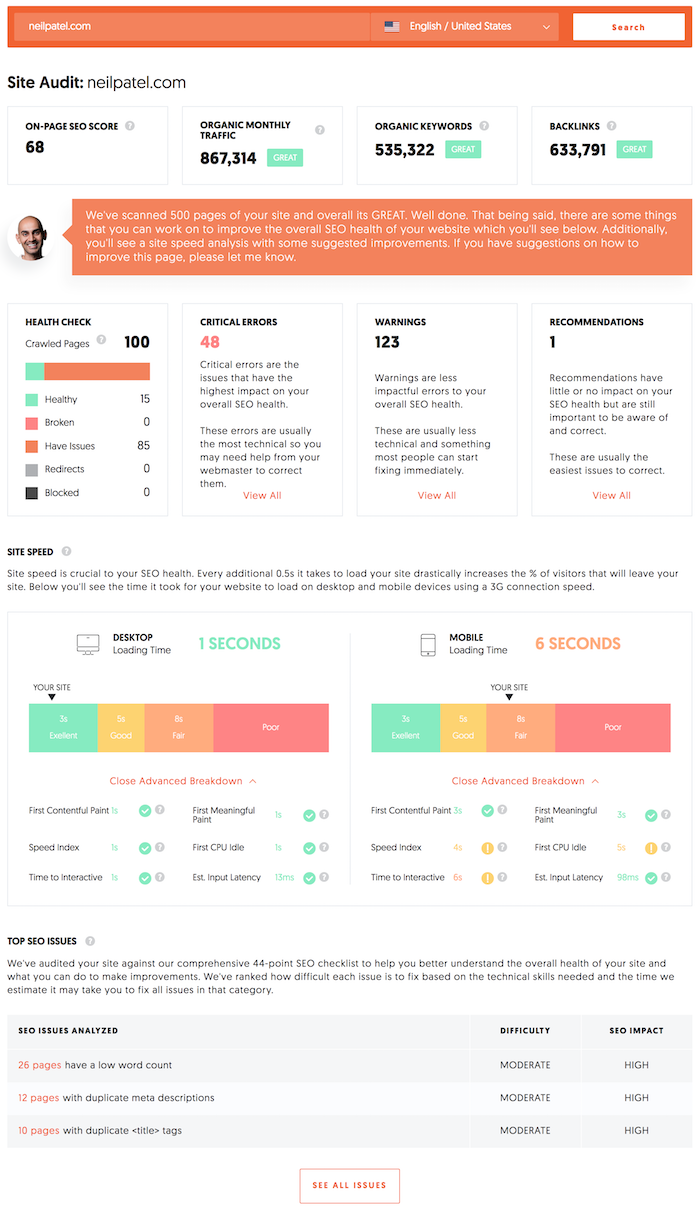 You'll see a report that breaks down your mobile and desktop load times as well as what you can do to improve them.
Lesson #17: Quality over quantity
SEO used to be a game of quantity over quality.
That isn't the case anymore. With over a billion blogs, Google has its fair share of sites to choose from.
Just look at About.com. Eventually they renamed it Dotdash and changed their strategy.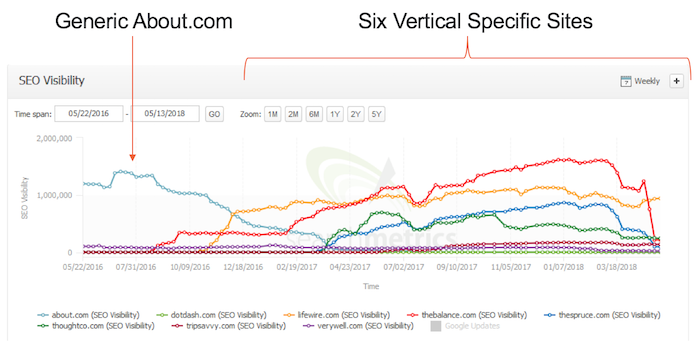 They took all of their About.com content and moved it over to 6 vertical based sites and deleted 900,000 pages of junk content.
This grew their traffic and revenue by a whopping 140%.
Focus on writing high-quality content. It's why I blog less and try to make my content amazing.
Lesson #18: Tools are better than content marketing
I used to focus all of my energy on content marketing because it drove a lot of links and SEO traffic.
But over time, I realized that creating free tools builds more natural links than anything else I have ever tested.
Just look at Ubersuggest. I spent years creating it and look at how many links it has generated…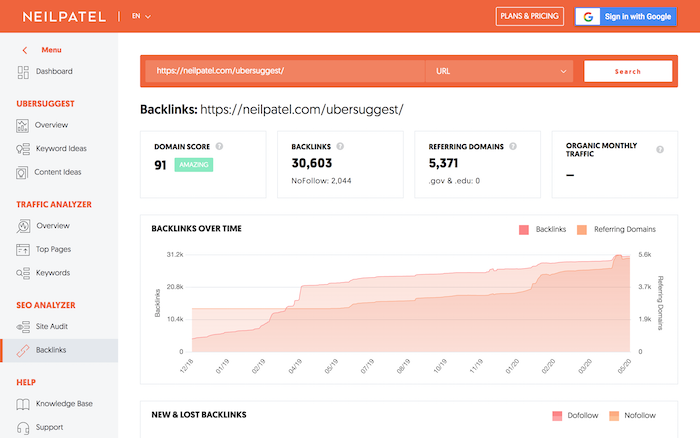 30,603 backlinks! That's a lot of links.
If you don't have the resources to build a custom tool like me, you can always start with buying a white label tool from Code Canyon for $10 or $20. They literally have tools for almost all industries.
Lesson #19: Don't rely only on SEO
When I first got started in SEO, all I could think about was SEO.
To me, it was the best marketing channel out there because it allowed me to compete with large companies.
Even to this day, I still love SEO more than any other channel.
But it doesn't stop me from leveraging other marketing channels.
See, years ago you could build a business off of one marketing channel.
Yelp was built through SEO. Dropbox through social media referrals. Facebook through email invites…
Those days don't exist anymore. You can't just build your traffic from one channel.
Although you should do SEO, you should also try paid ads, social media marketing, email marketing, push notifications, and anything else that comes out.
Diversify your traffic sources and don't just rely solely on SEO.
Lesson #20: People love linking to data
Spending money and time to gather your own unique data is an easy way to build links.
Check out my posts on content marketing trends and social media trends.
I've added tons of unique data, stats, and charts to each of those posts.
The end result? Extra backlinks. 🙂
The content marketing trends post received 447 backlinks.
If you don't have the time to gather custom data you can always find someone on Upwork to help you out.
Lesson #21: Don't forget about Infographics
One of my favorite SEO strategies that still works well today is infographics.
I have tons of them on the NeilPatel.com blog.
I didn't start off with infographics here… I used to do them on my old blog Quick Sprout and KISSmetrics.
Here's an interesting stat for you when I used to crank out infographics on KISSmetrics.
Within a two-year period, from 2010 to 2012, 47 infographics generated 2,512,596 visitors and 41,142 backlinks from 3,741 unique domains. They also generated 41,359 tweets and 20,859 likes.
If you don't have money to hire a designer, you can use Infogram or Canva to create one on your own.
Lesson #22: Google doesn't penalize for duplicate content
You don't want to post tons of duplicate content on your site as it's not the best user experience, but keep in mind that Google doesn't penalize you for duplication.
They may not just rank the duplicate content as well.
So, if you spend all of this time producing amazing, unique content, why not publish it FIRST on your own website.
Then after a few hours or days if you want to be safe, take that exact content and publish it on Facebook, LinkedIn, and anywhere else that will accept your content.
Literally, take all of the words and paste them onto those social channels.
It will get you extra awareness and branding. Plus, the content should already be indexed on your site, so Google knows it came from your first… and I doubt you care if the duplicated version on LinkedIn ranks. That's still great branding.
In other words, don't be afraid to repurpose your content even if it causes duplication.
Just look at this post, for example. I'm also repurposing it into a 4-part podcast series.
Lesson #23: Don't recreate the wheel
I used to spend hours a week doing keyword research trying to figure out what new terms to rank for.
Eventually, I figured out an easier and better way to find new content topics and keywords to go after.
Go to Ubersuggest, type in your competitor's domain name and hit search.
In the left-hand navigation click on Top Pages.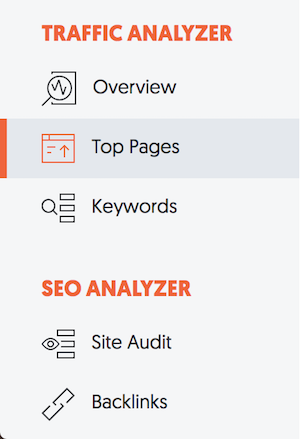 You'll see a report that shows you all of the popular pages on your competition's website. This will give you ideas for the type of pages you should create on your website.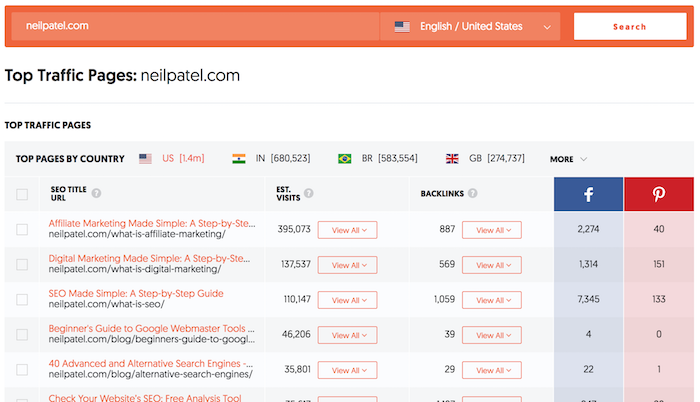 Then I want you to click "View All" under Est. Visits (estimated visits). This will show you all of the keywords that drive traffic to that page.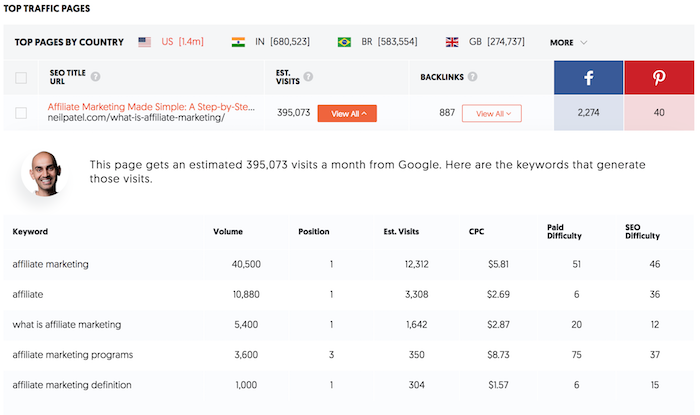 You now have a list of topics and keywords for each topic to go after.
Lesson #24: Don't pick a generic domain name
Remember how in Lesson 11 I talked about brand queries and how they helped rankings?
After I learned that, I decided to go buy exact match domain names where the domain name was the keyword.
That way I would get lots of brand queries without trying.
Well, there's an issue… even if you rank high, what you'll find is you will have a low click-through rate in most cases.
If you have a low click-through rate, it tells Google your brand isn't strong and people don't prefer it, which can hurt your ranking.
So instead of focusing on exact match domains, unless you have millions to spend on branding like Hotels.com, focus on building a memorable brand.
Pick something that is unique, easy to spell, and easy to remember.
Lesson #25: Learn from blackhat SEOs, but don't go over to the dark side
Blackhat SEOs come up with some interesting data and experiments.
Many of them don't work for long, but they are interesting none-the-less.
Although I don't recommend practicing blackhat SEO, I do recommend following them.
The easiest way you can learn from them is by reading Blackhat World.
People there share some interesting insights, especially every time there is a major Google algorithm update.
Again, I don't recommend practicing blackhat SEO, but following them may help you uncover "white hat" techniques that can increase your rankings. Not everything they do is bad… many of them use legitimate tactics as well.
Lesson #26: Short URLs rank better than long ones
My URLs used to be the title of my blog post.
For example, with this post I would have used this URL in the past…
Neilpatel.com/blog/30-lessons-after-30-million-seo-visitors/
Eventually I switched to short URLs.
Google just prefers them. And I've seen it firsthand. That's why I use short ones now.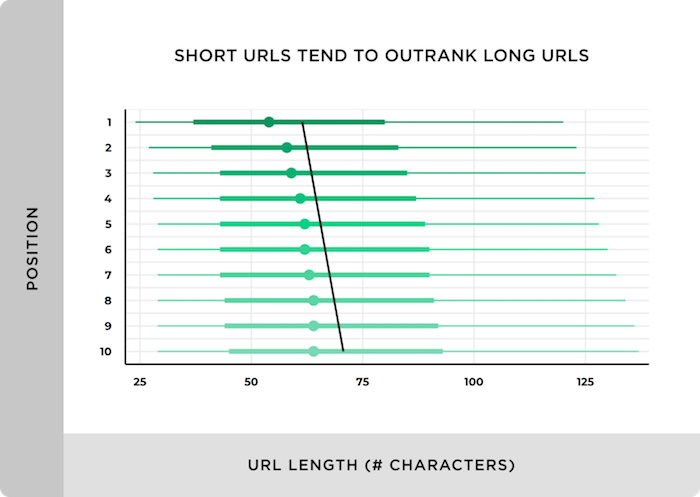 URLs at position #1 are on average 9.2 characters shorter than URLs that rank in position #10. So, keep them short.
Lesson #27: The power's in the list
If you want your content to rank high on Google, you need more people to see it.
Whether it is from social shares, or from push notifications or email blasts… the more people that see your content, the more engagement it will get, and the more people that will link to it.
I used to do a ton of manual outreach every time I published a new blog post and I would email people asking them to link to me.
And it works, it's just time consuming and a pain.
These days, I have a better strategy… send out an email blast every time I publish a new post.

I can now get anywhere from 20,000 to 50,000 clicks per email I send out.
Now of course you won't get that from day one as it took me years to build up my email list.
But you can start today by collecting emails. You can easily do that through Hello Bar.
And as your list grows, so will the clicks to your blog and the number of links you get, which in turn will increase your rankings.
Lesson #28: Don't let your foot off the peddle
This was one of the hardest lessons I learned.
It's exhausting to continually blog and do your own SEO. Sometimes you just want a break.
With my old blog, Quick Sprout, I used to publish 12 blog posts a month and I did that consistently for 3 years.
One day I decided that I wanted to stop for a month. So, I took a 30-day break.
Guess what happened to my traffic?
It tanked by 32%.
So, then I started blogging again. And guessed what happened to my traffic after I started blogging?
It didn't come right back.
It took me 3 months to get back to where I was.
When things are working for you, don't slow down. Keep pushing harder, even if you are exhausted. Because the moment you stop, you'll drop, and it is a lot of work to get back to where you were.
Lesson #29: The best SEO advice comes from conferences
The best SEO advice I have ever learned over the years has come from conferences.
And no, I don't mean by sitting in on the sessions, although you can learn from those too.
The best SEO secrets and advice I learned came from networking. When you go to these conferences, hundreds if not thousands of other SEOs are there. And when you go to the bar after hours and mingle with people, you'll quickly pick stuff up.
You'll be shocked at what people tell you. It's how I learned a lot of the good tactics that I still use today.
Lesson #30: Never stop learning
This one may sound obvious but when things are going well, people get complacent.
Google makes on average 3,234 updates per year and that count has been increasing over time.
Just think about that for a bit… that's roughly 9 algorithm updates per day.
Because they are changing so quickly, you won't survive if you don't stay up to date.
Yes, the ideal strategy is to do what's best for your users or visitors as in the long run, Google wants to promote those sites, but it doesn't mean that you can ignore the changes happening in the industry.
Read all of the SEO blogs out there, attend conferences as I mentioned above… experiment on test sites… push yourself to be better.
That drive of always improving and always wanting to learn more has helped me tremendously. It's one of the reasons for my growth in rankings over the years.
Conclusion
There are a lot of lessons that you will learn as your rankings grow and as you spend more time on SEO.
But hopefully, you don't have to waste time and go through the same mistakes I made. You don't want to learn these lessons the hard way.
That's why I decided to share them. I want to save you the time and help you achieve your traffic goals faster.
Which SEO lessons have you learned?
The post 30 Lessons After 30 Million SEO Visitors appeared first on Neil Patel.
Article link
GoDaddy may be the 'big daddy' of hosting services but the biggest isn't necessarily the best. Established in 1997 as Jomax Technologies, this Arizona-headquartered behemoth today serves over 18 million customers around the world.
It offers almost every kind of web hosting-related service imaginable. This ranges from standard shared hosting and domain names to specialized services like web security and Voice Over IP (VOIP) lines.
Despite its early start and massive market share, doing business with them can at times leave much to be desired. Thanks to the meteoric rise of web technology and broadband speeds, many strong GoDaddy alternatives now exist.
Below is the list of GoDaddy competitors offering better services at a reasonable price.
Top 7 Alternatives to GoDaddy
1. HostGator
Website: https://www.hostgator.com/
HostGator may not have GoDaddy's bulk in customer share but it certainly does carry a good range of products. It focuses on core web hosting products such as domain names, shared hosting, VPS hosting, and even dedicated servers.
Why HostGator
Of late, the friendly host has also expanded into website builders, offering its own Gator Builder for users looking into rapid development and ease of use. Aside from product range, HostGator also has a decent performance track record.
As an example of this, over the past 30 days, it has managed to keep an impressive 100% uptime and relatively low server response speeds. Overall, it's a good place to be for most sites as there is much room to grow here.
Read our in-depth HostGator review to find out more.
HostGator Pricing
Prices start as low as $2.75/mo for shared plans up to $39.95/mo on VPS. Of course, if your needs are even greater you can speak to them directly about creating a customized solution.
HostGator can be a strong alternative to GoDaddy as the services offered by both solution providers are very similar.
2. SiteGround
Website: https://www.siteground.com/
Even within the web hosting industry, SiteGround has built a formidable reputation in two very important areas – performance and customer support. It remains one of the top choices for those demanding the best in class service from their web hosting providers.
Trying to find solid ground for your website? Look no further. SiteGround is the most reliable hosting provider that we tested.
Why SiteGround
Technically their product range is more limited than many others. However, what the company has done is to truncate its offerings and only allow the best onto the list. This ranges from excellent shared hosting to managed WordPress and Cloud hosting plans.
One big drawback here though is that although they offer domain names for sale, it is kind of pricey to buy from them. Still, if you're looking for premium web hosting plans and services, this is the place to be.
See our comprehensive SiteGround hosting performance and user reviews.
SiteGround Pricing
Prices start from $3.95 per month for standard web hosting plans and can range all the way to $240/mo for pre-built Cloud plans. Customized plans are available and you can check prices on their site with their customization tool.
If you are looking for a hosting alternative to GoDaddy, SiteGround is one of the recommended providers.
3. Namecheap
Website: https://www.namecheap.com/
In terms of product range, Namecheap gives GoDaddy a serious run for their money. Aside from the usual web hosting plans, Namecheap also dabbles in extras such as security solutions and even some web-based apps like business card makers.
Why Namecheap
This one-stop service provider is really going the extra mile and has other distinctions as well. It is one of the few registrars that offers a massive range of domain name extensions for sale – plus bundles in domain privacy with their offerings.
While in truth they are most well-known for those domain names, their web hosting packages really do perform quite well too. You can get anything from shared hosting to dedicated servers here, and the use of their WebsiteBuilder tool.
In terms of domain name registration, Namecheap is the strongest competitor to GoDaddy. You can read our review to learn more.
Namecheap Pricing
Prices range from $1.44/mo for shared hosting all the way to $199.88/mo on their dedicated servers. Strangely enough, though only their WordPress hosting plans are powered by Cloud solutions.
4. Kinsta
Website: https://kinsta.com/
More may not always be best and that's especially true when you know what you're looking for. For those seeking an ace WordPress hosting provider, you might like to give Kinsta a good look.
Why Kinsta
This host has thrown caution to the wind and put its entire stock into providing Cloud hosting for WordPress only. It is renowned for the sterling performance offered by their finely-tuned solutions and expertise in everything WordPress.
In fact, even in terms of support, what you're getting is different. Since they only offer WordPress solutions, not only is their platform optimized for it, so is their customer service team – no more dealing with generic techs!
Read our comprehensive review of Kinsta.
Kinsta Pricing
The Kinsta platform runs on Google Cloud servers which is part of what contributes to its reliability. Prices aren't cheap though and range from a low of $30/mo all the way to $1,500 even for pre-defined plans. If you need more though, just ask and you will be given.
If you are looking for GoDaddy alternatives for Managed WordPress hosting, look no further, Kinsta is certainly one of the recommended choices.
5. Scala Hosting
Website: https://www.scalahosting.com/
Scala Hosting may come across as a relative unknown to some, but in truth, this service provider is rather unique. It was born out of a desire to make VPS plans more accessible to the masses and indeed it has done so.
Why Scala Hosting
This is true in more ways than one. For example, Scala has not simply brought down the price of its VPS and Cloud offerings but also been quite innovative. This has materialized in the form of its SPanel solution.
SPanel is wholly developed by Scala Hosting and offers users a more affordable web hosting control panel. It is also highly compatible with cPanel, which is great given cPanel's decision to increase licensing fees as of 2019.
Scala also has some unique tools like their SShield security manager and the SWordPress manager. While that may be a lot of S-es, it still shows a service provider that's aligned to the needs of website owners in getting away from high fees charged by established names in the business.
Read our in-depth Scala Hosting review to find out more.
Scala Hosting Pricing
Prices for shared hosting with Scala start at $3.95/mo to a high of $63.95 on their managed Cloud VPS plans. Custom plans are also available upon request.
For those who are seeking to move away from GoDaddy cPanel hosting, Scala Hosting's Cloud VPS is a fantastic option.
6. A2 Hosting
Website: https://www.a2hosting.com/
A2 Hosting is and will always be close to my heart for various reasons, and for that and more it finds its way onto this list. They were one of the first high-quality web hosts I worked with in the beginning and believe me, I had to kiss quite a few frogs to find them.
Why A2 Hosting
Offering as broad a range of products as many other top-notch service providers, A2 Hosting has a distinct trait that you won't normally find. Their confidence in the products they offer is such that they are willing to offer anytime money-back guarantees.
Learn more in our A2 Hosting review.
A2 Hosting Pricing
With this web host you'll get support anytime of the year and very strong performance on their servers as well. Prices range from $2.99/mo on shared hosting all the way to dedicated managed servers at $290.49/mo.
For developers, A2 Hosting is better than GoDaddy since A2 Hosting is well ahead of the pack in the area of developer support.
7. Bluehost
Website: https://www.bluehost.com/
Bluehost may be very US-centric in its hosting servers but that hasn't really impacted its performance. Overall this host offers an experience that is pretty seamless and is both easy to use and strong in uptime and speed.
Why Bluehost
Bluehost has the distinction of being one of only three hosts recommended by WordPress.org, which really is quite a big thing. They prove their dedication in this area with the integration of an all-in-one marketing center, dashboard SEO, email marketing, and social media tools with their managed WordPress plans.
More about Bluehost in our review.
Bluehost Pricing
Prices range from $3.95/mo for shared hosting to a high of $119.99/mo for dedicated servers. Of course, they can also create other plans to suit specific needs.
Bluehost is an ideal alternative to GoDaddy for those who are venturing into the WordPress environment.
---
Why GoDaddy May Not be the Best Choice
GoDaddy may have a ton of web services and many users but that doesn't mean that it should be a default choice for many users. There are more than enough reasons to opt for an alternative to this industry giant.
It's Publicly Traded
GoDaddy is listed on the New York Stock Exchange (GDDY) and is on the Russell 1000 Component. This means that unlike many private organizations, the company will be under greater pressure from investors to drive a profit line rather than look after its customers.
GoDaddy Splurges on Advertising
Rather than improve on the quality of infrastructure to benefit its customers, GoDaddy has been known to throw huge amounts of money into advertising. We're not talking about thousands spent on web ads, but massive outlay such as with Nascar and the Super Bowl.
Complex Systems Management
Those who have used GoDaddy will know what I mean, but for some reason, they have a knack of making the simplest things seem impossible. One good example of this is the installation of free SSL certificates, which normally should take just a few clicks.
In GoDaddy, it becomes an entire quest. Why should users have to hunt for workaround solutions to do something so simple that all websites today need? It simply boggles the mind.
All I can say is that GoDaddy seems more focused on selling you more of their stuff than it is helping you run your site well. That's also the reason why buyers choose to do business with GoDaddy competitors instead.
Poor Reliability
Although their servers offer decent performance, GoDaddy isn't known for having the most reliable hosting around. As an example of this, their uptime over the last 30 days has been tracked at 95.70% – well below what many good hosts will be working at.
Final Thoughts
As you can see, more is not always better and there are many good GoDaddy alternatives in existence. A decent web hosting should offer you a few key features – good performance, few problems, and steady customer support.
Even if you don't know what you're looking for, as long as a host can meet these general terms and offers you the space you need to grow – it is still a better option than subpar hosting.
The post 7 GoDaddy Alternatives for Domain & Hosting appeared first on WHSR.
Article link