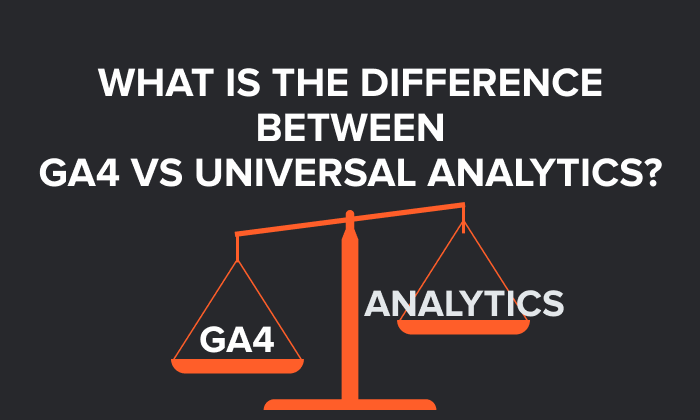 The end is nigh.
No, not in the biblical sense. But the four horsemen of the apocalypse are circling Universal Analytics, which Google is sunsetting in July 2023.
To survive the end times, you need to switch to Google Analytics 4—Google's brand new and completely different platform.
But there's still some confusion about the major differences between Google's old analytics tool and their new one — and that's part of the reason so many marketers are hesitant to switch.
It's time to clear that confusion up. In this article, I'll compare GA4 vs Universal Analytics, explain what you need to know about migration, and look at the new features you'll get to use. Let's jump straight in.
What To Know About The Switch From Universal Analytics to GA4?
Just the thought of migrating to Google Analytics 4 can feel intimidating—especially if Universal Analytics is the only tool you've ever used. However, there is no escape from the inevitable. That means you need to understand how to switch from UA to GA4.
The good news is that Google has tried to make this as easy as possible. It has created a migration tool that will automatically transfer your UA goals into Google Analytics 4 conversion events.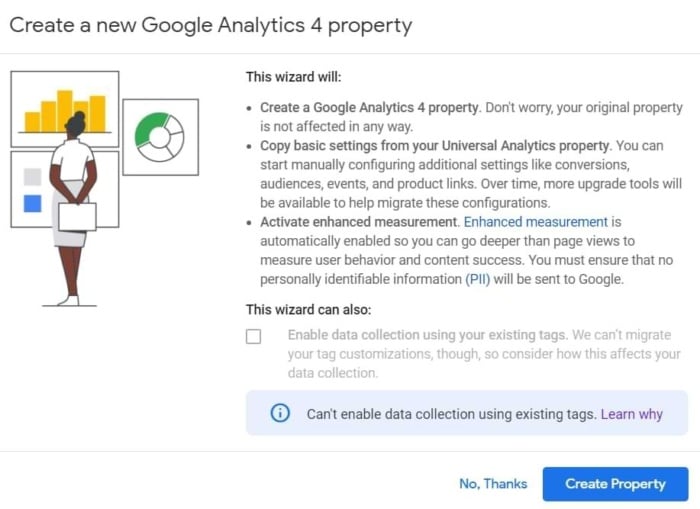 The migration tool will help site owners overcome the biggest difference between Universal Analytics and GA4: the platforms' measurement models.
You see, while Universal Analytics measures sessions and pageviews, GA4 measures events and parameters. Anything that UA tracks can also be tracked in GA4; they just need to be translated into events.
Unfortunately, the migration tool isn't perfect, and some goals can be missed. That's why it's essential to know the basics on migrating to GA4 from UA so you can create conversion events yourself.
You should migrate to GA4 as soon as possible. That's because you can run parallel tracking on both GA4 and UA until July 2023 and ensure your new analytics platform is working as expected while both are still active.
What Is Still The Same Between GA4 vs Universal Analytics?
If you knew anything about GA4 before reading this article, you'll know about the significant differences between the two platforms. That being said, the two platforms still have a few things in common.
Perhaps the biggest is the data and reporting features of both platforms. Everything you measure in UA can also be measured in GA4, and you can run all of the same reports. You may actually think that GA4 has more reporting options, but many of these exist in UA; they are just hidden under different tabs.
Another thing the two platforms have in common is the price. Just like Universal Analytics, GA4 will be completely free to use.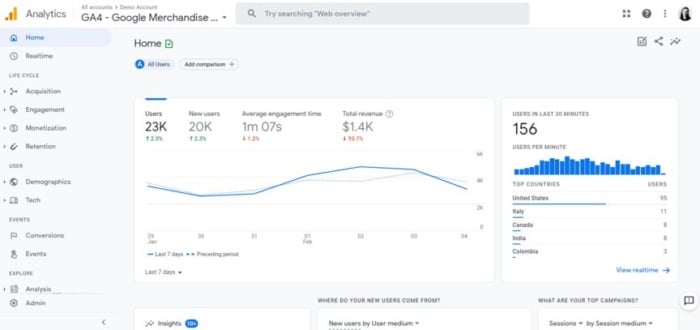 Finally, the interface is similar. If you know your way around a Universal Analytics account, you should be able to use GA4 relatively easily. A couple of things will be in different places, and some features may work slightly differently, but the design hasn't changed significantly.
What New Features Does GA4 Have vs Universal Analytics?
Because GA4 is a completely new platform, it boasts a raft of features that Universal Analytics doesn't have. So, what are the differences between Universal Analytics and GA4? Let's take a look at them below.
Event-Based Tracking
As I've already mentioned, the biggest difference between UA and GA4 is how they measure and model data.
In Universal Analytics, user interactions are tracked via page views, which was relatively effective, but often left gaps within data collection since they didn't account for other interactions, including video watches, clicks, and more.
In GA4, each interaction is classified as an event that you can analyze and measure in a much more flexible way using the reporting tools available. These events are tracked independently of sessions and can be turned on or off at will.
Mobile App and Website Tracking
One of the biggest changes regarding the analytics system in GA4 is how easy it is to gather mobile app data alongside traditional website tracking.
While you could achieve this in Universal Analytics, you needed to create a separate Property. With GA4, everything can be tracked in one platform. As a result, site owners get a significantly more detailed and comprehensive picture of how customers navigate across your website.
Cookies and IP-less tracking
Google has gone to great lengths to make GA4 as privacy-centric as possible. To that end, it's possible to collect data on GA4 without using third-party cookies or collecting IP addresses.
Instead, Google uses first-party cookies alongside AI to fill in data gaps. This keeps the platform compliant with major privacy laws, including GDPR and the California Consumer Privacy Act.
Machine Learning
One aspect that many users are particularly excited about in Google Analytics 4 is the use of machine learning. In GA4, machine learning can help predict what actions a given user might take in the future.
There are three predictive metrics you can track in GA4:
Purchase probability
Churn probability
Predicted revenue
Purchase probability analyzes the chance of customers making a purchase within seven days. Churn probability calculates the likelihood a user will not be active in the next seven days. And predicted revenue estimates the amount of revenue a user will generate in the next 28 days.
Better Product Integration
GA4 integrates seamlessly with a range of other Google products, including Google Ads, Google Merchant Center, and Big Query.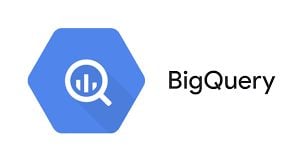 Big Query was a connection that was previously only accessible to anyone with a GA 360 account. However, this connection now comes free for GA4 users and offers a multi-cloud, serverless data warehouse you can use to keep your business up-to-date and receptive to change.
As for Google Ads, GA4 lets you identify highly-engaged or high -value audiences and target them with a paid campaign. You can even see your Google Ads campaigns in the acquisitions report of GA4 and import analytics conversions into your Google Ads account.
Customizable Dashboards
Unlike Universal Analytics, where report pages aren't customizable, GA4 lets users change the arrangement of data cards by clicking on the customize report button.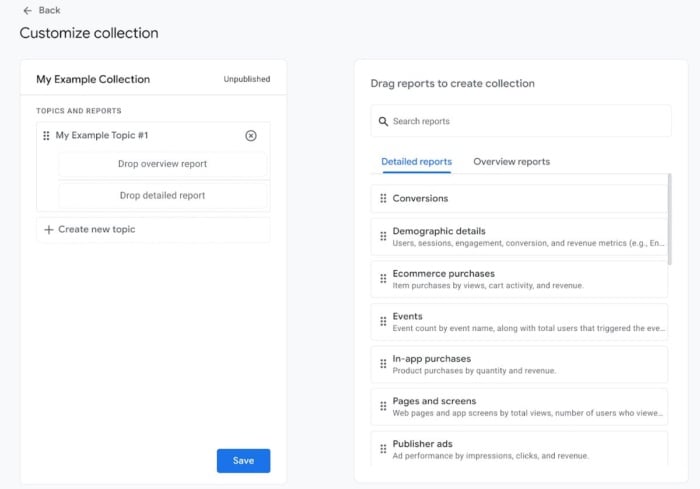 Better Search With the GA4 Search Bar
You could search for a couple of things in Universal Analytics, like reports and insights. For example, typing "conversions" into the search bar would yield the most relevant conversion reports and the conversion insight tab.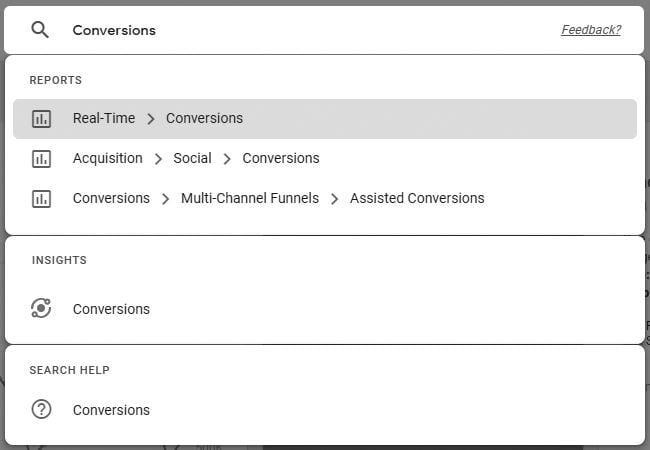 (Source)
But this is nothing compared to the intuitive search feature present in GA4.
Click in the search box, and you'll see recent searches you have made. Start typing a question, and Google will suggest completed questions.
You can search for actual questions, like: how many more visits than last week? Google will tell you the answer directly in the search bar.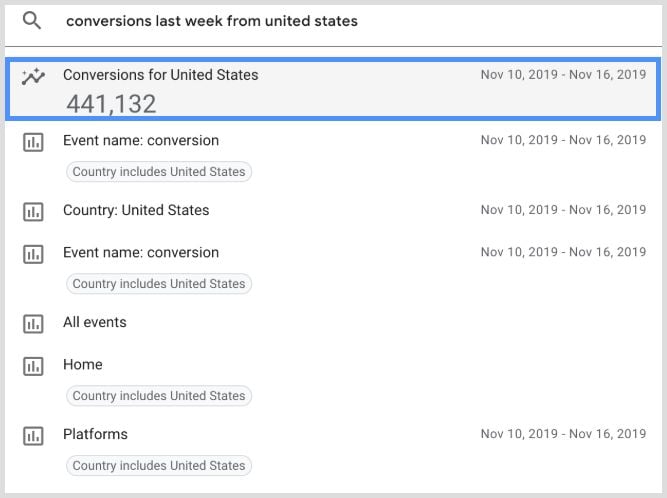 You can even search for queries that compare data ranges, like how traffic compares from one period to the next.
Does GA4 Get Rid of Anything From Universal Analytics?
One of the biggest things GA4 removes is monthly hit limits. On Universal Analytics, webmasters were limited to 10 million hits per property, 500 hits for each session, and 200,000 hits per user per day. There are currently no limits on GA4.
Another thing not coming over to the new platform from Universal Analytics is spam referrals. GA4 is preventing spam by forcing all Measurement Protocol hits to have a secret key, which filters out spam referrals before they are recorded by the platform.
There are a couple of features that aren't being migrated, too. Webmasters won't be able to block IP addresses, create different views of their data, or set up a filter for your hostname.
Bounce rates are also omitted from reports. That's because Google is choosing to take a more positive approach to reporting by focusing on engagement rate figures. Instead of bounce rate, webmasters can measure engaged sessions. These are sessions that lasted for at least 10 seconds, had at least one conversion event, or at least 2 page views. In GA4, your site's bounce rate is the percentage of sessions that weren't engaged sessions.
How Might SEOs Need To Change Their Strategies To Use GA4?
The biggest change SEOs may need to make is to their reporting strategies. That's because GA4 lets SEOs create much more informed reports. Unlike Universal Analytics, GA4 lets SEOs compare users for the previous 7, 28, and 90 days compared to the previous period allowing you to see just how much impact your optimizations are having. As part of that, you'll need to know how to build an SEO landing page report in GA4. Luckily my guide walks you through the entire process.
GA4 also lets SEOs better understand the customer lifecycle and make changes to their strategy accordingly. As you can see in the image below, GA4's Customer Lifecycle Reports give you a complete view of how users behave from acquisition to conversion.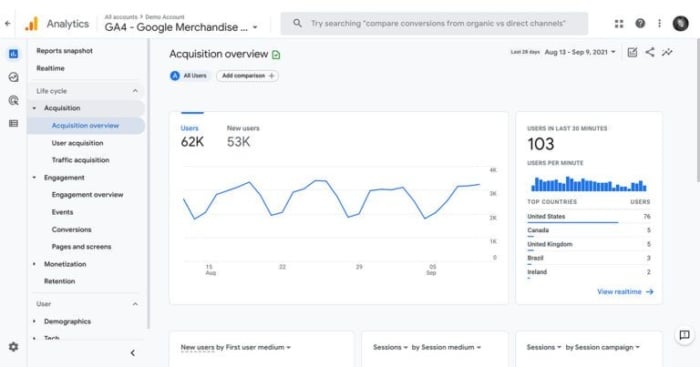 Given the complexity of reports in GA4, you may need to change your reporting strategy entirely. Some marketers find it easier to connect GA4 with BigQuery to effectively analyze site data. If that's the case for you, you'll also need to learn how to use the BigQuery platform to analyze site data.
Frequently Asked Questions
What is the difference between GA4 and Universal Analytics?
GA4 is the new iteration of Universal Analytics, also known as GA3. In recent years, Universal Analytics has started to become redundant, and GA4 is set to replace it with more relevant tools and options to help marketers track customer data more effectively.
What will be new in GA4?
GA4 offers several new features that include mobile app tracking, event-based tracking, better integration with Google products, a customizable interface, cookie-less tracking, and machine learning capabilities. 
What will not be included in GA4?
The biggest thing not included in GA4 is data limits. Universal Analytics properties are only able to process 10 million hits, 500 hits for each session, and 200,000 hits per user per day. But there are no data limits on GA4. 
Can you run Google Analytics 4 and Universal Analytics together?
Yes, you can run GA4 and UA simultaneously until the latter is sunsetted in July 2023. Running both platforms in parallel is the best thing to do if you want to make sure GA4 is collecting data correctly or if you're not yet ready to commit to a switch. 
Conclusion
This has been a window into the differences between Universal Analytics and GA4. While there are some significant changes between GA4 and Universal Analytics, and it can seem like a daunting process learning all of the new features, it is a process that is definitely worth undertaking.
The sheer number of new features on GA4 may seem daunting, but they just prove what a powerful analytics tool GA4 is and why it's essential to migrate from Universal Analytics sooner rather than later. Remember, when Universal Analytics came onto the scene, it also caused some concern and confusion, but it was quickly accepted as the norm. Continue your GA4 education by reading my GA4 guide.
Which new aspects of Google Analytics are you most excited to use? Let us know in the comments below!