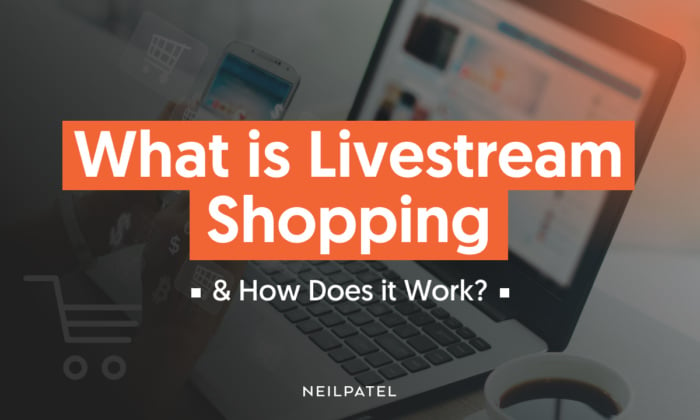 Traditional, physical retailers are great at customer service. They can focus on the specific needs of a handful of shoppers at a time, answering their questions and providing bespoke recommendations until browsers are ready to buy.
On the other hand, e-commerce stores have a much broader reach than their brick-and-mortar peers. There's basically no limit to the number of people they can serve at once, and those people can be anywhere in the world as long as they have an internet connection.
Live streaming e-commerce shopping effectively combines the two, putting digital retailers in front of a vast online audience while still allowing them to respond to customers on a one-on-one level.
It's highly effective: Experts estimate livestream shopping will generate $25 billion in the U.S. alone in 2023.
What Is Livestream Shopping?
First of all, what does livestream mean? In short, live streaming is transmitting live video to an audience in real time over the internet.
Livestream + online shopping = live streaming e-commerce opportunities for businesses.
So, let's discuss what this looks like in practice. If you've ever watched a home shopping network like QVC, you probably already have an answer to the question "what is live shopping?" because it's been in American living rooms for years. A presenter showcases a product, which you can purchase during the broadcast.
That said, there are a couple of big ways livestream shopping improves upon the traditional home shopping experience.
For one thing, it's far more interactive. While home shopping channels allow viewers to call in, livestream shopping enables the audience to interact through comments, likes, polls, and more. For example, anyone watching the stream can ask a question about the product or request that the host show it from a different angle using chat functions.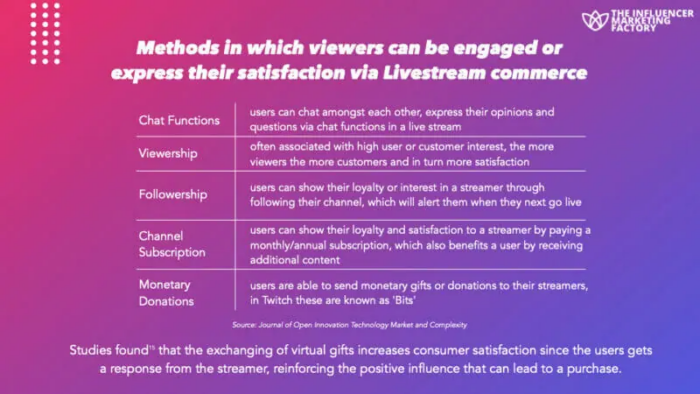 A second thing to consider is it's more convenient. You don't need to be in front of a TV screen to participate. You could be in a coffee shop or on the bus. Given that a staggering three-fifths of American viewers who watch live TV are aged 55 or over, if you're trying to reach younger consumers, home shopping networks likely aren't the answer!
In the United States, livestream shopping is currently used mostly by small, direct-to-consumer brands, including a handful of celebrities like Catherine Zeta-Jones. She sells her line of makeup products via the talkshoplive platform.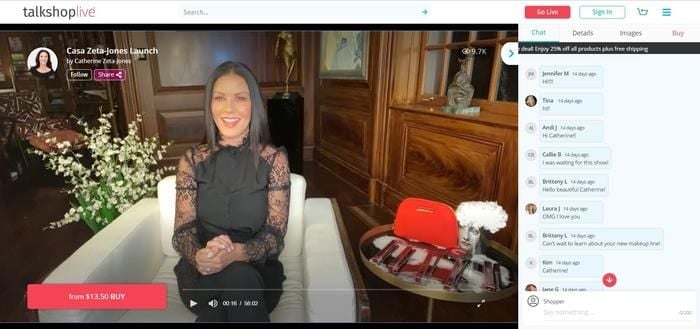 Livestream shopping isn't limited to any specific product category (although it's almost all B2C). A quick browse of categories on CommentSold, a livestream shopping platform used by more than 3,000 retailers, includes:
women's retail
direct selling
wholesale
sports merchandise
home decor
Livestream Shopping Platforms You Should Know About
Livestream shopping first rose to prominence in China, thanks in part to the existence of fully integrated digital platforms combining livestream e-commerce and payments. For example, in 2020, two-thirds of Chinese shoppers bought products via livestream within the previous year.
Outside China, a bunch of dedicated livestream shopping platforms aimed at Western audiences are already available. These include:
1. Facebook Live
This feature offered by Facebook allows users to broadcast live video content to friends and followers on the platform. Recently, Facebook has been expanding the functionality of Live to include livestream e-commerce features, making it a great platform for livestream shopping. A key benefit is its large user base and the potential to reach a huge audience through livestreams and "Facebook Shops," but there are also plenty of interactive features to create a strong sense of community through engagement.
2. Instagram Live
Instagram Live is a feature offered by Instagram that, much like Facebook Live, allows users to broadcast videos to their followers. Also, like Facebook Live, Instagram Live has been working toward including e-commerce features. Instagram Live has Instagram shops, which let businesses create online stores and show products. For live shopping, you could simply integrate this feature to make the process seamless for users.
3. TikTok Shopping
TikTok, a popular short-form video sharing platform, has introduced e-commerce features to make the platform an excellent option for livestream shopping. With over one billion monthly active users, TikTok is an awesome opportunity to reach a large, younger audience. Plus, its format promotes engagement and creativity that makes it easy for retailers to use music, filters, and effects to showcase products.
4. Popshop Live
This is an iOS-specific platform that allows sellers to host shows from their iPhones, use photos to upload purchase links, and integrate with inventory management software.
5. TalkShopLive
TalkShopLive is a social-shopping network that allows sellers to broadcast shows and build an audience. On these shows, you can show off products, highlight essential product details, and virtually chat with customers (who may purchase with a quick, one-click button).
6. buywith
This is a platform where influencers "shop live with their followers" on brands' e-commerce sites, helping influencers to win bigger partnerships and brands to generate greater ROI from their influencer marketing strategies.
7. Livescale
This is a live shopping app that integrates with a range of existing e-commerce platforms, including Shopify. With Livescale, sellers can generate engagement, build brand awareness, and increase sales through a customizable experience.
8. Giosg
Giosg is a customer engagement platform enabling businesses to interact with customers via chat, video, and voice channels. It offers a live streaming feature, letting businesses use video to connect with customers right away. A huge benefit of using Giosg for livestream shopping is it lets sellers generate a personalized experience for customers with interactive elements, like quizzes or live polls.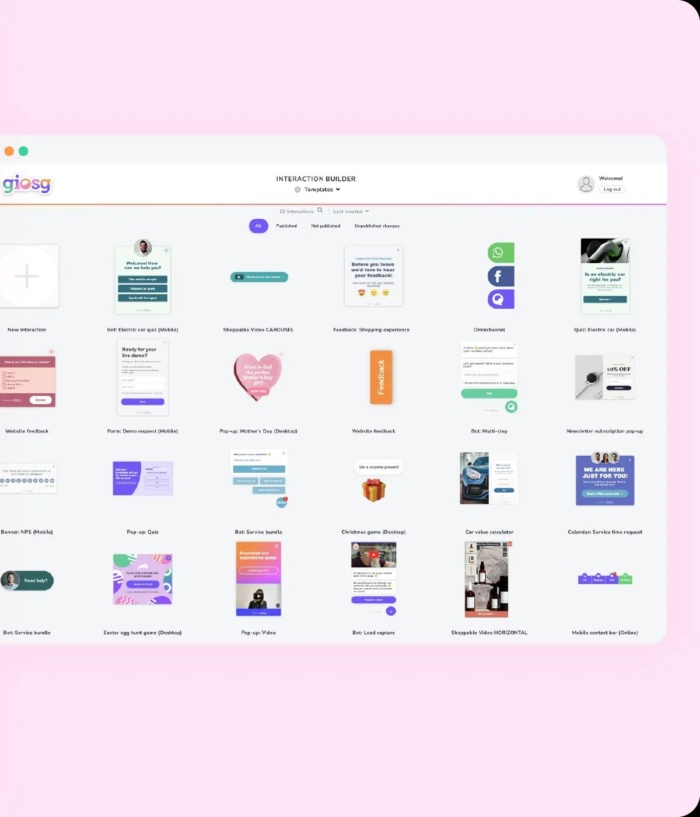 9. Bambuser
Originally a live streaming platform for journalists, it's since entered the livestream shopping space and has been used by brands like Peach, which generated $27,000 in their first livestream shopping show.
10. Twitch
Twitch is generally known as the place for video game streaming, but it has since expanded into other categories, like talk shows, shopping, and music. With its large and engaged community, retailers should consider it as a source for livestream shopping. Twitch also works very well with an extension called "Streamlabs," which helps streamers add interactive elements to their streams, like alerts or overlays.
11. NTWRK
A specialist startup that promotes daily limited-release product drops and shopping events. For example, the platform reportedly generated over $1 million in sales for certain shows in 10 minutes. If you're a retailer with a niche product, NTWRK is a great place to show it off to potential buyers who are in the same market.
The Four Main Elements That Make Livestream Shopping Work
The premise behind livestream shopping is pretty simple. It effectively combines live streaming, which you can already find on a lot of the big social media platforms, with a direct purchasing feature.
It's like watching a live unboxing on YouTube, except you can buy the product right then and there.
Livestream shopping also encompasses a lot of the features that make social media so popular. Comments pop up as they appear, just like in a Facebook or Instagram livestream, and the audience can react in real time with likes and emojis. All that interaction makes for a far more engaging shopping experience than simply adding an item to a shopping cart and filling out shipping details.
Of course, livestream shopping only works if you can attract a large enough audience. With that in mind, a lot of brands favor the following tactics to generate hype:
1. Interactive Platform
Interactive platforms make livestream shopping more interesting and personalized for customers. When people get engaged, they can build a sense of community and excitement around the event. Plus, personalized interactions or gamification will allow hosts to gain real-time information about their customers' thoughts or feelings.
2. Vibrant Host
Would you want to buy from someone that doesn't seem to care or isn't interested in their product? Probably not. And neither would your customers.
A host with knowledge about the audience and product will encourage audience participation and drive sales and engagement. Plus, a host with a positive temperament can provide enthusiastic product demonstrations and real-time customer service.
Keep in mind that personality and hosting style matter, too. Depending on the audience and product type, some personalities may be more appealing to the audience than others. This is where audience research can come in handy.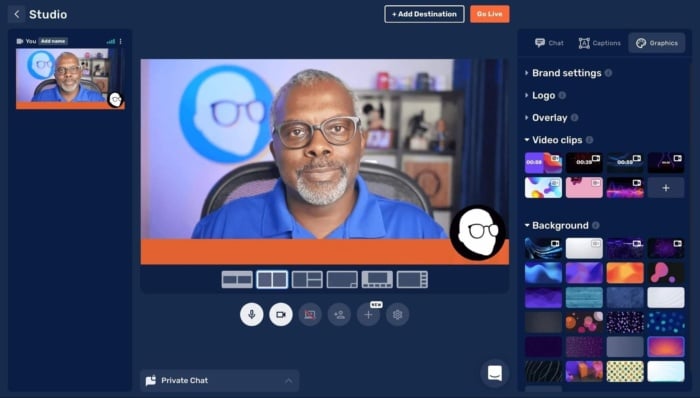 3. Products for Sale
Generally, customers like to see what they are buying in real-time. They want product demonstrations to understand the product better. Showing the product in your livestreams also generates a sense of urgency; customers will see the product available and have more interest in it because they know others watching want it, too.
4. An Audience
The audience is essential during a live video commerce session because they are the potential customers. Without an audience, there is no one to make purchases.
Engaging with the audience and addressing questions or comments will build trust and increase the likelihood of a sale. Plus, the audience can give sellers useful feedback on products and help promote a sense of community related to the brand itself.
Tips for Hosting a Livestream Shopping Session
Like the sound of livestream shopping? So do a lot of other brands. Take a look at the company page of one livestream platform, Brandlive, and you'll see name-drops like Adidas, GoPro, and Levi's!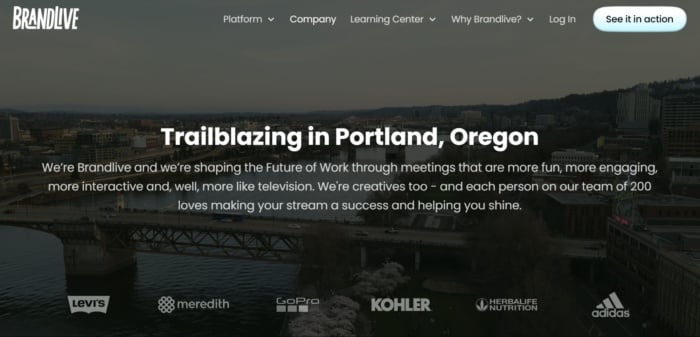 Of course, just because it's a hot new trend doesn't mean there are any guarantees of success. Read these tips before you host your first livestream shopping experience.
Understand Your Target Audience
As with anything else in retail, livestream shopping won't yield results if you don't truly understand your audience. Unless you know who you're reaching, you can't make smart calls on issues like:
which platform to use
which products to promote on your livestream
what tone of voice to adopt
how to raise awareness of your livestream
when to host it
There are many ways to research your audience, but one you shouldn't overlook is Google Analytics.
You can find a ton of user data within this tool if you know where to find it. As a starting point, click the "Audience" tab in the left-hand menu and then select "Overview." As you'd expect, this gives you a brief breakdown of key audience information, such as:
where they live
what sort of device they use to visit your site
what browser or operating system they use

Next, take a look at the "Interests" section. This is where you'll find some of the most interesting (and useful) information about your audience's behaviors, characteristics, and professional lives. Depending on your audience's makeup, it might tell you things like:
recent life events, such as a house move or new job
hobbies and interests
the industry they work in
the types of content they engage with
Some of this will seem obvious. If you sell wedding dresses, it won't surprise you to learn that a lot of your customers are getting married soon.
However, you might unturn a few gems. For instance, say you're a homeware brand, and you learn that a lot of your audience have recently started their own businesses. Maybe it'd make sense to host a live shopping stream dedicated to kitting out a home office.
Note that Google Analytics 4 will officially launch with full implementation in July 2023, which means this format will change. It will let users look at more than just traffic data and will instead offer insights on customer usage metrics across various platforms. Basically, Google Analytics 4 will give you a better understanding of how customers interact with your website or app.
Build a Dedicated Following
Once you understand who your audience is, you can begin building a following. The ability to foster a sense of community among shoppers and promote word-of-mouth recommendations are two of the standout features of livestream shopping, helping bring people back to your streams time and again.
As you start to interact with the same specific group of people who are already invested in your product, your chances of making a sale skyrocket. Plus, this group likely knows your brand or products better than random audience members, meaning they can give you valuable feedback or ask questions you may not have considered.
Market Your Livestream Shopping Sessions
Clearly, if you don't have an audience, you don't have a live shopping stream. It takes a lot of time and effort to build up a community, so you'll likely need to do your share of promotion ahead of your first stream.
Influencer partnerships are a natural fit for livestream shopping. Getting a recognizable face to showcase your products and highlight key features and benefits can be great for driving sales, and it also helps create some noise ahead of the event.
Of course, influencer marketing is only one approach to promoting a livestream. It might not be appropriate to your brand, or you might not have the budget to partner with the right person. Don't worry; there are lots of other tactics you can use, like:
Running Social Ads
Livestream shopping is a highly social experience, so why not leverage the advertising capabilities of platforms like Facebook and Instagram to generate awareness of your event?
Informing Your Customers
Let your existing customers know about your first foray into livestream shopping by shouting about it in your newsletter, organic social posts, or blog.
Building Excitement
Remember when I said how streamers use limited-edition product launches and time-specific discounts to generate hype? Do the same with your livestream, and make sure everyone knows about it before the event.
Choose the Right Platform for Livestream Shopping
The final piece of the puzzle is choosing the best platform to host your shopping session.
When cosmetics giant Maybelline promoted the launch of a new lipstick to Gen X women in China, it selected Taobao as its platform of choice.
Why? Because it wanted to steer clear of niche apps, shorten the path to purchasing to a single click, and reach as many people within its target niche as possible. During the event, anyone searching for Maybelline on Taobao was shown the livestream in a pop-up window, and 50 key influencers were also invited to stream to their fans, allowing them to add their own unique touch to the launch.
To give an example from a company that isn't a household name, California-based Japanese pop culture brand JapanLA has seen big success through livestream shopping on Popshop Live. In just one show, it sold $17,000 worth of products through more than 1,500 individual checkouts.
JapanLA owner Jamie Rivadeneira says Popshop Live's interactive features are key to the brand's success. "I'm able to respond to customers' requests in real time, such as adding any products that the audience sees in the show on the fly.
Sell a Variety of Products
Want to know one way to keep the audience engaged? Show them more than just one or two items. Offering a range of products will attract a wider audience and increase appeal, as viewers may want to purchase different types of products. And, with multiple products available, there may be opportunities for cross-selling, which increases revenue even more.
Optimize Your Product Pages
You may not be able to optimize product pages on all platforms (yet), but right now, TikTok Shopping lets you make your pages easier to find on search engines. Whenever possible, treat your product pages the same way you would any other typical or livestream e-commerce site. Ensure you use high-quality images, proper keyword targeting, and consistent branding.
Offer Discounts
Who doesn't love a discount? Encourage people to come to your store by offering exclusive discounts or deals. Make discounts time-limited to create a sense of urgency and come up with unique deals shoppers can't get anywhere else. For instance, if you're selling cosmetics, create a bundle of branded products.
Master the Art of Tagging
Want to stand out? Then add tags.
An example of this is on TikTok Shopping. This platform allows businesses to tag products in their videos, making it easy for viewers to learn more about and purchase the products they see. One easy method to find popular TikTok tags is to look at what's trending. The "Discover" tab is a quick way to view the tags users actively use.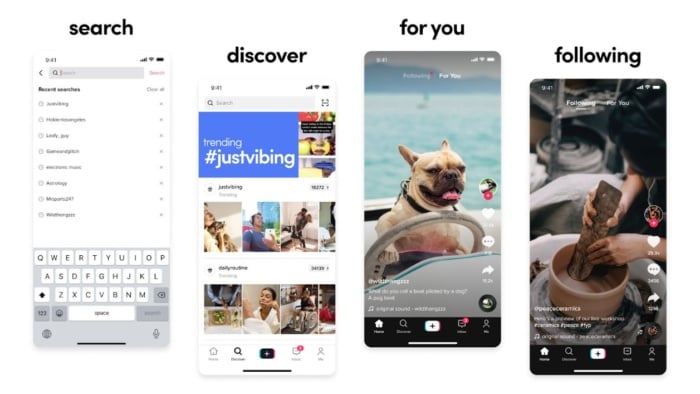 Frequently Asked Questions
What is a live shopping event?
A live shopping event is when sellers offer items for sale through platforms and channels, like Facebook Live or TikTok Shopping, while broadcasting a live video stream to an audience. This way, anyone in the audience can ask questions, learn about a brand or product, and even make a purchase.
What is livestream selling?
Livestream selling is what happens during a live shopping event. A host endorses products on live video to try and generate sales. Livestream selling typically includes opportunities for potential customers to learn how much products cost, what products do, and more.
Is livestream free to use?
Some livestream platforms are free to use. Others require a fee for use. Choosing the right channel to livestream from will depend on your audience, brand, and product type.
What are the benefits of livestream?
Livestream shopping shows provide an interactive and engaging shopping experience for the audience, allowing them to see products in real-time and get immediate answers. Plus, they make it easier for brands to build a sense of community and trust with viewers, potentially increasing the likelihood of sales.
Why do people use live streaming?
People like to shop using live streaming because it makes it easier to ask questions, interact with brands, and engage with others in the brand's community. Plus, nothing can beat the convenience of watching a livestream and easily shopping for that product from the comfort of home.
Conclusion
Livestream shopping might be a hot e-commerce trend, but at its heart, it's very simple. Doing it well is all about leveraging traditional marketing skills like researching your audience, building a community, and choosing the right amplification tactics.
Get those things right, and you've got a chance to capitalize on a new approach to digital commerce that prioritizes audience engagement and fosters trust in a way that traditional online retail simply can't match.
How are you planning to incorporate livestream shopping in your e-commerce strategy?