Can't seem to scroll through social media, news sites, or your inbox without hearing about ChatGPT these days? You're not alone.
Automation and scalability make artificial intelligence (AI) tools attractive to digital marketers at several levels. With the emergence of so many tools hitting the market at breakneck speed, choosing the right one might be overwhelming.
To help you hit the ground running, we curated a hand-picked list of top AI tools focusing on four digital marketing activities:
Advertising creative and copy
Copywriting assistants
Content creation and generation
Social media automation
Whether you're ready or reluctant to use these tools, AI is likely here to stay. Our roundup below will helpfully empower you to determine which tool(s) could benefit you most.
Some of the greatest creative automation tools we found can help generate not only engaging copy but can produce thumb-stopping graphics to support your campaign or brand message. 
AdCreative.ai
AdCreative.ai uses AI to generate creatives primarily for advertising and social media posts. With an emphasis on helping users increase their sales, the tool is great for startups, ecommerce sellers, and agencies.
The user-friendly interface makes it easy to get started. Just upload your brand logo, company name, and enter a few details, such as your company description. The app automatically picks your brand colors for you, though you can customize these if desired.
After you connect your social or ad accounts, you can designate the format (social media platform, banner, or custom sizes) and input additional information, such as your target audience. After creating your draft post, click "Generate" to activate the AI. 
From there, you'll get hundreds of variations of posts to choose from, in order of the highest conversion rate score. Select the option(s) you want to download as well as all the formats and sizes needed.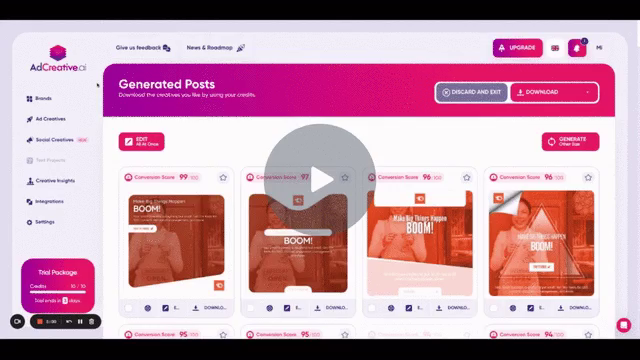 You can see from this sample that AdCreative.ai produced dozens of attractive ad creatives in just a few seconds.
Top Features
All plans include an unlimited number of AI generations plus unlimited free stock images to support your campaign. This allows you to create thousands of visuals in just a few minutes. Another unique feature are the Creative Insights, which are included in every plan—with the Text Generator AI, these work in tandem to create engaging, resonating headlines across major ad platforms.
AdCreative.ai was voted #1 overall Creative Automation Platform on G2 for Winter 2023 and boasts a client base of more than 20K users. 
Pricing
The tool has two plans, Startups and Professionals, both membership-based. Startups cost $29-$149 per month, providing a set number of credits to generate creatives. Similarly, the Professionals membership starts at $189 per month and offers a custom plan for users looking to scale. Users who sign up for the annual membership receive two months free.
It also offers a free 7-day trial for one project, so users can get their feet wet before committing to dive in. 
To sweeten the offer even more, they're providing a special 30% discount for Semrush users. Enter the code SEMRUSH30 at the checkout page to give AdCreative.ai a spin.
Abyssale
"One design, ∞ variations" is the slogan behind this highly-rated creative automation solution. Abyssale provides over 100 templates for various industries, such as real estate, events, emails, products, travel, marketing, technology, and more.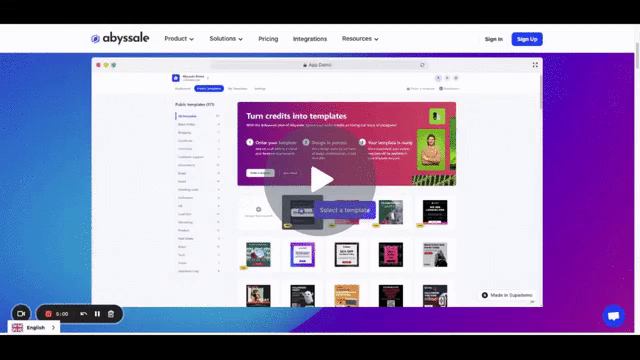 From there, users can leverage an infinite number of auto-generated images and videos for organic, social, advertising, or email marketing campaigns.
Top Features
Abyssale is fast and delivers ad creatives with the option to customize them even if you select a template initially. Regarding automation, the tool uses native integrations with Zapier and Integromat to connect with more than 1K apps—allowing you to launch and send your images anywhere and everywhere. 
With the ability to export large batches of creative assets, the company presents itself as an alternative solution to hiring a design agency or for organizations dedicated to exponentially scaling their creative output.
Pricing
Abyssale offers four subscription levels based on the number of users and credits provided each month. The Essential package provides one user with 1K credits for $49 per month. Advanced users receive 2K credits, 5 seats, and dedicated support at $79 per month. Premium users have 50K credits per month and 10 seats per account at $299.
Users can unlock a 20% discount on their package when billed annually. For an a-la-carte custom solution, you can request a special Enterprise account to best suit your needs. All first-time users can try out the free 7-day trial period without needing to put a credit card on file.
Hunch
For performance-seeking digital advertisers, Hunch is a powerful tool that streamlines both the creation of video and image ads with the extra benefit of automating the ad buying process.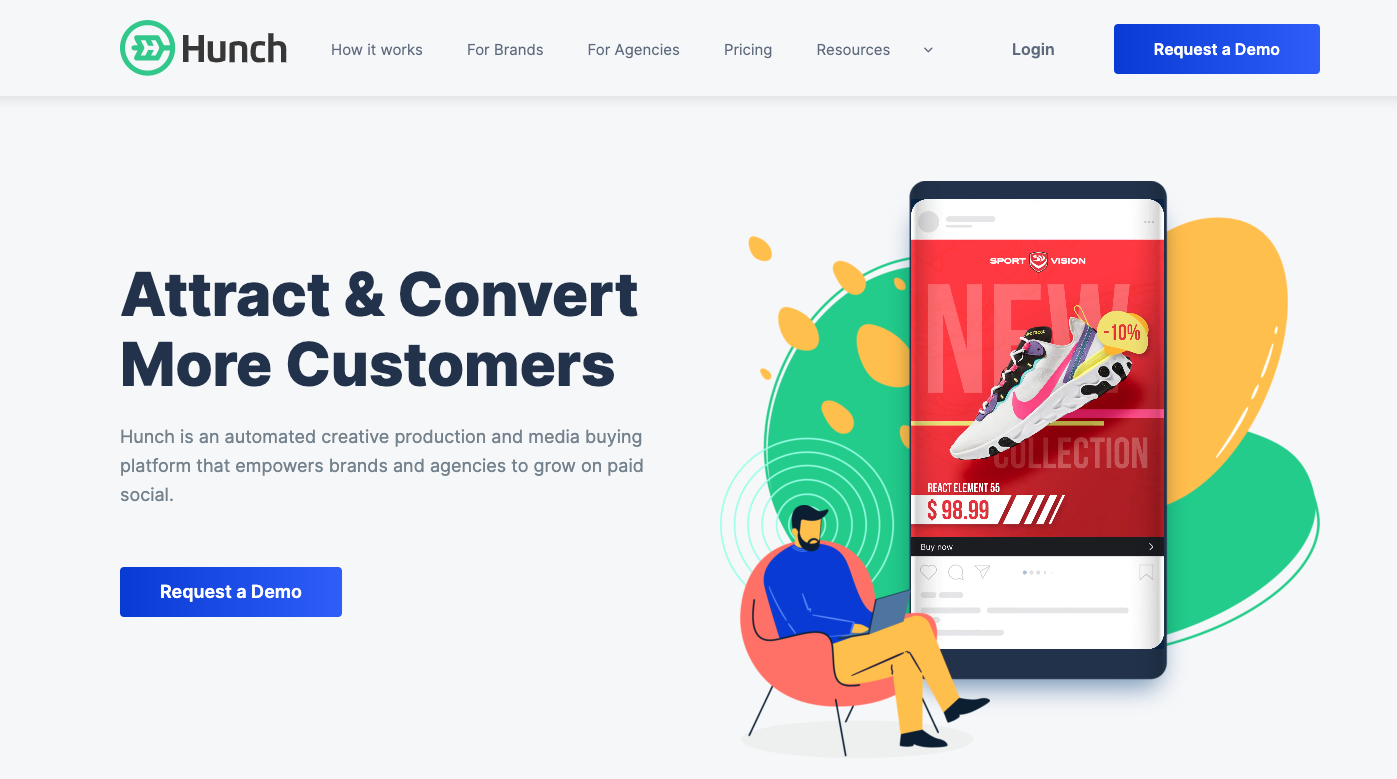 As a Meta Business Partner, it's interesting to see how technologies like Hunch might challenge the world of programmatic advertising with its self-serve model.
Along with its automated ad templates, Hunch is particularly helpful for brands and businesses that want to leverage personalization in omnichannel campaigns. It does this by analyzing the data within your owned social media channels, providing deeper insights on what performs best and how to capitalize further on that to deliver experiences specific to your audiences.
For international brands and products, Hunch also provides creative localization to help you contextualize your messaging depending on where your users are based.
Top Features
Thousands of dynamic video and image templates can help agencies and brands increase their creative output significantly, and test without limitation on Hunch's platform. 
One of the most attractive features is customer support—each user has their own Customer Support Manager, a certified blueprint expert for Meta. Hunch also has a Slack channel providing technical support 24/7.
Pricing
Hunch tailors its services toward agencies first, brands second, and underlines flexibility to help reach their goals. Every client is different; there are no set prices or membership packages. To get your custom quote, you must fill out a form selecting the features and tools you want to use.
Now that we've covered some of the best tools for creative design, let's get into some AI copywriting technologies that can improve engagement and the scale and automation of your content efforts. 
Craftly
Want to leverage AI but maintain the human element in editing? Then Craftly is a great option.
What makes Craftly unique to other AI copywriting assistants is its use of reinforcement from real people (positive and negative feedback) when training its models. 
Driven by data, they have all their trainings specific to industries while injecting their tools with all the necessary formulas for success. They rotate models and trainings based on a specific user's style preference. The more you use Craftly, the better it is supposed to get.
In this way, your outputs, or generated content, have a higher likelihood of sounding natural and conversational. 
Other AI's that don't include this element tend to become rambling and repetitive.
Craftly supports 100+ functionalities across multiple types of communications and media, such as social media posts, long-form blogs, web copy, email outreach, ads and ecommerce, and more. 
For international brands and marketers with global audiences, Craftly's ability to support 25 languages is a big draw, especially considering that the product is trained in the selected language while also being reinforced by people who speak those languages natively.
Top Features
Craftly's long-form Blog Builder is its core product. It helps not only generate a full draft on any topic of your choice but also gives multiple options for each section of your article. Users can also input information about their brand tone, which increases the personalization and enhances your voice throughout the piece.
Another core differentiator from other AI copywriters or the technology itself is that you tend to lose quality, especially for long-form requests. As the AI rambles onward, it opens up the potential for randomization. Craftly, conversely, gets ahead of this with their long-form Blog Builder by stacking their hyper-trained tools in the background to generate short-form quality in long-form format.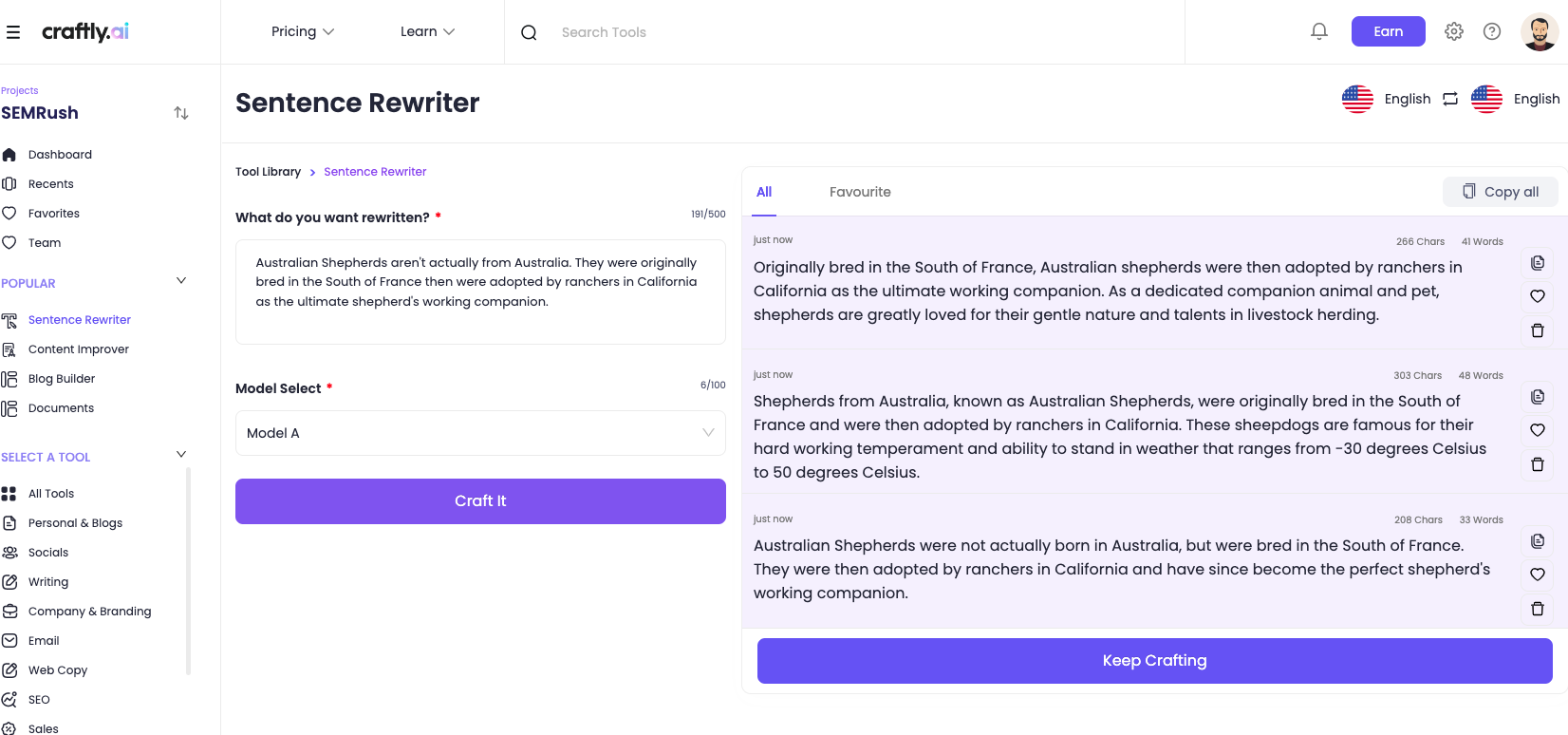 For writers who want many options in picking their ideal message, Craftly's technology hits the sweet spot between leveraging the power of AI and finessing it with the human touch.
Pricing
Craftly operates on a word-count basis, giving users a few options. The Starter subscription provides 20K word credits at $29 per month. The Crafter subscription, tailored to writers and small business owners, gets 70K word credits for $69 per month. Enterprise-level subscriptions are priced individually based on the number of seats, custom word count, and individualized training. It also comes with a 5-day free trial.
We snagged our readers 40% off for 12 months if you want to try it. Enter the special code SEMGIVES40OFF to start leveraging Craftly.
Semrush SEO Writing Assistant
At Semrush, we've developed several tools using AI to help content marketers streamline and optimize their efforts.
The SEO Writing Assistant (SWA) allows writers to optimize their content based on their targeted keywords and the search engine results page (SERPs). By inputting your content directly on the Semrush interface or using one of the integrations (Google Docs, Microsoft Word Add-On, or WordPress plugin), you can access recommendations for improving content and optimization in real time. 
Additionally, the tool has parameters for readability and tone of voice, and can detect plagiarism from across the web. After analyzing your content, SWA provides a score out of 10 with a list of recommendations to optimize and refine your piece.
Top Features
SWA also has the Expander, Paraphrasing, and Simplifier tools—instantly generating original, error-free copy using its AI-powered algorithm. This can help marketers with text variations, such as rephrasing messaging for different audiences and platforms.
Pricing
SWA is part of the Content Marketing Toolkit, a full suite of content marketing tools, including topic research, SEO content templates, and post-tracking functionalities. It is available for Guru users for $229 per month.
Grammarly
Grammarly is a writing assistant that can improve the quality and engagement of your copy, while checking for grammatical errors, inconsistencies in tone, and even plagiarism.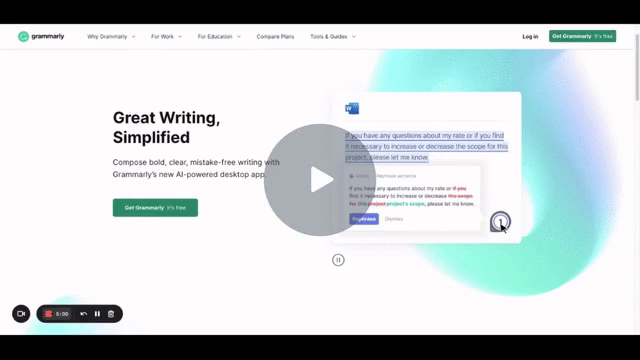 Users can compose their copy directly on the platform itself or can select from several integrations such as Google Docs, Gmail, as well as its Google Chrome Extension.
Top Features
While Grammarly doesn't help produce ideas for content or scale your output, it can certainly help you become a better writer. Paid accounts access higher feature sets including advanced recommendations for improving sentence structure, tone of voice, and plagiarism detection.
Pricing
Grammarly offers a forever free account, with no restrictions on word count or usage. To access clarity, vocabulary, and tone improvements, the Premium subscription costs $12 per month. For larger enterprises and teams, the Business tier starts at $15 per member each month.
Best AI Content Generators
What about AI tools that claim to generate content turnkey? We looked at some solutions that require just one prompt to generate entirely new content ideas or can repurpose existing content for multi-platform usage.
ChatGPT
Even though AIs have been widely used for years, ChatGPT truly amplified the conversations surrounding the capabilities of these technologies since the tail-end of 2022.
To use it, simply enter a prompt. This can be one or two short sentences. You can even direct the bot on tone, topics to avoid, and other references to generate copy.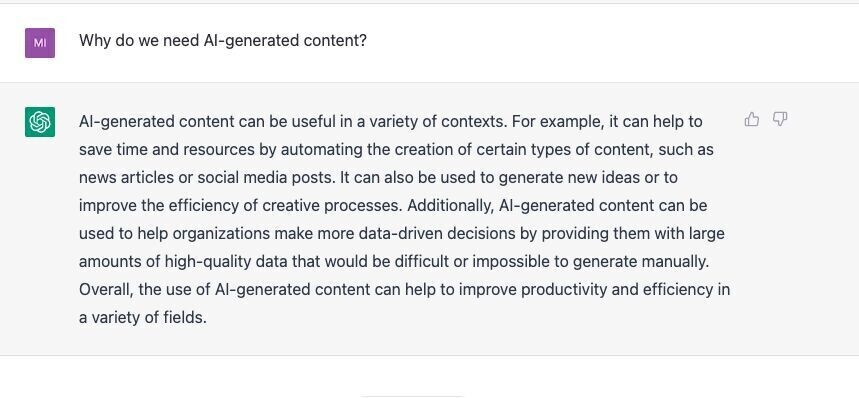 Developed by Open AI, ChatGPT uses large language models (LLMs) to produce surprisingly conversational texts. LLMs are trained to predict what kinds of words are most likely to follow each other in a sentence.
Users have leveraged ChatGPT for a variety of purposes, from essays to songs, poems, social media posts, and more. However, conversations in the industry have spoken about its ability to cause real-world harm, as its outputs cannot be held as truth and have the ability to harness bias and problematic thinking.
Top Features
Content creators can leverage ChatGPT for inspiration, though its outputs aren't entirely "original." Rather, they're based on existing content gathered from other sources. 
However, the tool can help your content rank better by helping you optimize featured snippets and FAQ-style content. Many developers are also looking at this technology to assist in routine coding applications and other manual tasks. 
Pricing
ChatGPT is currently free as it claims to be gathering feedback during its research preview time.
Jasper AI
Jasper AI is an AI copywriter that can help generate high-converting copy for ads, blog posts, landing pages, and other marketing materials through a few short prompts.
The tool claims to cut down the content production time 10X and users receive 100% plagiarism-free, unique content. 
Jasper AI's integration with Surfer SEO also lets you generate unique images as well as long-form and short-form content, with the ability to unlock keyword optimization features. 
Top Features
Tired of using the same old template? Jasper's Chrome extension allows you to generate open-ended commands. This way, you can create content directly within a social media platform of your choice, including, Gmail, Outlook, Salesforce, or wherever you send messages. It also supports 29 languages in its database making it an attractive solution for global brands.
Pricing
Jasper offers a risk-free, 5-day free trial at all its subscription tiers. Its Starter level starts at $24 for 20K words per month, and the Boss Mode starts at $49 for 50K words per month. Users can scale their account needs at all subscription levels, giving teams more flexibility as they grow.
For digital marketers who engage in social media marketing, continually generating ideas to keep a full content calendar can be exhausting. We looked at two highly-rated solutions that support the needs for social media focusing on automation and ad optimization.
Smartly.io
Smartly.io is a feature-packed AI solution that empowers marketers to improve their conversion rates on paid social.
Choosing from preset templates, Smartly.io's dashboard lets you design ad creatives while staying true to your brand.
After setting up a campaign, users can leverage the software's automated workflows to instantly publish ads and update them dynamically in real-time.
The predictive algorithms of this tool can help social advertisers optimize bidding strategies, budgets, and audience targeting.
Top Features
Even as an AI-driven product, Smartly.io provides managed services to help social media advertisers get the most out of their campaigns. This can be helpful if you're just getting started with AI and want to collaborate directly with their team on how to leverage the technology to get the highest return on investment (ROI).
Pricing
Smartly.io doesn't mention pricing on its website; you'll have to request a demo to discuss your goals and be onboarded by a specialist.
Celtra
Celtra's premise is to help achieve creative automation while maintaining control of your brand. For agencies and media publishers who need hundreds or thousands of options for a single campaign, Celtra could be a solid choice for brands with significant ad budgets.
The creative automation platform uses its AI to produce large-scale creatives for social advertising and performance branding. While any industry could benefit from Celtra, it focuses its services on apparel, retail, and the consumer packaged goods (CPG) industries.
Top Features
Celtra boasts a portfolio of heavy-hitter clients such as CNN, Adidas, Spotify, and Vice. However, what's more impressive is its unique research and industry reports on creative automation as a whole.
Pricing
Celtra doesn't display pricing information on the website either; you'll need to reach out directly to its sales team to book a demo.
AI and Digital Marketing Long Term: Thoughts and Future Consequences?
Just like any digital marketing tool, AI shouldn't be seen as a replacement for human writers, designers, or content creators. Rather, it's a way to increase productivity and help automate more routine tasks.
In this way, AI has the potential to free up more of our time so we can delegate it to more creative work.
Nonetheless, many AI's produce outputs based on reformulated statements and content people have already thought of and published. To date, it doesn't have the ability to generate purely original ideas, much less determine if they're worth pursuing. ChatGPT would agree with this, too.

We'll see how creative people and marketers use these technologies and determine the best use cases. For now, we think AI is worth testing out to see how it can simplify and alleviate common pain points for marketers.