Marketing your product or service is a huge priority for any startup, and the right content can help you reach the right audiences and build your brand while saving resources.
This step-by-step guide — packed full of useful insights and advice from the leading content marketing and SEO experts — will help you:
Map out a successful content strategy for your startup
Develop a effective content marketing processes
Establish and reach relevant content marketing goals
Why Should Startups Invest in Content Marketing?
Content marketing is a cost-effective means of building brand awareness.
For example, LiberEat, a technology startup focused on food safety, implemented a content strategy to grow their user-base at the lowest cost possible. 
In only three months, they: 
Grew their organic traffic by 1000% 
Increased organic conversions by 25%
Achieved sustainable growth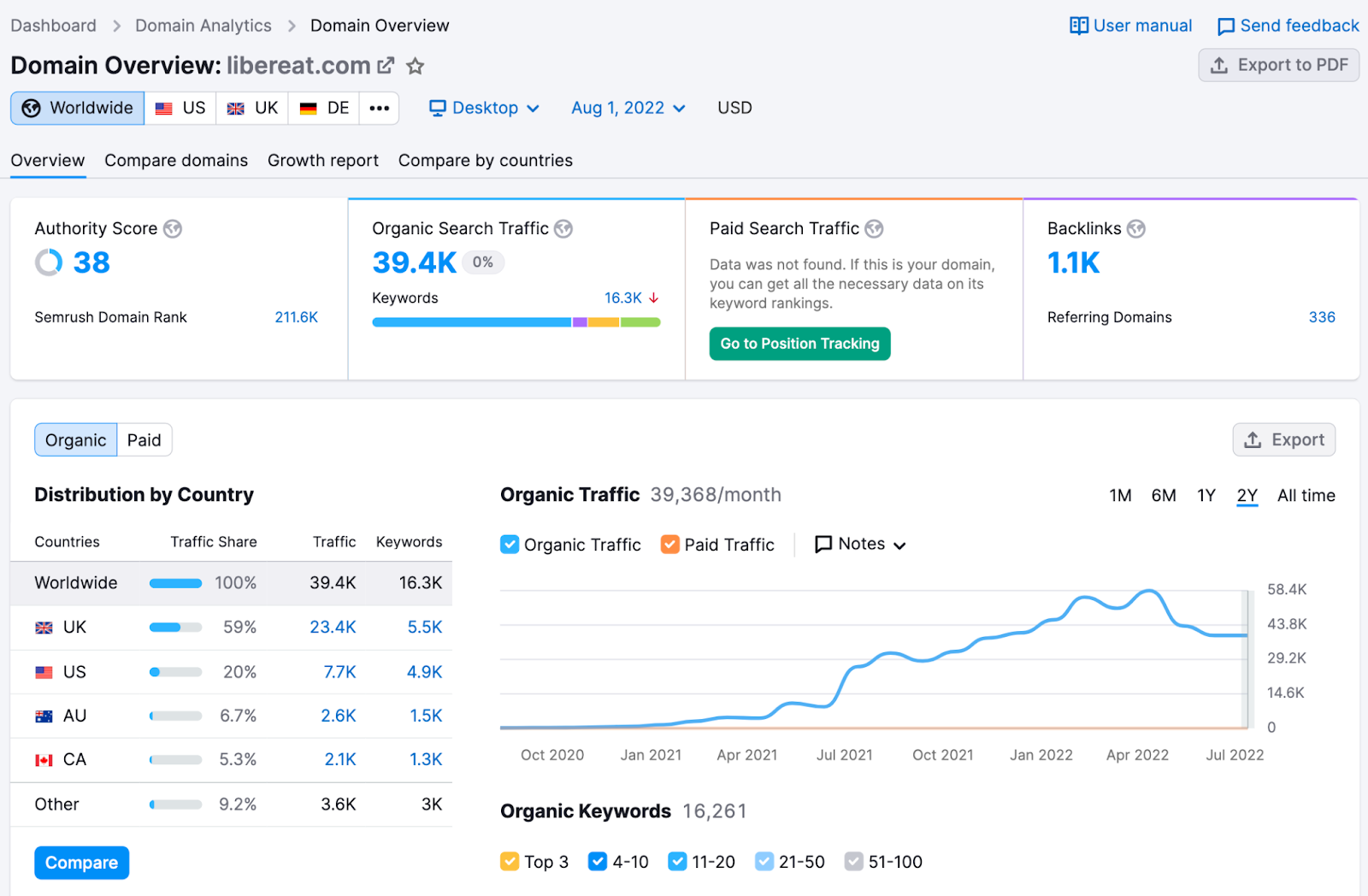 Organic content, such as blog posts, guides, lead magnets, and video can have a long-term impact. If you maintain it well, this content can bring in traffic for your business for years. 
Related paid advertising efforts like targeted search and social ads are also an excellent way of finding specific audiences, and can have a significant short-term effect.
Effective content can help you: 
Attract potential customers to your website and convert them into leads
Build trust with your target audience by sharing trustworthy information
Make your brand more visible to your audience through SEO
There's no way you can really do without content marketing, says Austin Mullins from Conversion Media:
There's simply no getting around content marketing. Even if you're bringing in visitors via (adverts), without some sort of content to guide them along their journey and assist in converting them into customers, it's extremely unlikely you're going to be able to build a meaningful business.
Do Pre-Launch or Early-Stage Startups Need Content Marketing?
Is content marketing worth it if you're very new or haven't even gone to market? 
In short, yes — content marketing can certainly be beneficial for early-stage companies and small businesses. 
Jitesh Patil, SEO & Content Specialist at Toggl, confirms that content can become a great tool for creating the initial awareness and buzz around your brand:
As a startup, you want to get noticed. Creating content that everyone else is creating won't get you there. Think out of the box like Angi; who asked kids from around the world to draw their dream bedrooms and then brought their ideas to life. If you're on a tight budget, whip up original research from public data, like Rave, who turned IMDB data into the 'World's Favorite TV Shows' infographic.
For example, top-of-funnel content like blogs and videos can help you gauge audience interest in your products and services.
It can also open up conversations with your target audience to get more feedback.
Lower-funnel content, like case studies, can then help you nurture this audience and generate your first leads. . 
Now, let's look at the 9 key steps you need to take to effectively grow your startup with content marketing.
Step 1: Create a Foundation for Your Startup's Content Marketing
Before you begin creating content, make sure to lay a strong organizational foundation. This includes ensuring all stakeholders are on the same page and all assets are in place.
Getting the buy-in from stakeholders
Getting support from your CEO, investors, board, or other important stakeholders is essential to secure resources needed for content marketing . 
To do this, you'll need to: 
Be honest and transparent
Share clear benefits of content marketing
Show how you'll define and measure success
Set realistic expectations
For example, let's say your startup operates in a very narrow niche, such as document automation software. Chances are that keywords in this niche have relatively low search volume.
When you speak with your CEO or investors, they might ask, if your keywords don't attract enough traffic, why bother with content marketing?
A thorough understanding of your audience and your overall strategy can help you answer this question more effectively. 
After communicating with your customers and sales team, you learn that your target audience, legal professionals, have two common pain points: They struggle to maintain work-life balance and adopt new technology.
With this information in mind, you can build a highly targeted content strategy that focuses on helping your audience optimize their workload through automation and learn about new legal technology.
By doing this, you can attract more targeted leads, and over time, dominate your niche and increase demand for your solution.
Prepare Essential Marketing Assets
Remember that content will only work if other marketing properties and channels are set up. 
Companies that start publishing content without taking the customer journey into account usually end up wasting their resources.
Make sure to take care of the following items:
Get a clear vision of your overall brand and product positioning, as well as messaging
Have an optimized website with all necessary pages
Create conversion paths (e.g. CTAs to get a free trial or demo)
Design follow-up workflows (e.g. to nurture leads coming from content)
Set up analytics to be able to track progress
For example, take a look at Spruce, a real estate technology and title startup. Their website makes their central purpose clear from the first page. 
They also make it easy to convert, with prominent links to request a demo front and center.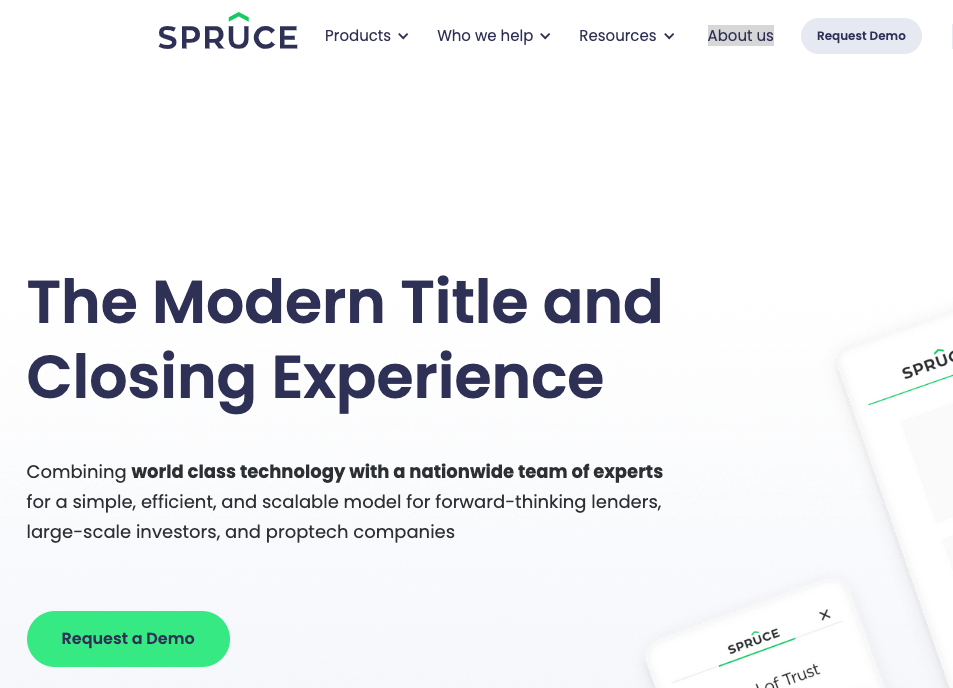 They support this with: 
An email newsletter to stay in touch and nurture their audience
A blog full of educational articles tailored to their audience's unique interests
Conferences and webinars where they discuss industry topics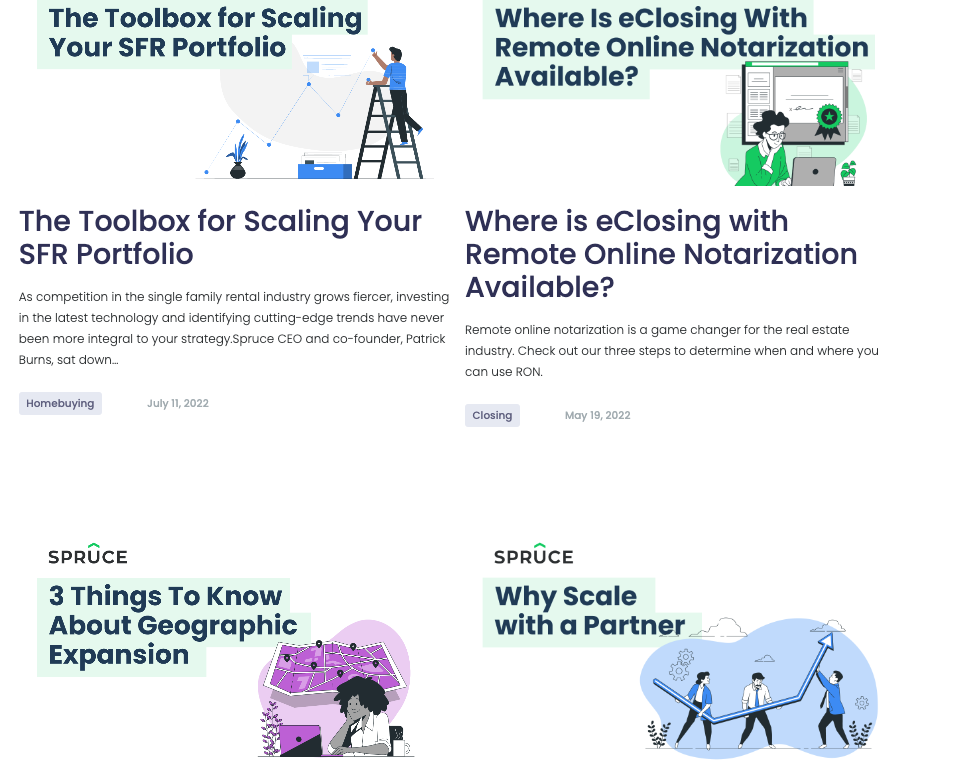 Ultimately, content marketing needs to be unique to your company and your customers' needs. It takes planning, time, patience, and hard work. You can't expect overnight success.
Mullins notes that, over time, it will get easier to rank new pieces of content, and your customer acquisition cost will get lower. 
You have to be operating on the right time horizon. When you first start working on growing your organic traffic, you're going to lose money, but it's a channel that compounds.
Step 2: Align Your Content With Your Business Model
Nothing is more important than making sure your content can deliver tangible results. In a recent conversation, Mark Rogers from Animalz told us:
Content strategy specifically needs to be tied to the business model. If your content is not supporting your business, then you're honestly wasting your time.
 
First, make sure you have a clear idea about where you currently are: 
Team: Who are you working with? Are there any skill gaps? Will you need to hire or outsource?
Revenue: What is your Monthly Recurring Revenue (MRR)? 
Budget: What is your marketing budget for the next quarter? 
Competition: Who are you facing up against? What can they deliver that you cannot and vice versa? What makes your offer best for your target market?
Pricing: Are you in line with market expectations? Are you too cheap or overpriced? 
Marketing: What's in place? What's working so far? What needs to be improved or cut? Which targets have you set? 
Setting Your Content Marketing Objectives
Once you have a firm understanding of your company's current performance and status, you can set attainable content marketing targets.
Your business objectives will form the foundation of your content marketing strategy. 
Your objectives should be: 
Clear: What do you want to achieve?
Realistic: Based on your current benchmarks, resources, and skill set, can you achieve them?
Limited: What are your deadlines? How many resources should you throw at the problem?
Measurable: What are your key performance indicators and metrics?
To illustrate:
"By the end of 2022, we want to boost our startup's brand awareness by increasing organic traffic by 50% with a budget of $60,000."
Step 3: Develop a Deep Understanding of Your Target Audience
Frankly, all the great content in the world will not help if you do not know your audience. It's therefore imperative you understand your customers' objectives, pain points, and objections. 
Identify Your Audience Type
First, think about what type of business you are running and how that could impact your audience's needs. In other words, are you targeting individual consumers (as in a B2C business) or other businesses (B2B)?
While the principles of content marketing for B2B and B2C are similar, their audience's characteristics and preferred channels often differ.
There are no hard and fast rules — but here's what you need to consider: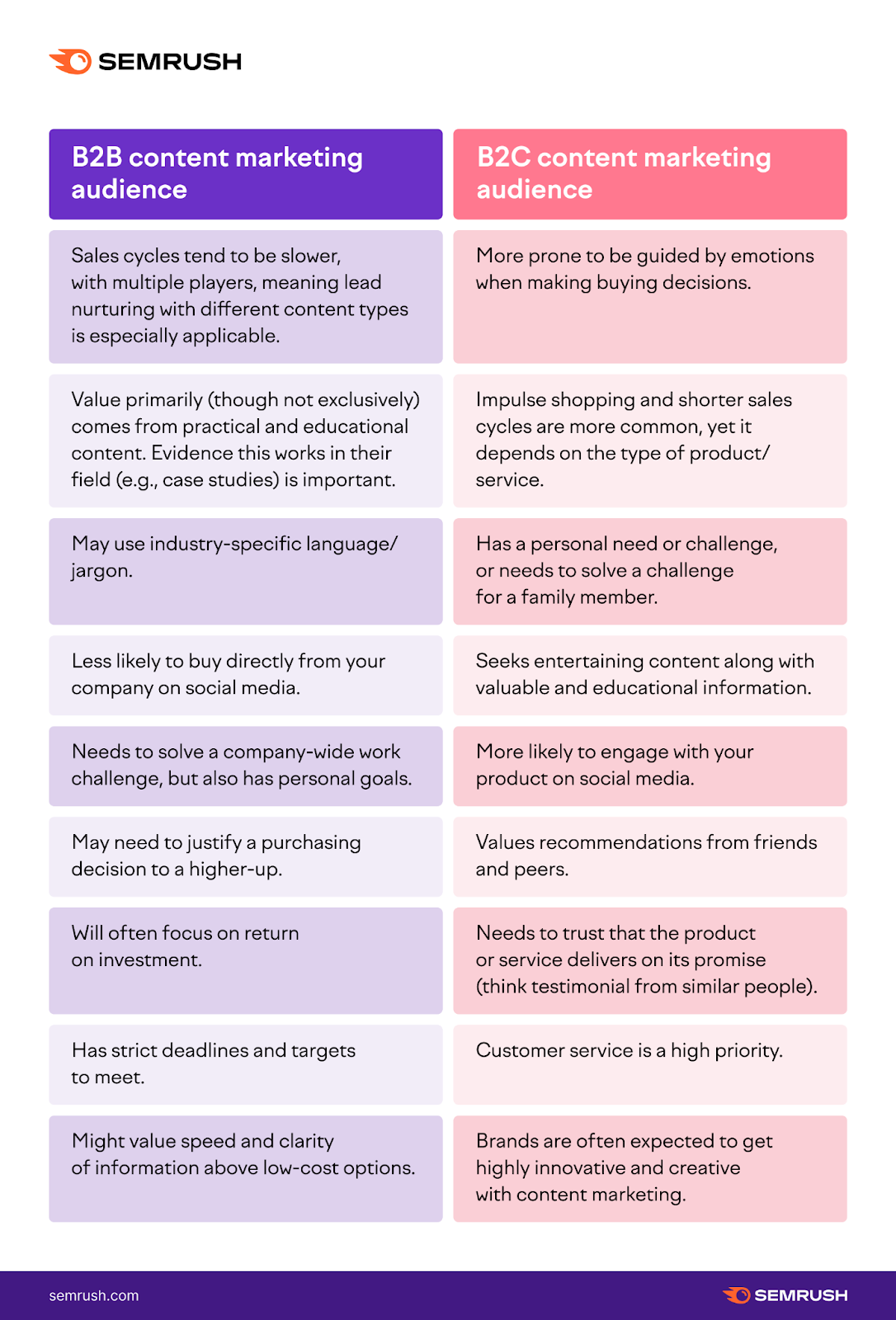 Research Your Audience 
You can learn more about your target audience through customer development and research. 
Consider using interviews, focus groups, and surveys to connect with your current or potential customers directly.
This way, you can collect valuable feedback, learn about their needs, and even get ideas for new content. 
Ryan Paul Gibson from Content Lift urges startups to talk to their customers to help build an effective content campaign:
Here's an easy way to find relevant topics," he says. "Interview some customers or prospects and map out their buying journey. Turn obstacles and pains at each stage of their buying journey into pieces of content. This allows you to influence and educate buyers at each section of a purchasing funnel, leading to your product as a solution.
To see this in action, look at Incredible Health, a healthcare staffing startup focused on connecting hospitals and skilled nurses. Because they help both employers and nurses, they create unique content for each audience. 
Their nursing blog content focuses on career development, nursing education, and related topics of interest.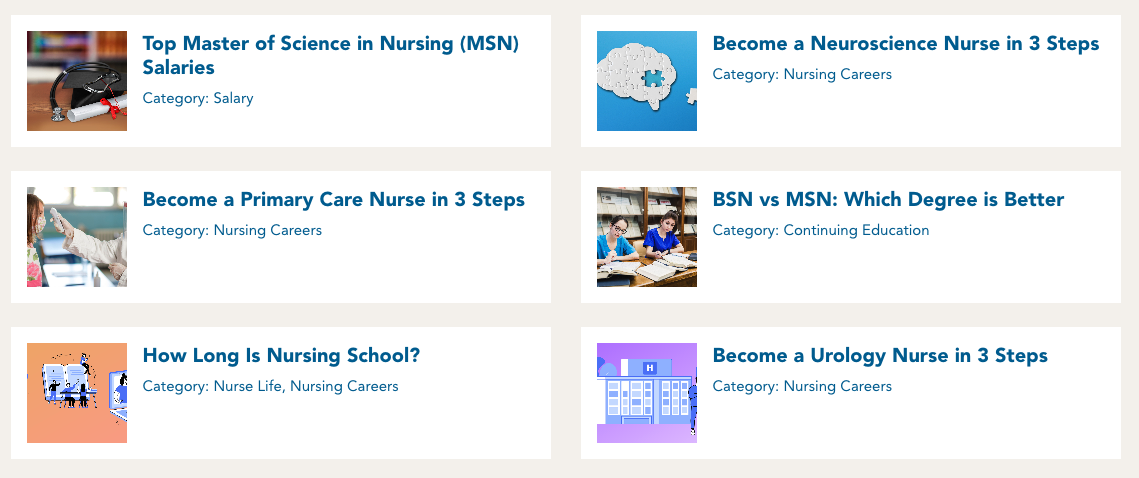 Meanwhile, their employer blog focuses on recruitment, hiring and retention issues.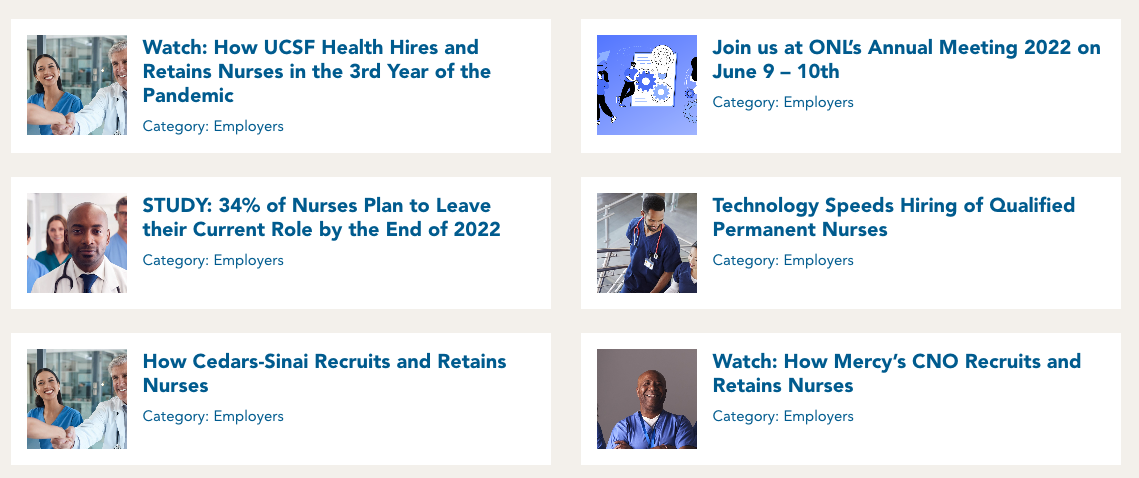 Incredible Health doesn't try to catch everybody in a single net. Instead, both sets of content are narrowly tailored to a one specific audience.
Don't be afraid to create content that speaks directly to a specific set of customers. This way, you can connect with them in a more meaningful way.
Go Where Your Audience Is
Next, make sure you're familiar with the content, sites, and platforms that your audience engages with most. 
For example, you can participate in relevant communities on platforms like LinkedIn, Facebook, Quora and Reddit.
Let's imagine you create content for a SaaS legaltech startup. 
In that case, exploring and actively participating in LinkedIn groups can help you build a network and collect audience insights.
Head to LinkedIn and type the keyword of your choice (e.g. 'legaltech).

Once you get the results, click 'Groups' on the navigation bar and start exploring relevant communities.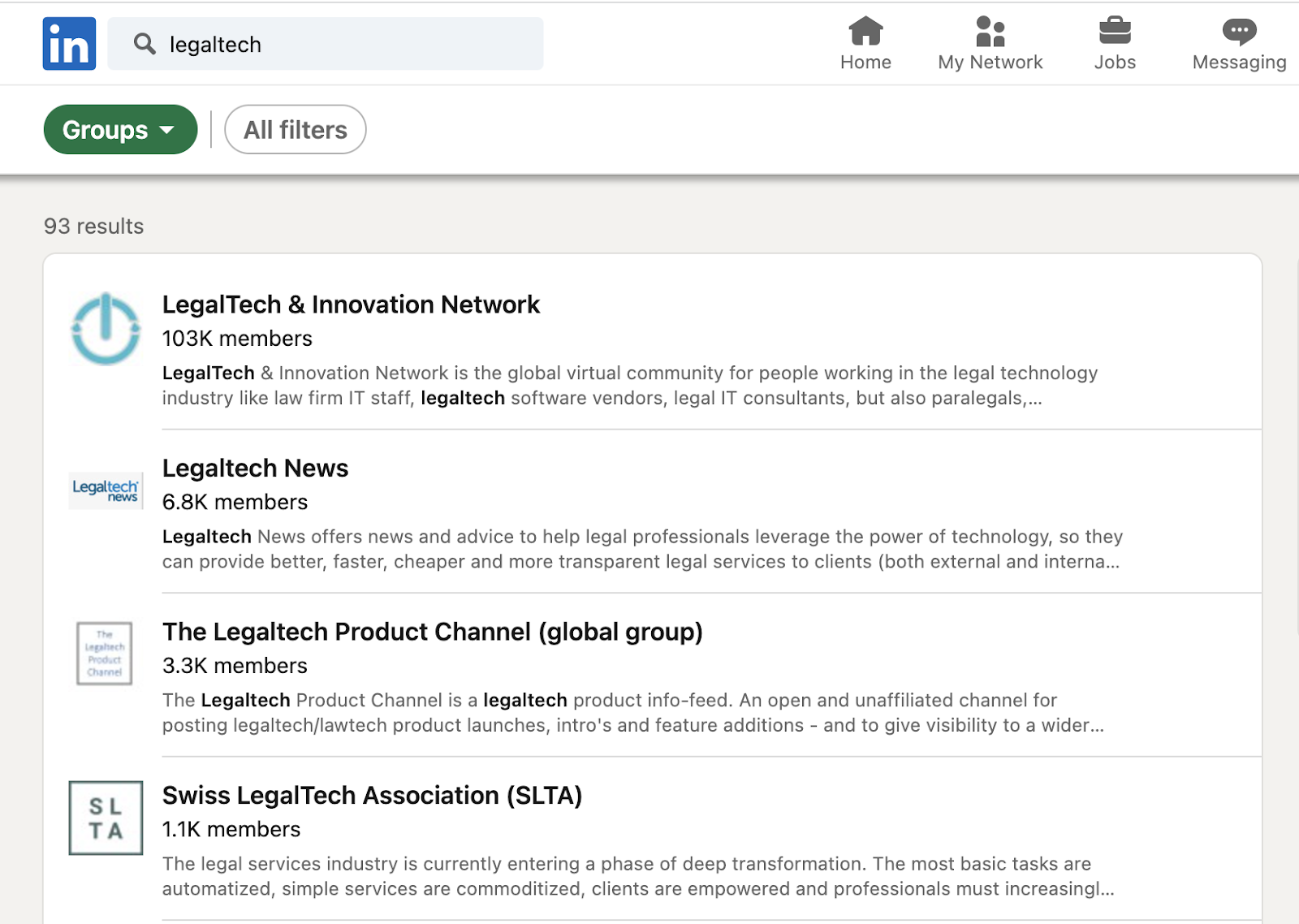 This will help you understand what kinds of challenges you can address with your content and which audience personas should be your priority.
Here's what Anita Toth has to say:
As someone who works in customer retention, I always try to let startups know that all their content should be focused on the right customers — customers who will buy and stay. When creating a content strategy, focus your energy around your best customers, speak to them and help solve their problems. Later on when you're in the growth stage, then you can focus on expanding your content strategy to other customer groups.
 
Step 4: Prioritize Topic and Keyword Research
Once you have a clear idea about your audience and their needs, you can start researching the topics and keywords to include in your content plan. 
Start with Your Topics
Before you start writing, create a list of high-level topics you want to cover. Then, identify your primary and secondary keywords for each of those topics. 
Why start here? 
Google tends to assess how well you cover a topic instead of simply looking at one keyword.  
Focus on topics and themes that are relevant to your audience instead of going after unconnected keywords. This can help you build trust and rank faster.
How to do it: workflow example
To automate and streamline this step, you can use the Topic Research tool. 
First, enter a general idea that you think might resonate with your audience into the tool. 
For example, if you are a platform for booking hotels and villas in Barcelona, you might start with a broad topic like "Barcelona hotels." 
Then choose any country you want to target. For example, you can choose Spain, Catalonia, or even Barcelona as the location if you want to write for those audiences.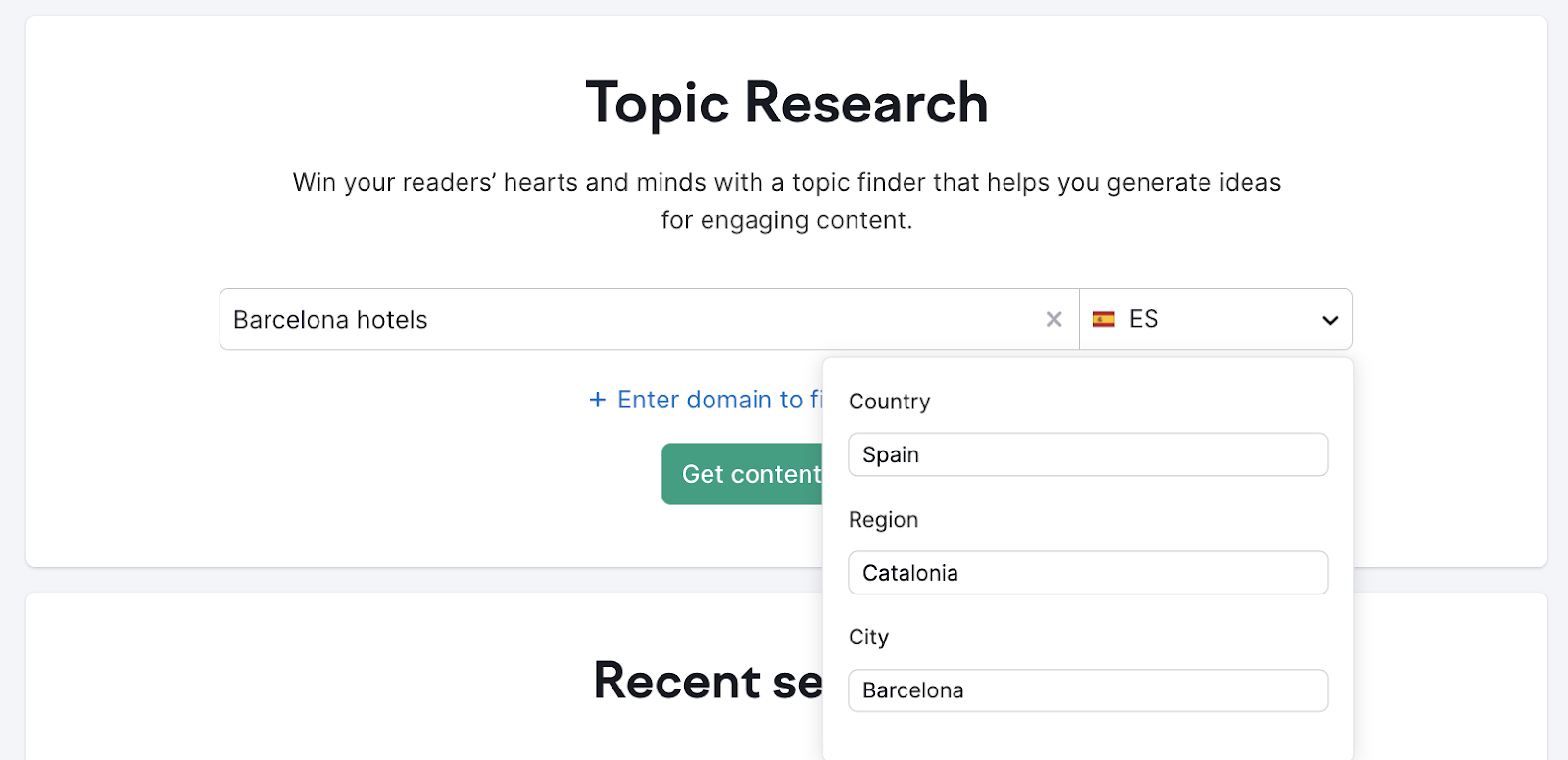 Next, click on "Get content ideas" to generate dozens of subtopics related to your main topic.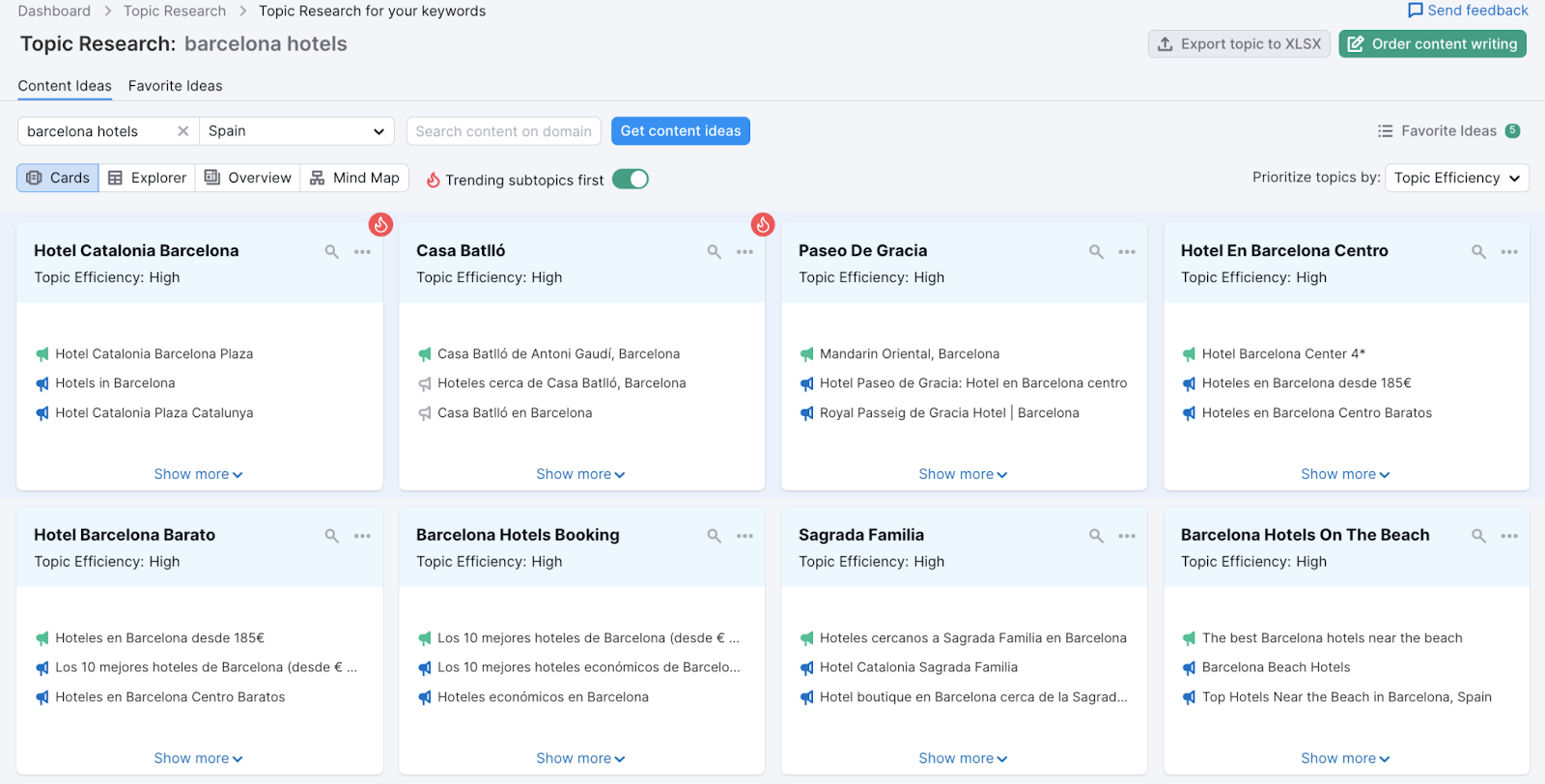 Click on a subtopic and see its most popular headlines, questions, and related searches. 
You can use these to build out an outline for one topic on your list or to generate ideas for even more articles.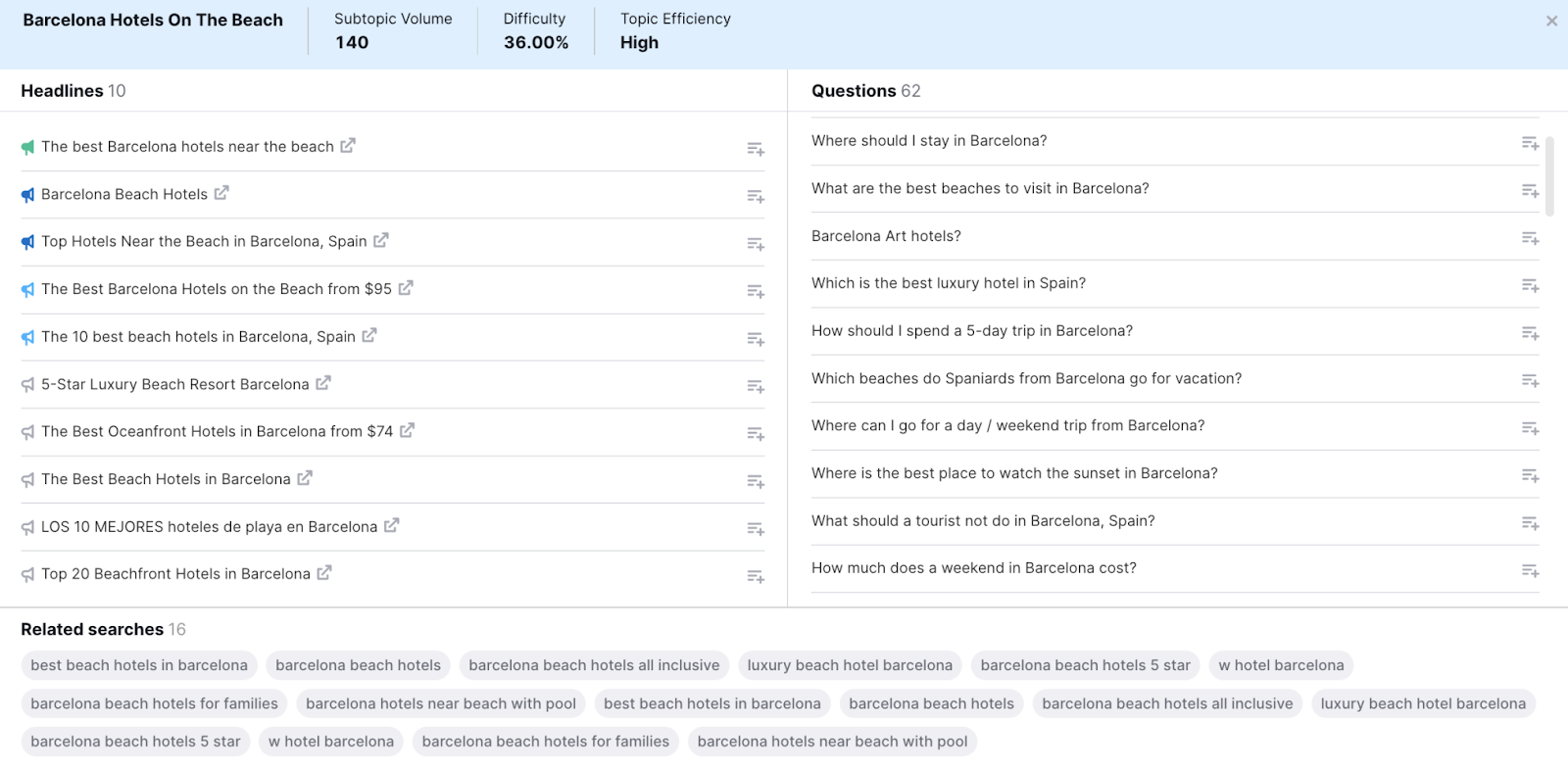 Repeat this workflow to build out your list of topics. 
Pro tip: Group different topics into thematic categories to create content hubs. To do this, publish one page focused on a high-level topic (e.g., 'what is legaltech'). Here, include links to all of your most useful content around related sub-topics (e.g., 'legaltech trends', 'legaltech tools', etc.
Proceed to Keyword Research
Once you've finished selecting topics, start collecting keywords for each of them. These keywords will shape your future articles and help you rank in search engines.
You can use the Keyword Magic Tool to find keyword opportunities. 
Here, you can see how much search volume a keyword gets, its keyword difficulty, and related phrases you might want to include. 
For a good chance of ranking well, try to select keywords that strike a balance between high search volume and low difficulty. 
If you're competing against larger and more authoritative websites, consider focusing on keywords that are easier to win. For example, you could choose mid-tail and long-tail keyword phrases with more specific meaning and less competition.
This way, you can gradually build your audience and authority. Once you're more established, you'll have a better chance at winning more competitive keywords.
Here's how it works
Imagine you're writing content for a new Barcelona travel site.
The keyword "Barcelona" has lots of search volume, but it's also quite broad, and doesn't tell you anything about what information the searcher actually wants. 
The keyword "Barcelona hotels" tells you more. But in the Keyword Overview tool, you can see that it has both a high search volume and high keyword difficulty, which could pose a problem for a startup with low domain authority.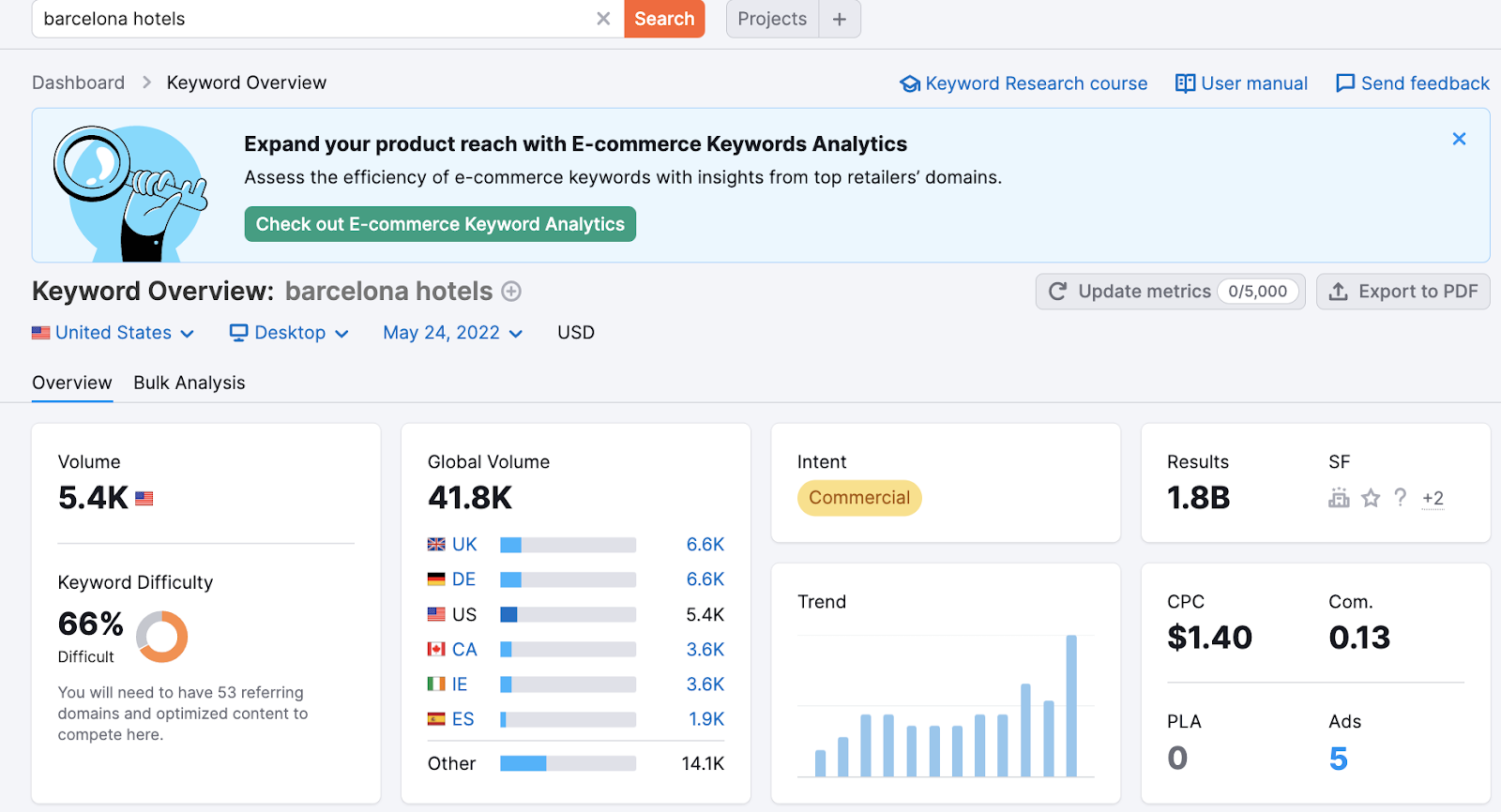 The keyword "Barcelona beach hotels" is even more specific. Here, the search volume is not as high, but the lower keyword difficulty makes it a more realistic target. 
By creating content for this keyword, you could strike a balance between generating decent traffic and actually making it to the first page in search.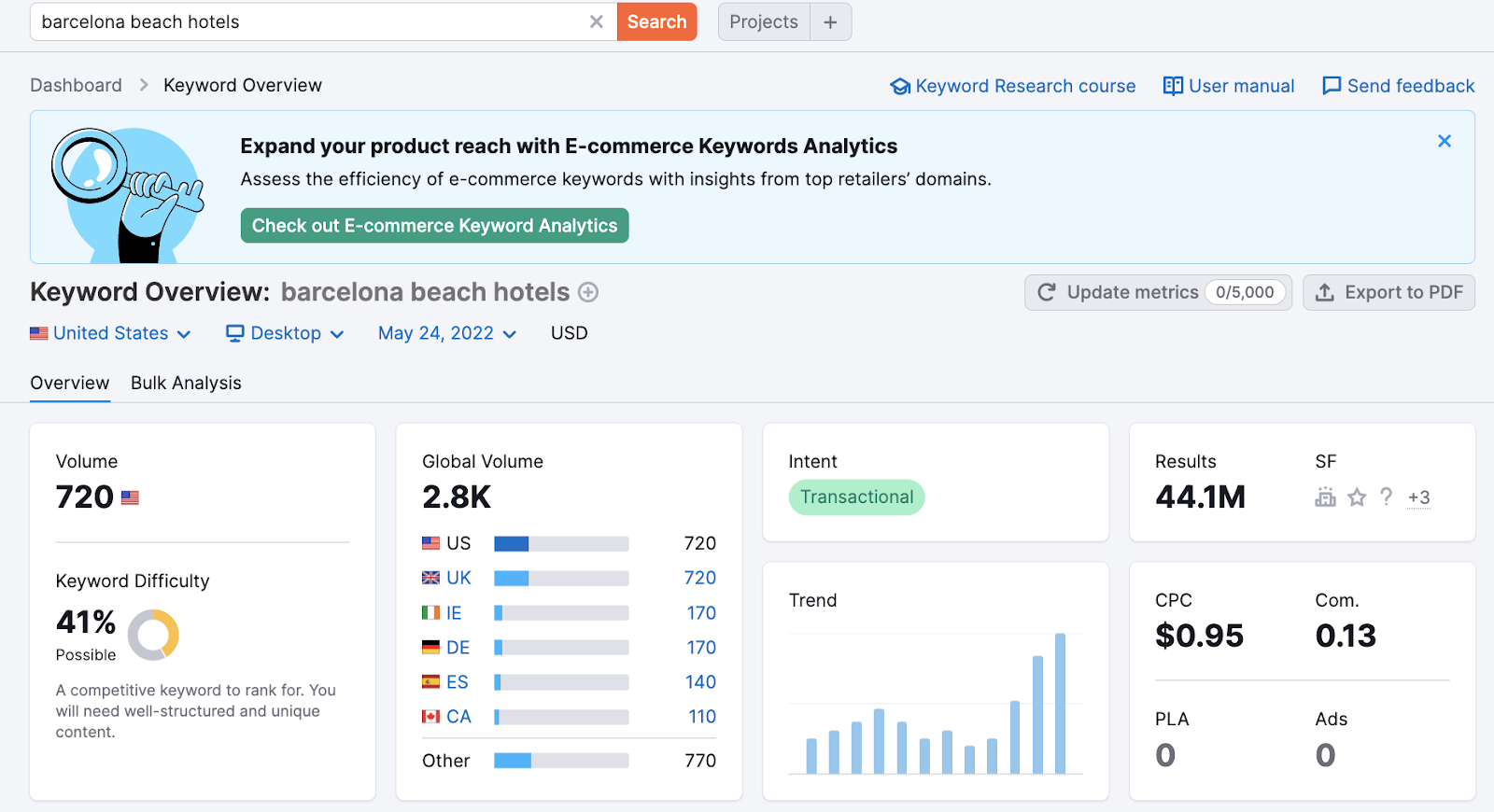 As you create more high-quality content and gain authority, you can go back to creating a pillar page for the "Barcelona hotels" keyword later on.
A pillar page is a long, in-depth exploration of a topic. They serve as the central points of your content hubs.
Semantically-related keywords
Semantically-related keywords are words and phrases that help search engines understand what your article is about. 
Adding them to your content can help Google better interpret your page and deliver it to users in relevant searches. 
To find semantically-related keywords, go to the SEO Content Template tool and enter your keyword. This will generate an SEO-friendly content brief, which recommends semantically related keywords to include in your article, based on the top 10 ranking pages for your keyword.
For example, for "Barcelona beach hotels," the tool suggests that you include the phrases "views of Mediterranean," "swimming pool," and "sea views."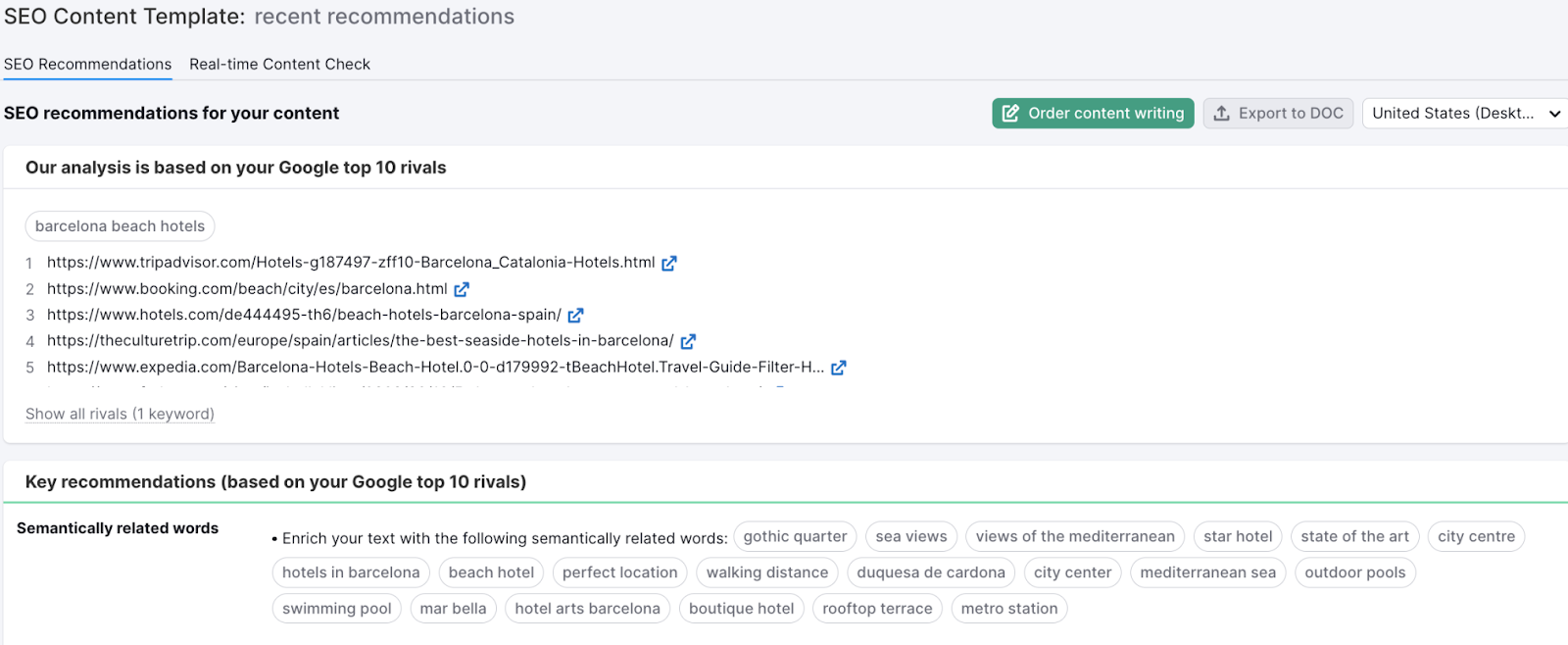 Step 5: Help Your Audience Achieve Its Goals
Think about the types of searches you do every day. Chances are, most of your queries have to do with solving a problem: how to find an address, fix a household appliance, answer a question, etc. 
The same is true for your target audience. As Stuart Balcombe from Procket points out, if you want your content to gain traction, it needs to address their pain points or solve their problems.
Treat content as a product. Each piece needs to address a specific pain point for its target market and be easy to distribute and share. Look for opportunities to differentiate by adding videos, tools, and templates to increase content value.
 
To write this type of content, you first need to know your audience's pain points. Think back to what you learned about your audience in step three. Then ask yourself:
What goals is my audience trying to achieve?
What might stand in the way of achieving those goals?
What common pain points or areas of confusion might my audience experience?
For example, OpenWeb, a social engagement platform, serves both online publishers and content creators with a goal of helping them foster online communities.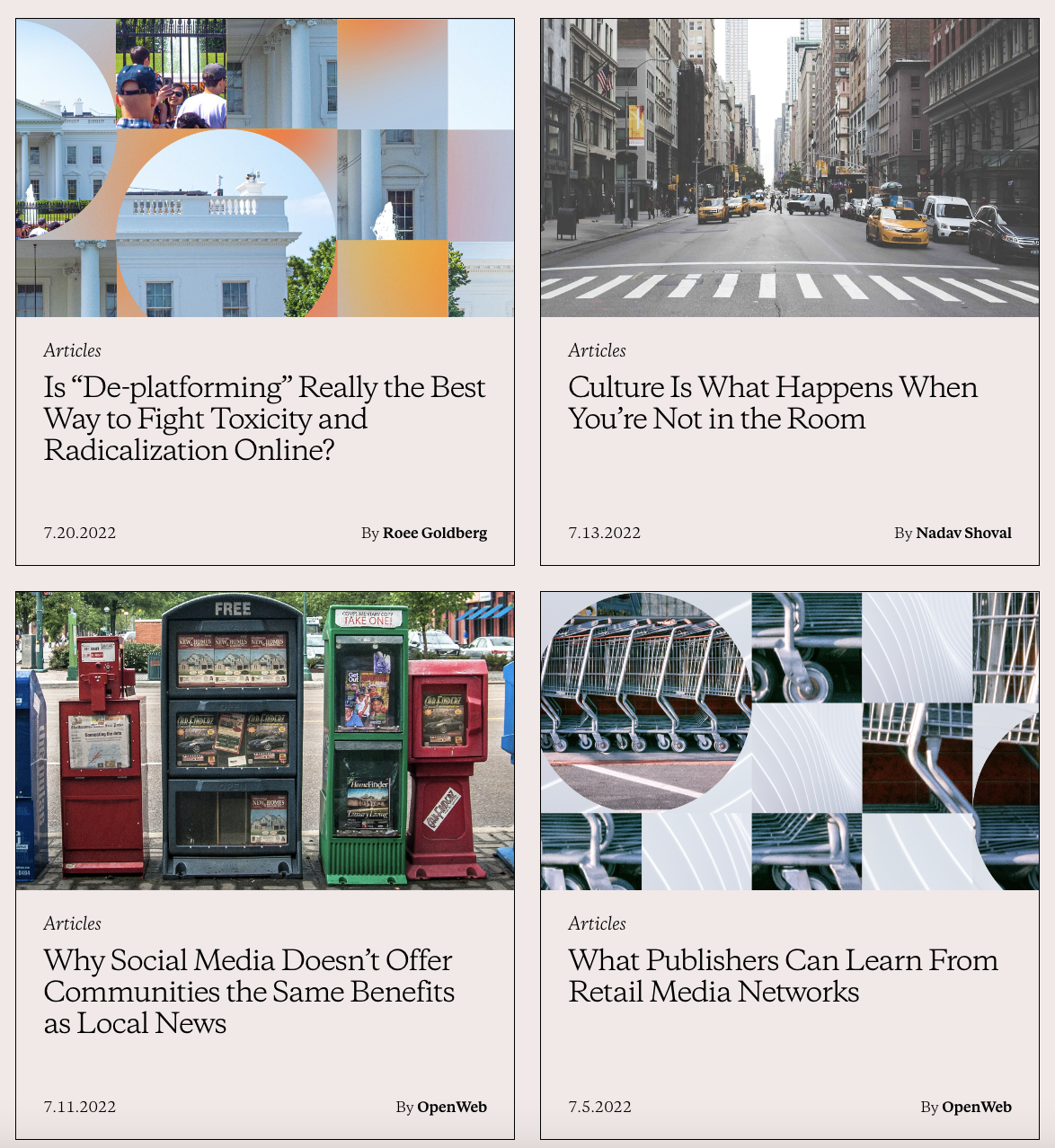 Rather than directly promoting their platform, the OpenWeb blog explores challenges and current discussion topics. 
This helps to show their audience that they're actively engaged with their needs, frustrations, and interests.
Similarly, impact investment platform CNote uses its blog to educate readers about the positive effect investments can have on communities across the United States.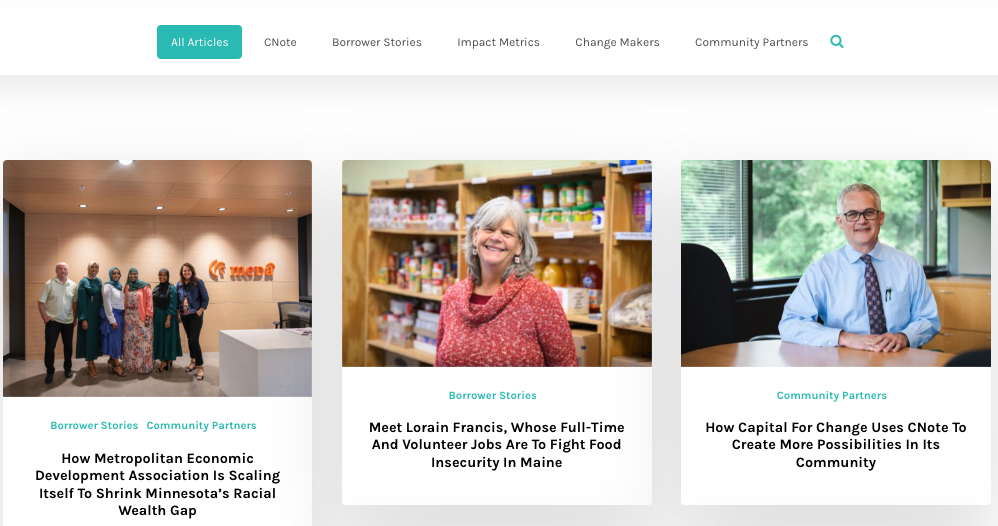 Rather than addressing pain points, this content appeals to a values-driven reader, speaking to the reasons they might choose to use a service like theirs through human interest and success stories.
Finding Engaging Content Ideas for Your Audience
What types of content would resonate most with your audience? Inspiration can come from a variety of diverse sources.
For example: 
Insights from your Sales, CSM, and Account Management teams
Reviews and customer support requests
Industry trends and major publications
Competitor analysis
Industry events
Forums, chats, and other community hubs
Product updates and releases
Thought leaders in your sector
News outlets
And more! Keep your eyes and ears open, and add any interesting topics you find to your list for topic and keyword research.
Step 6: Diversify Your Content Formats
Once you're happy with your list of content ideas, the next step is to decide how to cover them. While there's really no limit to the type of content you could create, most content plans focus on these: 
Blog Articles
A cornerstone of content marketing and SEO, the odds are strong that you're going to include blog posts in your strategy. They're relatively flexible, search engine friendly, and can cover an array of topics.
Blog posts are great for: 
Starting a conversation
Establishing thought leadership
Educating your audience
Announcing product launches and updates
Answering questions and addressing relevant pain points
Highlighting company culture and team members
For example, voice-enabled AI startup SoundHound uses their blog to educate their audience on the many innovations in conversational AI, and how it can be applied to solve many different problems.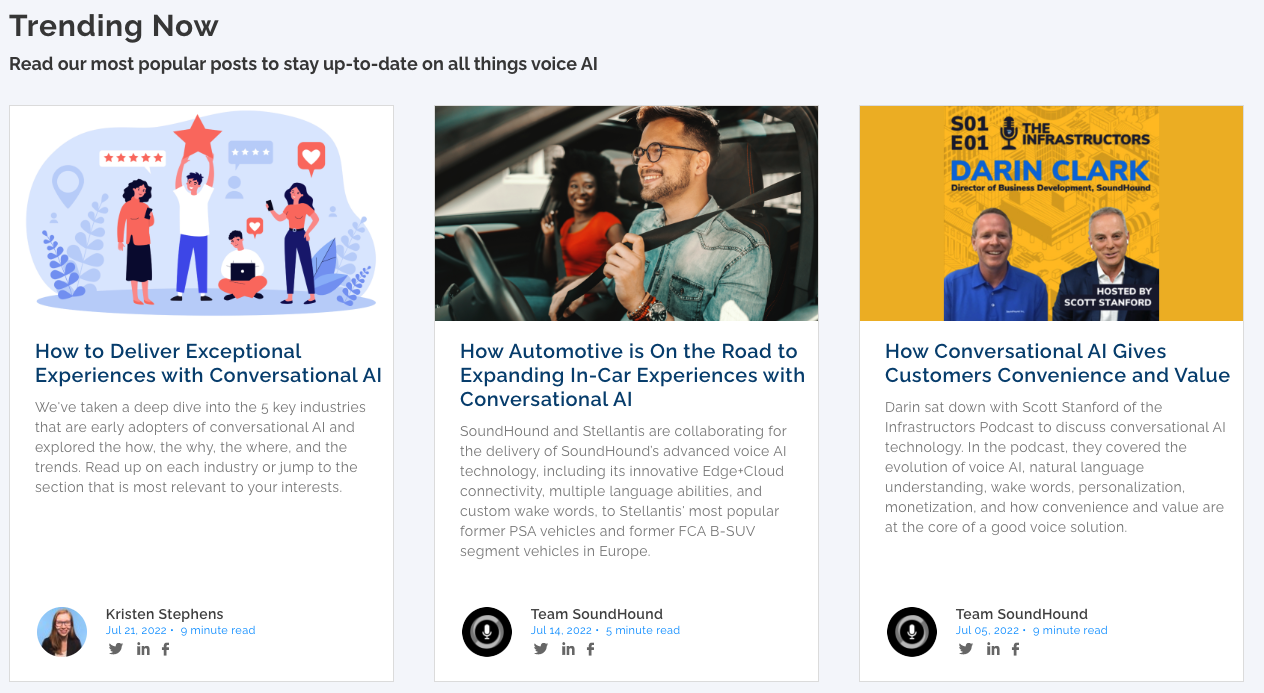 Not only does this enable them to target more keywords with their content; it also allows them to establish their expertise and help potential customers understand their value.
Explore these top 5 blog post templates to get your team started. 
Sales Enablement
Sales enablement content is targeted toward users who are ready to make a purchase decision. Also called bottom-of-the-funnel content, it supports your sales team's efforts because it provides references they can rely on.
Sales enablement content includes: 
Product details such as features, capabilities and utility
Frequently asked questions
Pricing or subscription information
Content to support client onboarding
Sell sheets or one-pagers
And more! When laying out your content plan, pay close attention to the types of content that will best support your sales enablement process. This can not only help you deliver results, but also build positive relationships between your sales and marketing teams.
Case Studies
Case studies are a powerful form of social proof. They're often targeted toward users at the bottom of the funnel, helping them to better understand your brand's value for them. 
Why? Because it's more than a testimonial. It's a story.
A case study allows your readers to follow along as one client uses your product or service to achieve a goal or solve an important problem.
Because it describes an actual experience your clients might face, your readers can trust it more implicitly and imagine themselves in the same situation.
For example, fintech startup Plaid shares customer stories, illustrating how their services have already helped others achieve specific goals or overcome challenges. Users can even filter to find stories more relevant to them.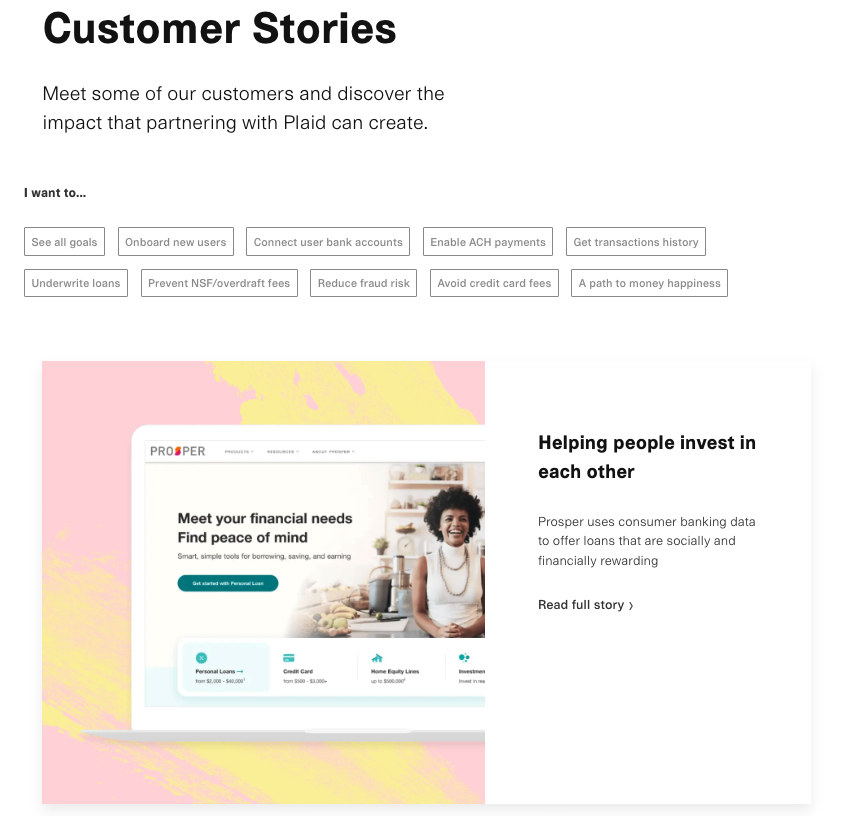 This helps their prospective customers better envision the impact Plaid might have for them. 
Does your content strategy contain enough bottom-of-funnel content, helping your readers to convert? Consider incorporating case studies and success stories your readers can relate to.
Lead Magnets
Also called gated content, lead magnets are valuable pieces of content that typically require an email address and other contact details to download. Because users have to provide contact information to get it, they can be used to grow email lists and generate leads. Hence the name.  
High-performing lead magnets are often more in-depth than publicly available content. They could include:
Ebooks
Guides
Case Studies
Infographics
Gated videos
White papers
They're a valuable asset for startup content marketers looking to build a mailing list. 
Cybersecurity startup Confluera uses their industry research as a lead magnet. To access their 2022 cybersecurity report, users need to fill out a brief form, providing their name, job title, employer, and contact information.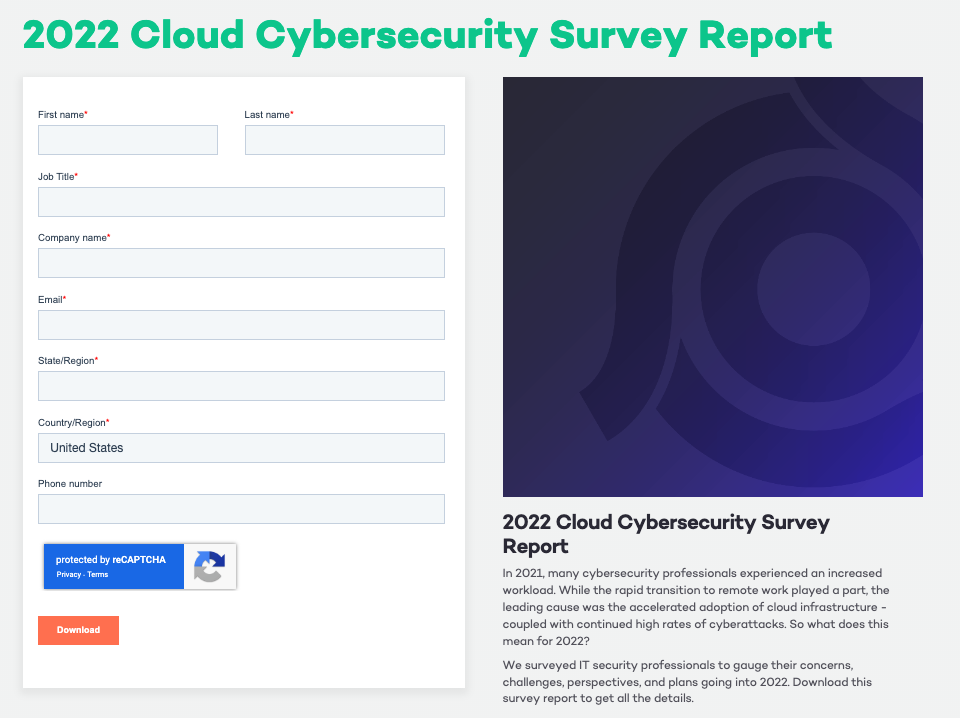 With this information, they could not only build a list, but also segment it to target leads more accurately. 
Email Marketing
Once you've built your email lists through gated content, well-placed calls to action, and ads, it's important to nurture your audience and turn them into leads. 
That's where email marketing comes in. 
Through email marketing, you can create content tailored to different audience segments at various stages in the marketing funnel. Your aim is to move people from one stage to the next, until they become paying customers.
If somebody cares enough about your content to give you their email address, they're already invested in your startup. Make the most of this opportunity by delivering relevant, high quality email content.
Download our ultimate guide to building a content marketing funnel for a more in-depth look at this process. 
Social Media
While some teams treat social media as distinct from content marketing, the truth is that the two rely on one another. Content marketers create impactful content, which can then be shared with audiences on social media.
Here are a few examples of super shareable social media content types. 
Podcasts
Like blog posts, podcasts enable you to explore a complicated topic in-depth. Not only that; they're also perfect for starting conversations with your thought leaders, peers, and your audience, and appeal to audiences who might not connect with long form written content. 
Best of all, an effective podcast attracts a loyal, engaged audience—exactly the type of audience you want to convert. Show them your respect by doing your research, connecting with the best guests, and creating high quality audio content.
Videos
Videos are the perfect format for explainers, product walk thoughts, feature updates, and more, because they combine audio with engaging visuals. 
For example, outdoor travel startup Hipcamp uses their YouTube channel to give potential travelers and hosts an engaging peek at the types of experiences they offer, along with tips and advice to make the most of your camping trip.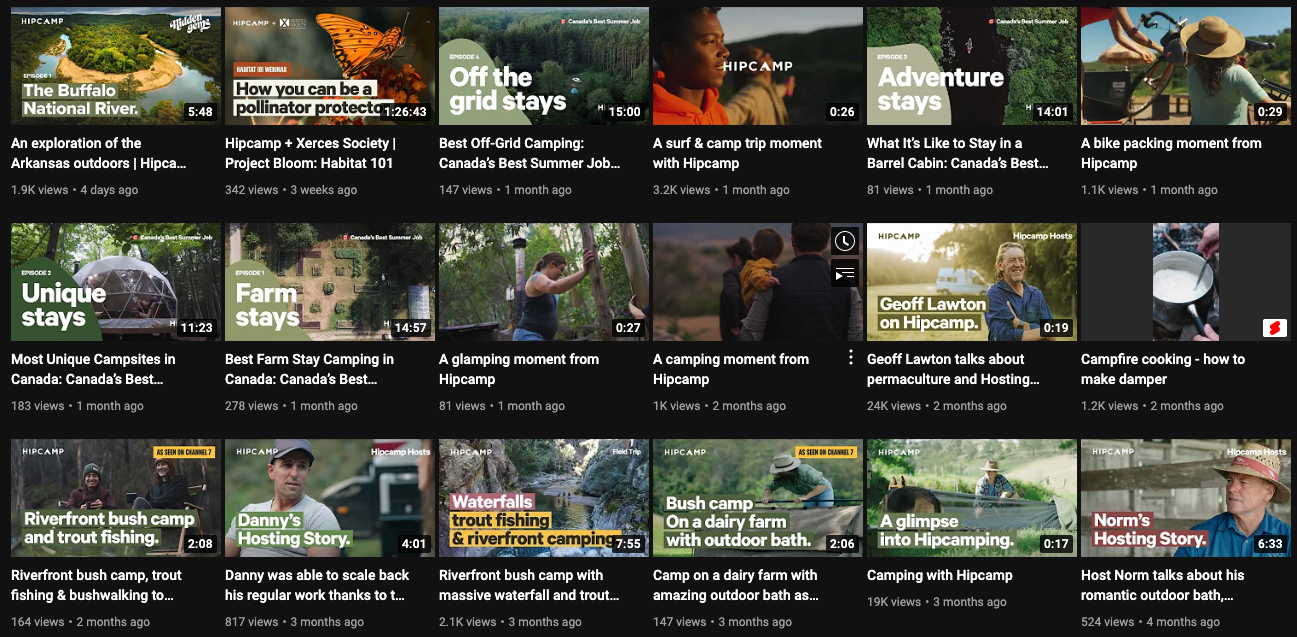 Video content can even boost your SEO efforts and drive traffic. After all,  YouTube is the internet's second most popular search engine after Google. 
As technology improves, we'll also likely see more virtual reality, augmented reality, and mixed reality forms of content marketing. 
Step 7: Decide on Your Distribution Channels
Content distribution is a key component of your overall content plan. After all, it's not enough to write content. You've also got to put it in front of your readers.
That's why you build a content distribution strategy. This should spell out where you plan to publish each piece of content (your distribution channels), when, and how you want to promote it.
First, map out which distribution channels you want to focus on: 
Owned Channels: Your blog, landing pages, social media, email lists, and other platforms you have direct control over.
For example, the Semrush Blog, LinkedIn, Facebook and Twitter accounts are owned channels
Paid Channels: Search ads, social media ads, influencer marketing, sponsored content, and other promotional channels that cost money to run.
Google ads, banner ads, and sponsored Facebook posts are all paid channels
Earned Channels: Any distribution channel you do not have control over or pay for, including links, social media shares, mentions, or reviews.
For example, if your favorite SEO thought leader shares this blog post on their twitter account, it's most likely earned!
Content distribution workflow example
To illustrate, let's say you've created a downloadable ebook you think your audience will love. So your team decides to create a custom landing page for it, share an impactful sample on your blog, and promote the ebook on your social media accounts.
Review your planned content, and choose the distribution channels that best support each one.
Once you've decided where you want to publish and promote your content, consider your timing and delivery. 
Ask yourself:
Does your audience check its favorite channels before, during, or after the workday? 
Does it prefer certain days of the week?
Does it respond more readily to one form of content over others? 
With this information in hand, the next step is to build out your content calendar. Map out when and where you plan to publish and promote each piece of content. 
By doing this well in advance, your marketing team will be better equipped to create, post, and promote impactful content. 
Step 8: Repurpose Your Content Goods
For startups, producing content can be challenging and time-consuming, especially if you don't yet have a solid content team to focus on creating and publishing it. 
Luckily, you can repurpose the content you create, to be published in multiple formats across different channels:
Here's how it works: 
Imagine you've created an in-depth ebook. You put hours of research, writing, designing, and editing into creating it. To make the most of all that work, you decide to repurpose it. 
First, create a landing page for your ebook. 
Then create social media content to promote your landing page. 
Pro tip: Create a few different versions of your infographics to suit different social media platforms. For example, what works on LinkedIn or Twitter might not be ideal for Facebook or Instagram.
Use those images as social media content to drive people to the landing page and convince them to download.
Next, repurpose some of your research to create blog articles, videos, or even podcast episodes. 
Don't use everything—you still want to convince readers to download, after all—but share some of your most tantalizing information in one or more new posts.  Make sure to include calls to action in each one, so that readers can easily visit the landing page and download their copy.
Finally, write emails letting your readers know that you've published your ebook or articles. 
Now, your content can reach every corner of your audience, connecting with more people and (hopefully) driving more traffic to your site. 
Feel free to tweak this process to best suit your workflow and the needs of the content you're repurposing. 
Step 9: Select the Right Content Marketing Tools
With so much to do, and limited time and marketing budgets, you'll need all the help you can get to make it worth your time, and as easy as possible. For that, you will want to max out on tools. 
Here are a few great tools to empower your content marketing:
Win More Business with Gold Medal Content
Strong content marketing can drive sales and bring more customers to your budding business. 
With this process, you can produce powerful content, establish yourself as a trusted resource, and grow your startup.
To make sure you find the best and most relevant topics and keywords, optimize your content for success, and keep on improving, try the Semrush Content Marketing Platform.