Disclosure: This content is reader-supported, which means if you click on some of our links that we may earn a commission.
Do you want to skip the read and get right to my top picks? The best web hosting service for most people is Hostinger.
With today's web hosting services, it has never been easier to get your site online. For a few bucks a month, the host takes care of all the technical stuff and you get to enjoy casually updating your website.
The options I like are affordable and walk you through the setup process. You can have a website up and running within an hour or less, even if you've never done it before.
Here are my recommendations for the best web hosting services of 2021 for you. Keep reading for my top picks, and a brief guide about how to find the right choice for you.
#1 – Hostinger Review — The Best Low-Cost Shared Hosting Options for Startups
Hostinger is offers some of the most affordable shared hosting solutions on the market.
Their prices literally start at just $1.99/month. That's a stellar deal.
You'll have to sign a four-year contract to get the lowest monthly rate possible, but that total contract is going to be way less than even a single year with other hosts.
You don't get a ton of storage, but your site will be able to handle around 10,000 visits each month no problem.
You can take an easy step up to either of Hostinger's other plans and reap the benefits of more resources and the capability to host up to 100 sites while still paying some of the lowest rates around.
With Business Shared Hosting, which is $4.99/month, you can get unlimited bandwidth, 200 GB storage, and daily website backups.
That means even if you mess up badly, you always have access to previous versions of your website.
Another reason I really like Hostinger is that 24/7/365 support is baked into the price of every plan.
For companies with a small or non-existent IT staff, the expert customer service is a huge perk.
It is the best option if you're searching specifically for a shared hosting service that's affordable and reliable.
Hostinger provides a 99.9% uptime guarantee and a 30-day money-back policy. That's hard to beat for a monthly hosting price that's less than a cup of coffee.
#2 – DreamHost Review — The Best Option if You Want Quick and Responsive Website Changes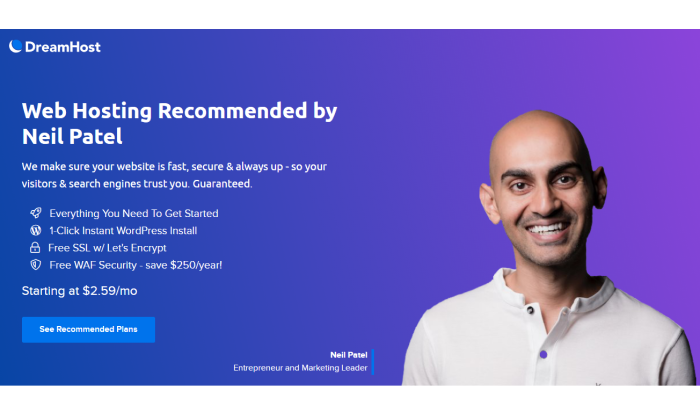 DreamHost has been going above and beyond for their customers since 1996.
Because of their ability to adapt quickly to new trends they're still considered one of the best in the business.
They don't look at your website as just another website.
They know that your website is your own vision for the future.
Just look at their two shared hosting packages. Both are eminently affordable while also including a boatload of useful features and benefits.
With Shared Starter, you get 50 GB of storage for one website, up to five subdomains, WordPress preinstalled and ready to go for you, and a domain, SSL certificate, and WordPress builder included for free.
Get the best price on that by signing up for three years up front.
Scale up to Shared Unlimited with no effort and very little extra expense to handle unlimited websites and subdomains, with unlimited storage plus free email attached to your domain. So that plan is very true to its name.
Either way, you're never looking at more than $4 per month, unless you choose a month-to-month plan. In fact, you can even get DreamHost's Shared Unlimited for the same low price of $2.95 per month on a one-year plan today.
#3 – Bluehost Review — The Best for WordPress Hosting
If you're looking to set up your website in less than a week, you're probably considering WordPress.
And if you're looking for the best hosting option for your WordPress website, you can definitely trust Bluehost.
They've been doing WordPress hosting for a long time. You can get a web host that fits your site like a glove and at a very low price, to boot.
Plus, it doesn't hurt that Bluehost is one of three hosting providers officially recommended by WordPress.org.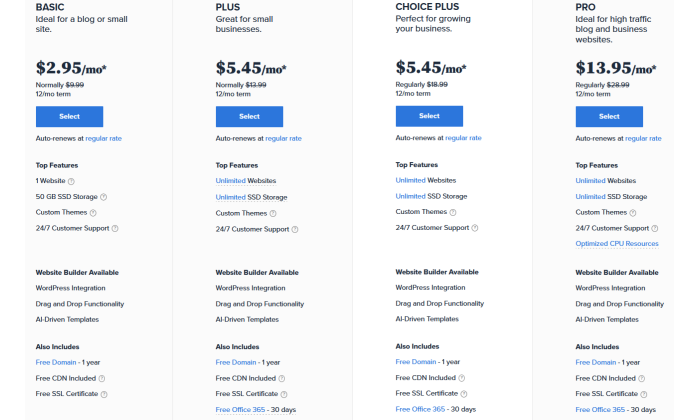 Their pricing options are competitive. Basic WordPress hosting starts at just $2.95, while mid-tier plans run just over $5 per month. Either way, that makes it easy to get a plan that's more powerful than entry-level for cheap.
This is really affordable considering all the unlimited features they bring to the table.
Regarding website loading speed, as long as you don't fill your WordPress site with plugins, you should be good.
And even if you make a crucial mistake or overload your website with different plugins, you're in good hands.
Their Customer Support is extremely responsive. They have both an active telephone line and a live chat you can rely on at all times.
#4 – Nexcess Review — The Best for Ecommerce Hosting
If you want a hands-off hosting solution for your online store, Nexcess is an incredibly smart choice. Use coupon code NEIL40 for 40% off 4 months.
They offer a fleet of fully-managed hosting options, including specialized packages for WooCommerce, BigCommerce, and Magento.
Plus, you get one-click auto-scaling to handle unexpected traffic spikes, 24/7 monitoring and customer support, and premium SSL certificates to keep your site and visitors safe.
So, you get everything you need to start, manage, and scale your online store.
On top of the amazing features, Nexcess has been around for 20 years with more than 500,000+ websites under their belt.
As such, they know a thing or two about how to help make your life easier.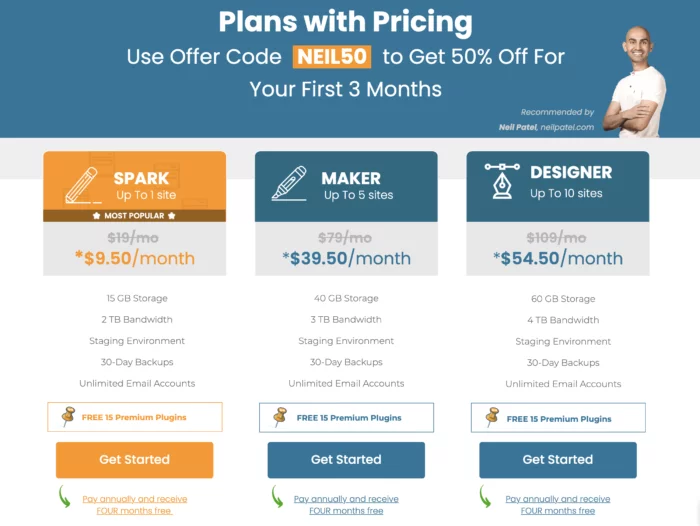 With that said, it's not the cheapest option on this list. But you do get more features, better support, and improved performance with the higher price tag.
So, if you need advanced security or expect to grow quickly, Nexcess is an excellent e-commerce hosting solution.
WordPress hosting plans start at $15 per month for one store, 15 GB of space, and two TB of bandwidth.
However, pricing varies based on the platform you choose. Use coupon code NEIL40 for 40% off 4 months. Sign up now.
#5 – Cloudways Review — The Easiest Way to Get the Performance Boost of Cloud Hosting
A lot of my picks on this list focus on getting the best deal on shared hosting. But what if you know shared hosting isn't going to cut it for your site?
You don't need to spring for dedicated hosting, nor do you need to go with a difficult option that requires serious technical know-how. Cloudways makes it stupendously easy to get all the performance benefits of better hosting without sacrificing ease of use.
Cloudways, true to its name, delivers the exceptional speed, reliability, and scalability of cloud hosting. With cloud hosting, your site can pull from a wider infrastructure of servers spread across the country or globe. That way, if there are load time or uptime troubles with one, your site can pull the same data from another without a dip in visitor experience.
Scalability is another prominent virtue of cloud hosting and Cloudways makes it easy to tweak resources to your site's exact needs.
Start with selecting your initial package. Choose your preferred server provider, selecting from DigitalOcean, AWS, Linode, Vultr, or Google Cloud.
Then, select your plan. For each server provider, there are either four or eight options that scale up in terms of RAM, processing power, storage, and allotted bandwidth.
DigitalOcean and Vultr are unique, in that they have parallel plans for standard and more powerful server configurations. With DigitalOcean, you can opt for premium droplets which sport better processors and storage drives. Vultr's high frequency options are similar, also adding higher quality memory.
Cloudways hosting plans start as low as $10 per month for the most basic DigitalOcean package.
And, since Cloudways is a pay-as-you-go service where you only get charged for the resources you use, you can even opt for hourly billing. That can slim down your monthly bill quite a bit if you have the type of website that experiences stark peaks and valleys of popularity.
If ever you need to adjust your specs or even switch infrastructure, Cloudways allows you to do so quickly and without incurring penalty fees.
Plus, you get the benefits of fully managed hosting. That means Cloudways will take care of automated backups, caching, monitoring, and server maintenance for you. You never have to get your hands dirty to ensure you're getting top performance.
That's further supported by their always-on customer support. Get live chat help any time of any day.
Plus, you can even get started on that plan for free. That's right, Cloudways offers a free three-day trial with no credit card required, allowing you to test drive it and then scale resources up when you're ready to pay.
It's a great total package at a reasonable price. So, if you don't want to mess around in the shallow end of shared hosting any longer, look to Cloudways for the easiest route to getting better performance with cloud hosting. Use promo code NEILPATEL to get 25% off for 3 months.
#6 – HostGator Review — The Most Affordable Option for Startups
HostGator is one of the most preferred options when it comes to blogging.
They are perfect if you're looking for the most affordable way to begin posting online.
Pricing options start from the jaw-dropping $2.75/month.
Once again, you can't expect the best features for such a low price.
But it's a great alternative for startups that want to get their website up and running.
And just like Bluehost, they have a responsive telephone line with a live chat you can access at any moment.
You can also find a giant database with common questions beginners have, together with professional opinions and solutions to those problems.
Everything is explained and demonstrated step-by-step and if you're still not sure that you can do it on your own.
Just shoot them a message and start chatting with their professional customer support.
#7 – WP Engine Review — The Best for Managed WordPress Hosting
We're getting to the more advanced options now.
With WP Engine you get a blazing fast and ultra-reliable WordPress site without any work on your part.
The company invented the idea of managed WordPress hosting—where the provider takes over all the backend technical work—and WP Engine is still the leader in the field.
WP Engine hosts WordPress exclusively. Their servers are optimized for just this type of site. And when you reach out to customer service, you will be talking to an expert who handles WordPress issues 24/7.
Of course, the top-notch uptime, speed, and customer service is not as cheap as some of the others on the list.
But if you don't have to hire a WordPress developer to maintain your site's security and performance (or spend time figuring that out yourself), going with WP Engine can actually be cost-effective.
And, as a reader of my site, you can use the neilpatel20 coupon to get 20% off your first payment, which makes WP Engine an even better deal:
There are two tracks to choose from: one for standard managed WordPress hosting and another for managed WordPress with ecommerce functionality. The former starts at $25 per month, while the latter's entry-level plan is $30 per month.
Every plan comes with best-in-class tools to develop your WordPress site. No other host offers such a variety and depth of features, such as one-click staging areas where you can build and test your site before it goes live.
Test that new social media WordPress plugin in the staging area to make sure it doesn't cause problems for other plugins or themes. This is way better than discovering an issue after it breaks the site and kills traffic.
It's a great hosting service if you're looking to take your WordPress site to the next level without the IT headaches and responsibilities. Your teams can focus on creating great sites and let WP Engine ensure everything is running correctly.
Don't expect cheap services, but expect great quality and support on the way to your successful business.
#8 – InMotion Review — The Best Option for Scaling BIG
Are you positive that your website is going to dominate the online space?
If you're 100% sure, then you should definitely take a closer look at InMotion.
Their VPS and Dedicated hosting services are far from cheap.
But with Premium prices come Premium services. We are talking fast loading speed and devoted customer support.
Obviously there's also affordable WordPress Hosting and Shared Hosting options.
But if you've tried these before and now you're looking for the next step.
InMotion is going to overdeliver on every promise.
Check out their plans and choose the one that fits your needs best.
#9 – SiteGround Review — The Best for WooCommerce Hosting
Do you want to sell your products online? Then you're probably in need of a good, reliable WooCommerce hosting service.
If that's that case, then you should take a look at SiteGround. They have a dedicated set of hosting plans that will make it easy to get your WooCommerce site off the ground.
SiteGround really wants to overdeliver, even if you choose their cheapest options. You get unmetered traffic and 10 GB of storage space on their lowest-cost hosting plan.
You also get a bunch of useful extras for free, like a CDN, SSL certificate, email, and daily backups, as well as a free site migration and one-click WordPress installation.
That all comes in the StartUp plan, which costs just $3.99 per month. That only requires you to commit to a year, as well. A lot of other hosts only give introductory pricing this good on two- or three-year upfront commitments.
If you're looking to launch and host a fleet of web stores, SiteGround's two higher-octane plans allow for unlimited websites. GrowBig and GoGeek give you progressively more storage space and monthly visits while also adding power user and agency features.
So if you're looking for the best WooCommerce solution, SiteGround is the hosting service for you.
#10 – GreenGeeks Review — The Best for Always-On Support
Nothing is more frustrating than having something go wrong and there's no one available to ask for help.
And, in the high-stakes world of web hosting, not having a support center to contact is unacceptable. Just think of the lost revenue and frustrated visitors (who may never come back) if your site is down at a crucial time.
With GreenGeeks, you get a robust knowledge base, 24/7/365 live chat support, email support that gets back to you within 15-20 minutes, and live phone support available Monday through Sunday from 9 a.m. to midnight (Eastern Standard Time).
That's not only a lot of options to get help when you need it—that's support that's always available in the moment. Which is better than a lot of other web hosts out there.
"Sure, the support's great," I hear you asking, "but what about the, you know, actual hosting?"
Well, not only does GreenGeeks offer the full array of hosting options—from basic and WordPress-specialized options to VPS and reseller hosting—but they provide an eco-friendly option at incredible prices.
Seriously, most of its hosting plans start at $2.49/month (including WordPress and WooCommerce hosting).
If you want a bit more power, GreenGeeks' VPS hosting plans start a little pricier than others ($39.95/month), but don't require an annual commitment to secure. So, no price hikes after a year and no surprises.
I mentioned, too, that GreenGeeks is an eco-conscious hosting solution. You probably guessed that anyway by the name. But they're very committed to offsetting some of the negative environmental impact that maintaining server farms creates. For over a decade, GreenGeeks has been buying renewable energy credits at 300% what they consume.
So, if that matches you company's environmental philosophy, you've just found another reason to go with GreenGeeks.
Check out their hosting options and sign up with GreenGeeks today.
#11 – A2 Hosting Review — The Best for Sites with Lots of Visual Content
Among the factors that differentiate one hosting plan from another, speed and uptime grab all the headlines. And, for good reason—no one wants a slow or unavailable site.
But if you have ambitious plans for displaying lots of media on your website, or large files like videos and 3D renderings, don't sleep on judging web hosts by the amount of storage they offer.
If that resonates with you, give A2 Hosting a serious look as your next web host. They come with some of the most generous storage space allotments in all of web hosting.
This applies no matter what type of hosting you're in the market for.
A2's entry-level shared hosting, called the Startup plan, starts as low as $2.49 per month yet comes with 100 GB of SSD disk space. Most other providers' cheapest shared plans might go as high as 50 GB. Right off the bat, A2 is leading the pack and giving you more room for videos, images, GIFs, and more.
Any of A2's shared plans above Startup come with unlimited storage, and its highest two tiers upgrade you from SSD to NVMe drives which tend to be at least three times faster.
"Unlimited" storage might set off some alarm bells to you if you've done some web hosting research. And, truly, that doesn't mean you can just start uploading terabytes worth of files to your A2 website willy-nilly.
But they are generous with their acceptable use policy regarding your plan's disk space. Your primary limit to keep in mind in the raw number of files you can upload. As of this writing, their total limit is 600,000 files—that should be more than enough for most of you.
And, heck, if you're approaching half a million media and other files on your website, it might be time for some spring cleaning anyway.
The other thing to keep in mind is any limits on your backups and server rewinds. A2's emergency site recovery service only covers up to 50 GB of site data. If you're blowing past that, make sure to stay vigilant about storing your own backups.
But that's really it for stipulations. A2 sets you up for media-rich websites on every plan better than any other hosting provider.
That applies, too, to their WordPress and VPS hosting options. The former gives you NMVe storage on every plan, starting at 50 GB on the cheapest one. That means you can have plenty of content on your WordPress site and know that it will load faster for visitors than it would on comparable WordPress hosts.
With VPS, you have three standard and three turbo plans to select from, with the former utilizing SSD and the latter employing NVMe.
Any way you slice it, A2 Hosting brings the goods for people who want to make their websites pop with images and video—or even if you want to let your site visitors upload pics and videos of their own.
What I Looked at to Find the Best Web Hosting Services
When it comes to the best web hosting services you have to look at various important factors.
If you jump in too quick you might get into something that's not suitable for your business.
But don't let any of that doubt creep into your mind.
Instead, sit back and relax while we present to you all the factors that you need to be aware of before making a decision.
You can weigh the different web hosting services and decide which is the best solution for your specific business.
Hosting factor #1 – Uptime reliability:
If your hosting is down, no one would be able to access your website.
And obviously you want your website running 24/7.
Luckily, in 2021 this is not a huge problem since most web hosting providers offer a '99.99% network uptime guarantee'.
That means that your website would go down very rarely.
And even when it does, you can contact your hosting service and you will get compensation.
Most of the time that would be in the form of hosting credits.
If you want to prepare for the worst, you can check out our Website Downtime Survival Guide.
One of the best practices to making sure everything runs smoothly even when you're taking a break is to sign up for a tracking tool like uptime robot.
If your hosting service crosses the line, this tool will notify you that you need to find a new webserver to host.
Hosting factor #2 – Speed is key:
Website loading speed is extremely crucial when it comes to SEO optimization in 2021.
That's simply because if your pages load slowly, people will bounce out of your website and your ranking will fall down the drain.
You need a trustworthy host provider that can guarantee optimal website loading speed.
The thing is that you can't know the exact loading speed before you try the hosting service yourself.
But you can always optimize your website loading speed using free tools and effective loading speed practices.
And the best news is that even if your budget is tight, you can still get a good loading speed.
But don't expect anything spectacular for say $4/month.
Generally, the higher the price, the faster your pages will load.
Anyways, we will include our personal experience regarding loading speed for each of the options down below.
Hosting factor #3 – Customer service:
Good Customer Service will come in handy when something goes wrong.
Especially if you're new to websites, you're bound to make mistakes that may lead to your website being down for a while.
And the more time it's out, the more it will cost you.
So a good support team will help you get the issues solved in no time.
Even if you made a major mistake that's impossible to come back from…
Most support teams will have a full backup of your website so you can get back to a working version.
You always want your support team to have a live chat or a telephone you can call.
Email just doesn't make the cut if you want to resolve the issue fast, which you should want, given that your website is down.
We made sure to include only website hosting services with strong communication skills.
Conclusion
You're most likely going to have a long-term relationship with the hosting service you choose. So carefully look into every option that caught your eye today and select the one that fits your needs best.
To recap my top picks:
These are all dependable hosting providers with a record of quality service. Whether you choose one of my top recommendations or scout out your own, use the tips and best practices we talked about to make an educated decision.
Having a reliable web host is a must in today's world. Make this decision like the future of your business depends on it.
Because it does!
Have you worked with any website hosting companies in the past? How did it go and did you get the results you hoped for?