Use a Simple Checklist for Effective SEO
There's a lot to keep track of when running a site and one of the most important things is to get recognized. The web is a big place and getting noticed is a chore. And since it's such a competitive market the only real measure of how well known you are is Google, more precisely the first page of Google.
You've probably already heard the numbers – 90% of all internet users prefer #Google to other #SearchEngines, of that, 95% don't look beyond the first page and 99% don't look beyond the second page, etc.
All these numbers are really glaring neon signs pointing out that you need to put your site in the top 10 search results, otherwise things will not bode well.
Much has been said about the Google algorithm and everything that's taken into account when displaying search results, but if it can be boiled down to one statistic, it would be SEO rating.
SEO, or Search Engine Optimization, as its name suggest represents how optimized a site is to be featured higher on results lists. You're probably thinking it's all about the brand and to some extent it is – type in Nike or Microsoft and their homepages will be prominently featured. However, people rarely tend to be so specific.
Most of the time people simply use keywords, key phrases (commonly questions), and terms they're specifically searching for. In those instances, there is no proverbial homepage, but instead, individual pages of a site that's configured specifically to tick off the important boxes that search algorithms are designed to look at. So how do you get your SEO ranking up?
Boosting your SEO ranking is a process and there are no quick and easy solutions, so it's understandable that it seems daunting especially for newcomers. But what if we said that we could offer you a cheat sheet. Something that tells you exactly what to do and how to do it which will ultimately result in your SEO spiking. Let me introduce you to the SEO Checklist from SEOBUDDY, your ultimate DIY SEO tool.
SEO for everybody
Big hitters on the market will have a team/department, or at the very least one person dedicated specifically to maintaining their web presence. If you're struggling to make it on your own, you probably don't have the same luxury. So, what's so special about a checklist of all things.
Firstly, a checklist is a great format – it's concise, easy to follow, and easy to use. The alternative to a checklist would be a 300+ page manual you'd probably put down before you reached the third chapter. A checklist, as its name implies, is a list, so you can navigate in a flash picking and choosing content that's important to you at any given time.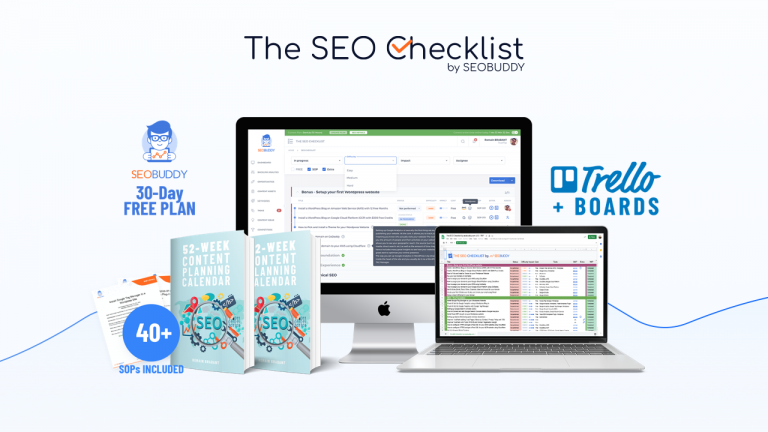 Start your 30-day FREE Plan today!
Secondly, you'll get to follow your progress. As we've said, boosting your SEO rating is a process, and since there's no magical button to click, there will be some moving parts you'll have to coordinate simultaneously. Not only that, but tasks will get more complex as you progress from the foundational ones to more advanced ones. Using a checklist, you'll be able to keep track of everything you've done and recognize everything that you'll get to. There probably isn't a universally perfect way to plan your actions, previously done tasks, and to-do list, but a checklist of this magnitude comes dangerously close.
Finally, this SEO Checklist will not only show you what you should do but will also give you suggestions on how to do it. A helpful suggestion in situations when you find yourself stumped about how to proceed will be an invaluable time-saver. You don't even have to follow everything to the letter – seeing an option on how things can be done might get your creative juices flowing and you can come up with an even better solution for yourself.

Use Coupon: AXNHOST for a 25% discount!