Law firms embraced digital marketing during the pandemic and began investing in content marketing as they were concerned about their lack of face time with clients. 
Now they are asking "Is this the right content?", "What is the ROI of this content?" And "How can we be sure the content we are creating is what our clients want?"
Semrush spoke to several marketing experts in the legal industry to identify the 9 key steps law firms need to know to create powerful, high-converting content.
Use our free workbook to follow along.
First, What Is Content Marketing for Law Firms?
Law firm content marketing helps lawyers connect with their local community and generate leads by providing practical advice and useful insights.
Distributed via blogs, social media, video channels, newsletters, and more, content can help you capture new audiences, highlight your successes and, ultimately, grow your caseload. 
Do Law Firms Really Need Content Marketing?
When people have a legal problem or questions and doubts about the law, they seek out experts. Google is often the first port of call. That's where content marketing for law firms comes in.
Law firms with a solid content marketing strategy rank more highly on the search engine results pages. 
They, therefore, are well placed to capture that search traffic and connect with people who genuinely need their services. 
By offering specific and useful content, your law firm can really stand out from the crowd in the local market. 
Let's take a look at an example of how a Trust and Estate Litigation firm used content to do just that. 
How Barr & Young Used Legal Content Marketing to Stand Out from the Competition
Barr & Young is a reputable trust and estate litigation firm with a long history. Nevertheless, it was struggling to compete with other law firms online, and their caseload was negatively impacted as a result.
The firm invested in creating a large volume of valuable content, following a well-researched content plan. At the same time, they also made significant technical improvements to their website.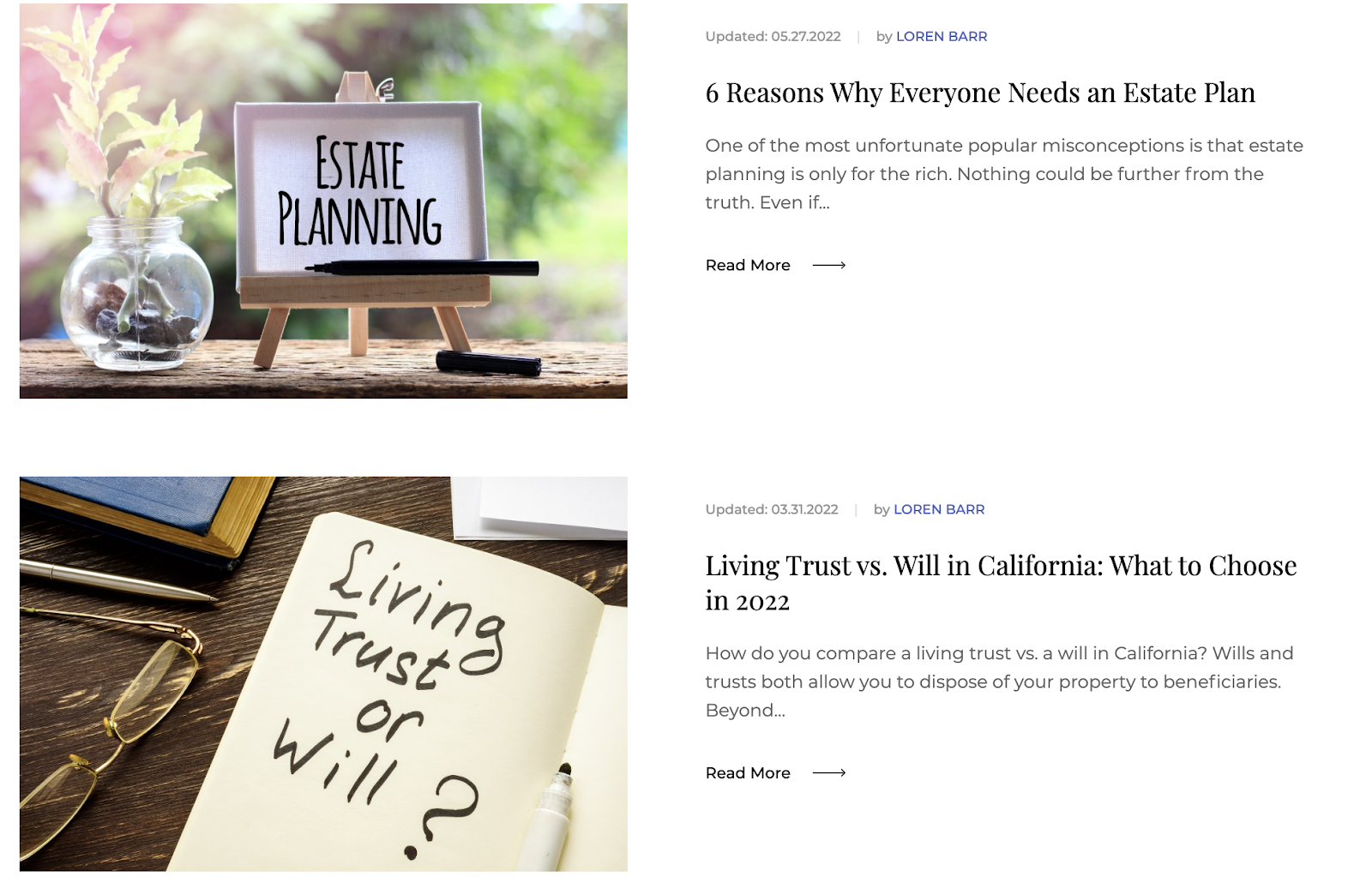 As a result, they saw an increase in organic search traffic of 934%. They also saw a 651% (6.5x) increase in the qualified lead flow and, following an increase in revenue were able to grow from 2 to 7 attorneys in under 2 years.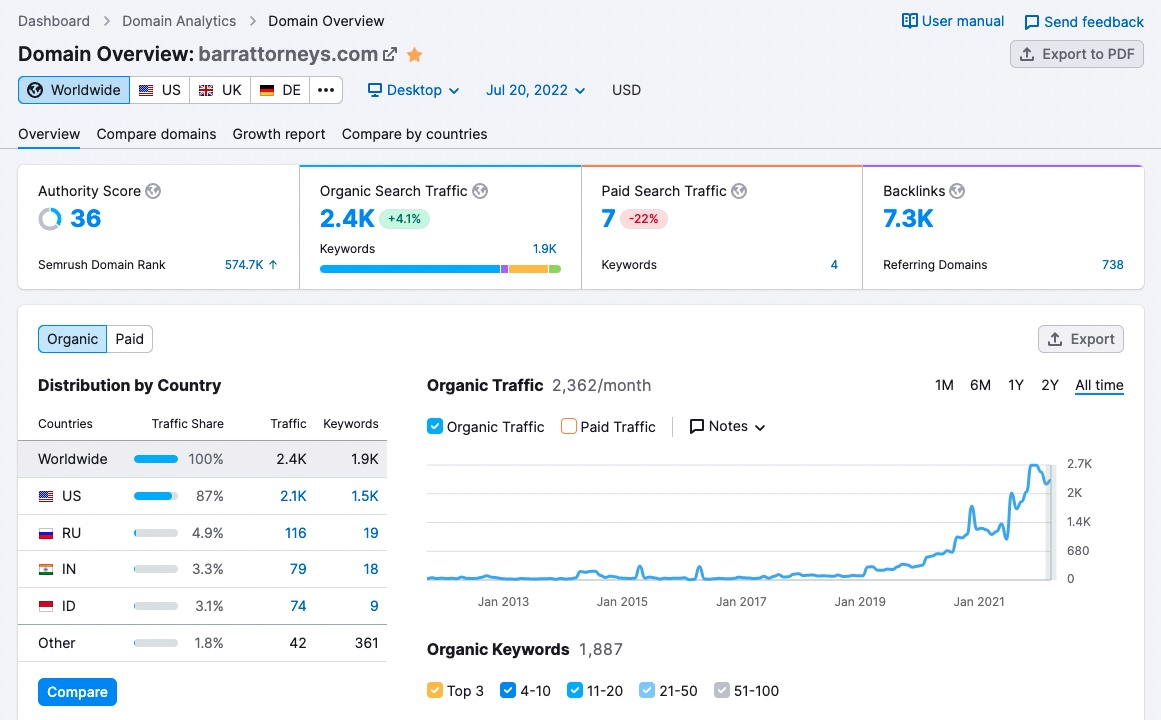 The Key Steps to Build a Powerful Law Firm Content Strategy
Let's dive into our experts' tips and see how you can deliver real value to your audience through legal content marketing and increase your brand awareness and caseload, and as a result.
Step 1: Focus On Optimizing Your Content for Long-Term Organic Traffic
Most law firms have no marketing teams at all. When working with minimal resources, it's best to invest initially in optimizing for Google search. 
Not only does this establish you as an authority in the eyes of your audience, but it also brings in long-term organic search traffic. 
Sasha Berson, Managing Partner at Comrade Digital Solutions, is adamant that, for B2C law firms, Google remains the most important channel for law firms to focus on: 
The shortest path between two points is a straight line. Search is a straight line. When somebody needs legal information or needs a lawyer, they go to Google. They don't go to Facebook or Instagram or Snapchat. And if you're not falling on page one, your competition is getting that business.
But not all lawyers have time to write. In this case, you can work with external copywriters. 
They may be subject matter experts themselves or work closely with the oversight of your legal team to create relevant and accurate content.
If the latter is true, your writers can source content from other channels, such as podcasts, videos, or interviews with your team.
Guy Alvarez, the founder of Good2bSocial, says:
We help our clients to produce and promote their podcasts around specific topics. Those podcasts are great because we transcribe them all and add the full transcript to the podcast page. That's searchable, obviously, but we then take the podcast and promote it organically on social media as well as on their website. That has proven to be a very effective method of getting our clients' content in front of their target audience and a lot of lawyers like doing podcasts.
Social media can also work for B2B and B2C clients if you experiment with channels and see what works best for your firm. 
Guy, for example, says he does a lot of LinkedIn advertising for the larger B2B law firms.
LinkedIn is a powerful place for your social media posts, as it allows law firms to target the clients they want to go after directly. It also ensures that the content they're creating shows up in their social media streams.
Content Marketing Examples in the Legal Profession
The Legal Eagle YouTube channel explains the US legal system, offers an inside view into the legal process, and covers law in the news. With more than 2.6 million subscribers, the channel hosted by Devon—an experienced litigator—is outstandingly successful.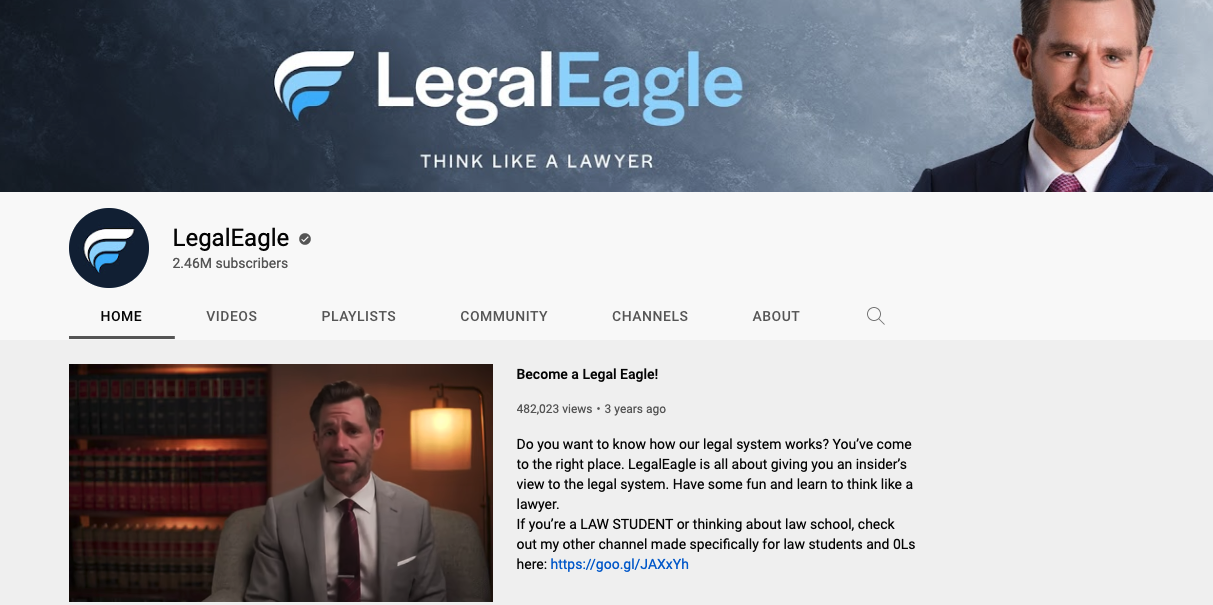 Legal Cheek has a different strategy—introducing legal humor to social media. The website promotes legal fairs in the UK and shares funny legal memes, events, and current affairs news. With over 76,000 followers, it seems to be a strategy that works.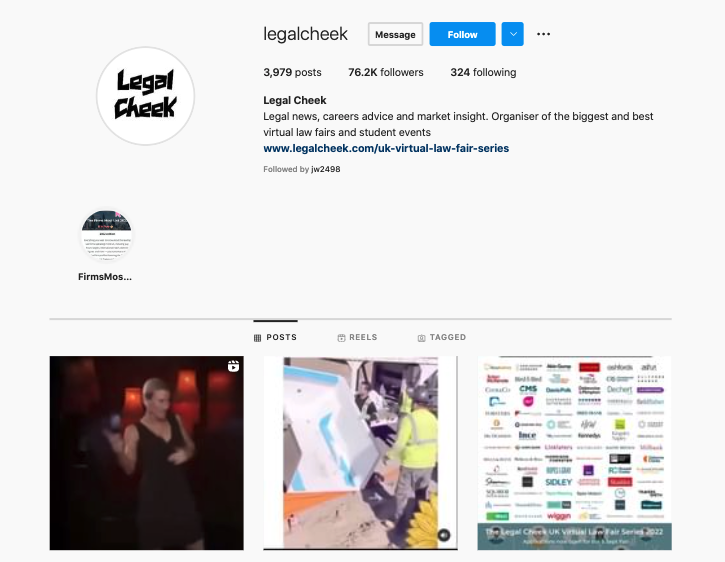 Step 2: Research the FAQs and Produce Content that Satisfies Your Client Needs
It's important that your law firm content is found on search engines.
But, above all, you want to create content that is valuable to your existing or prospective clients. 
How do you know what is valuable to them?
By looking at the questions that your clients are asking and doing topic research. That is using tools, knowledge, and research to understand which broad themes and content types your potential clients are most interested in.
Guy Alvarez advises:
Think about the top questions that you get all the time from your clients. What are those questions that you get repeatedly? You can build your content calendar by basically answering those questions.
Guy also suggests marketers at law firms should also establish relationships with business development professionals in client teams to understand what questions clients are commonly asking. 
Large law firms, in particular, have teams that are organized around industries or large clients. By understanding what these questions are, you can better address their needs with your content marketing. 
Another good source of ideas is client reviews. 
Alex Valencia, President of We Do Web Content, says:
When you go into reviews and read reviews from law firms on what people have said, what their issues are, what their pain points were, and what they liked or disliked about a firm. We have a list of 10,000 reviews that we use to either write against or write the answer to that response.
Where Else Can You Find These Questions?
Sales calls: Have your sales team or paralegals note down frequently asked questions from your clients and potential clients 
Social media inquiries: Keep a record of the queries you receive and the stock answers you give
Quora, Reddit, and local forums: Search for your practice areas in these popular forums and collate the questions you are well placed to answer
In the example from Quora below, we can see a range of questions and answers for the term "personal injury lawsuit".
First, enter the topic of your choice and click 'Search'.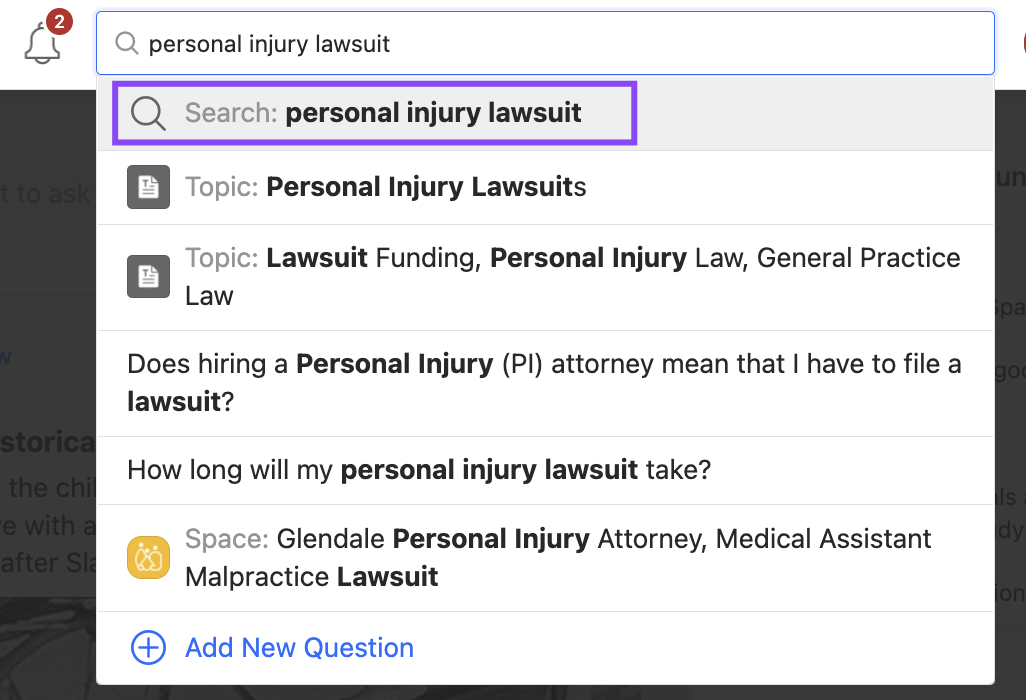 Then, you can choose to see various conversations and questions related to your topic. Go through the list, make notes and brainstorm some ideas for your content.
For example, why not create a series of Instagram reels about the time and resources the personal injury lawsuit can take?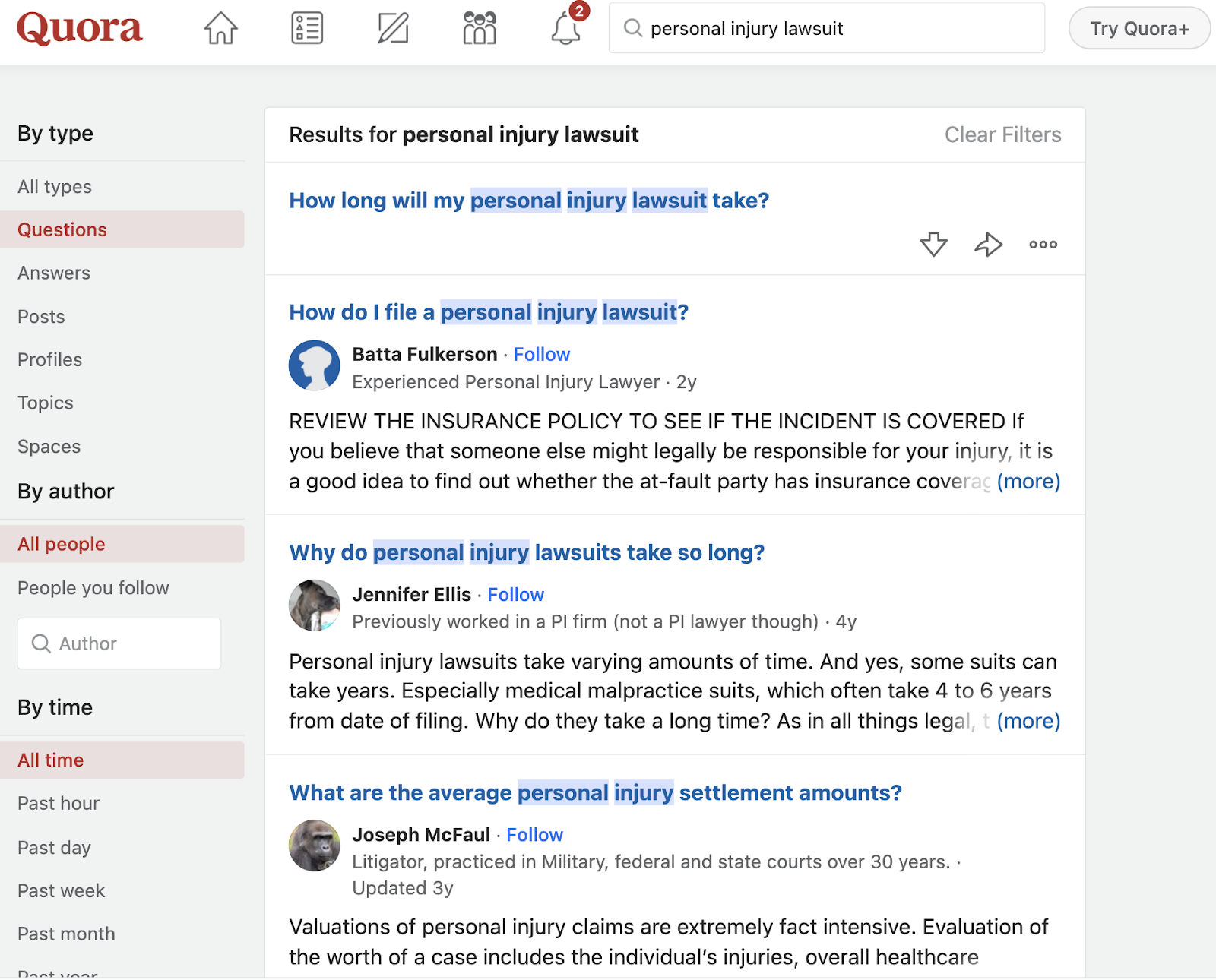 You can also use Google itself as a resource. For example, type in your topic or keyword and explore the related searches for inspiration.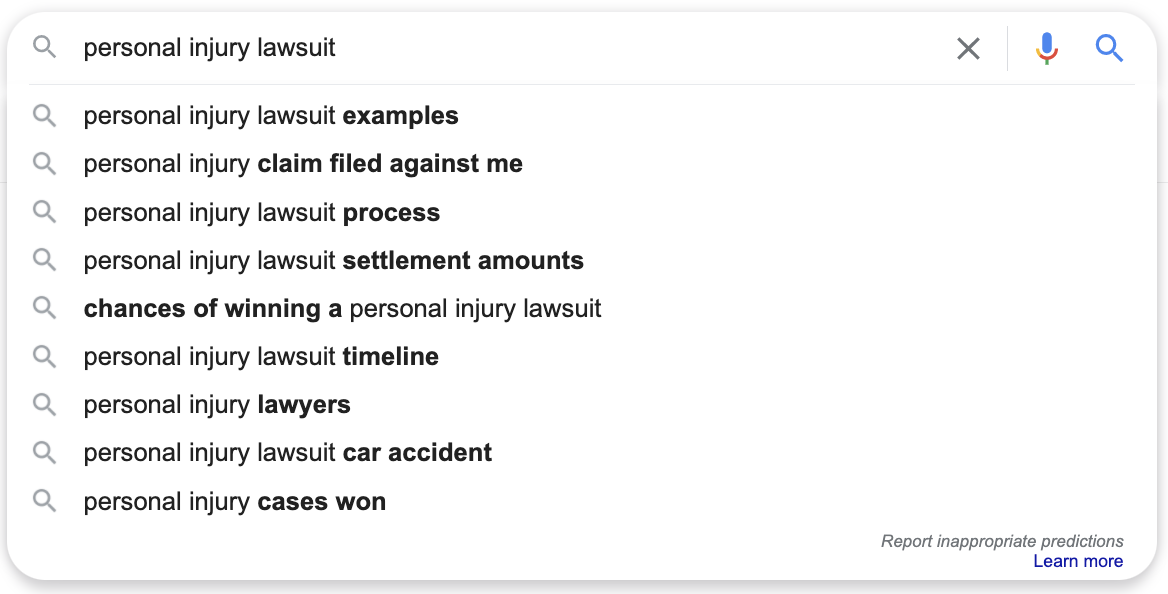 The People Also Ask section, which often appears in the search results, is another excellent source of content ideas. 
See below for content ideas on the same theme. You can also use these questions to better structure your blog posts and other content.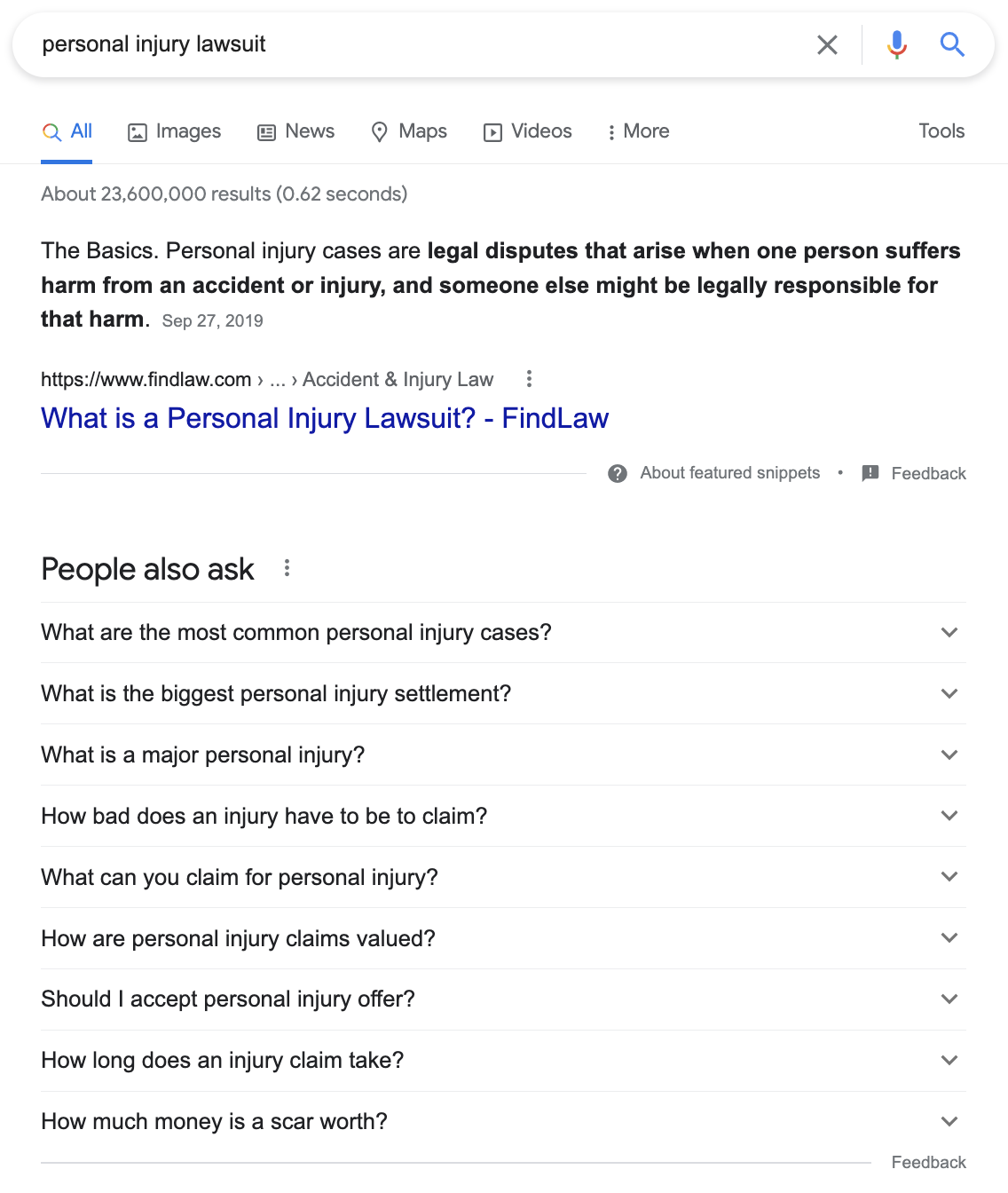 You may also be able to join local Facebook and LinkedIn groups relating to your practice area to see if there are any questions or comments on the theme. Simply collate these and note them down as potential content ideas.
The Semrush Topic Research Tool can also help you discover ideas that people are genuinely interested in.
A Topic Research Workflow for Your Law Firm
In the workflow below, we can see how a marketer in a local law firm can uncover a range of topical local content ideas using the tool. 
But you can choose any theme that relates to your core areas of expertise.
First, enter the topic (for example, "personal liability protection") and select the location. For instance, the US, California, and Pleasant Hill.
Next, select "Get content ideas." A range of related subtopics that are trending in your area will appear.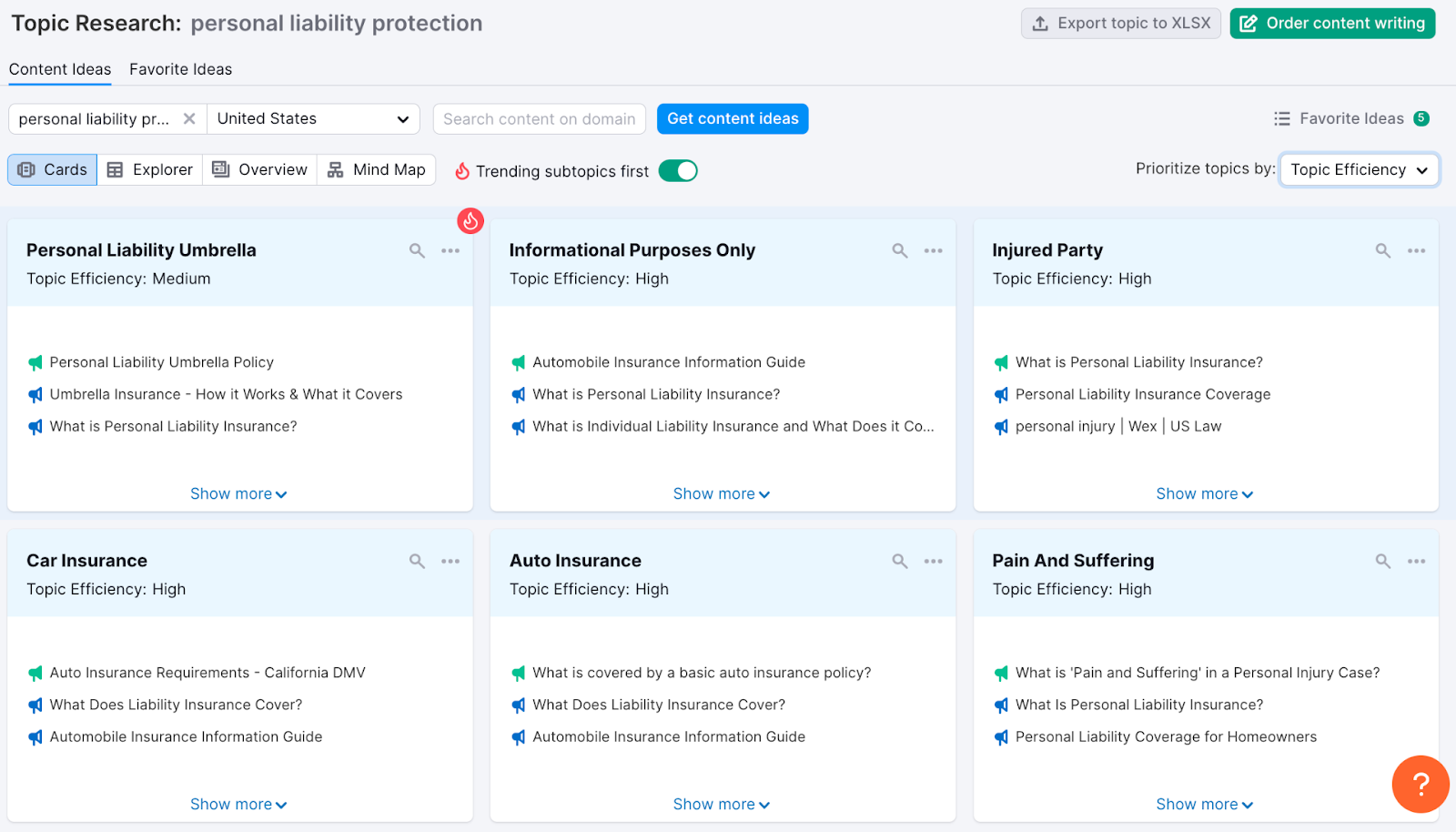 You can filter your topic based on volume, difficulty, and topic efficiency (the best combination of higher search volume and lower ranking difficulty).

You can also choose to show the trending topics first. This way, you can leverage newsjacking and jump on the trends that have been important in your community.
Next, choose a topic that will appeal to your audience and has a high volume. If you open a card, common questions, headlines, and related searches will show: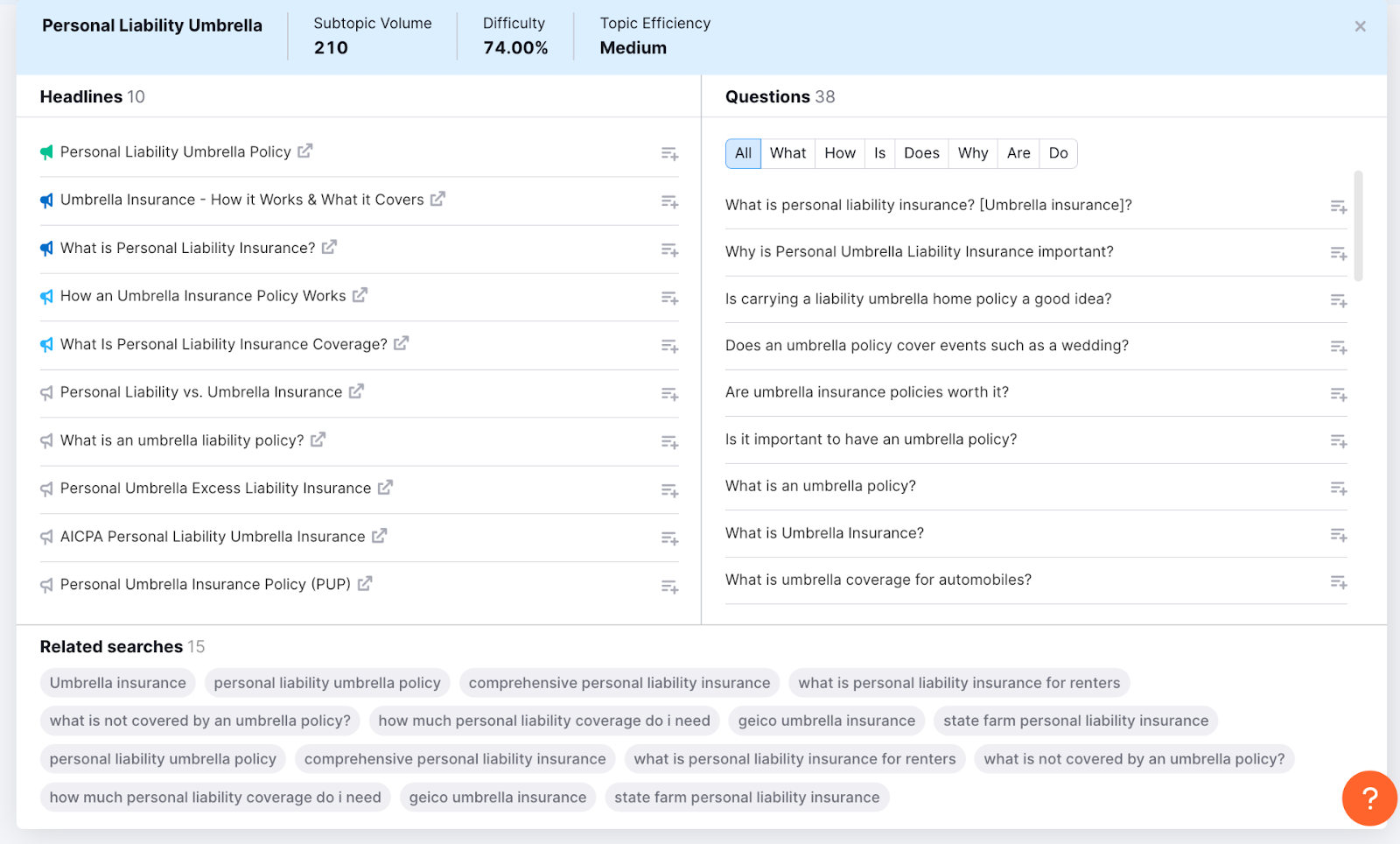 The related questions can also provide content ideas for other channels, including a podcast or your social media. 
Step 3: Research Keywords and Create Content Hubs to Improve your Website Ranking
Properly optimized posts bring more organic traffic, so once you have outlined your topics, it's time to dig into the keyword research.
Take your topic of choice and paste it into the Keyword Magic Tool. You will see a range of related keywords. For example, you could focus on "Personal Injury Case" as your main keyword:
From here, you can assess which keywords to include in each content piece.
To create a synergy effect and achieve better results, you can build content hubs around these keywords. Such hubs will be focused on answering all the relevant questions related to your topic and targeting all relevant keywords. 
As a result, your customers will be able to address all concerns they have without leaving your website.
A Content Hub Example
Anidjar & Levine is a law firm that has several practice areas, from personal injury, pedestrian accidents, wrongful death, and more.
In the content hub below, we can see articles focused on car accidents—an area of interest for their audience.
Each piece of content includes a range of specific, related ideas. For example, they write about mistakes to avoid after a car accident, accidents avoiding leased cars, hit and run accidents, as well as insurance claims dos and don'ts.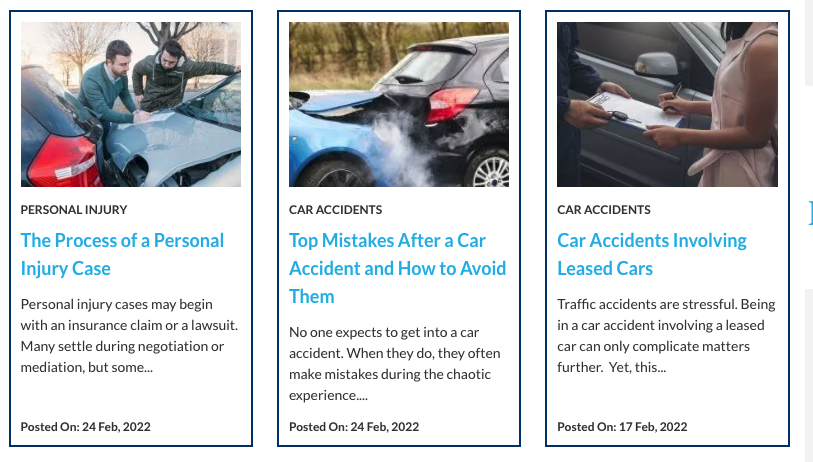 By providing a comprehensive resource like this the firm establishes expertise in the area, answers reader questions, and helps them rank higher in the search results.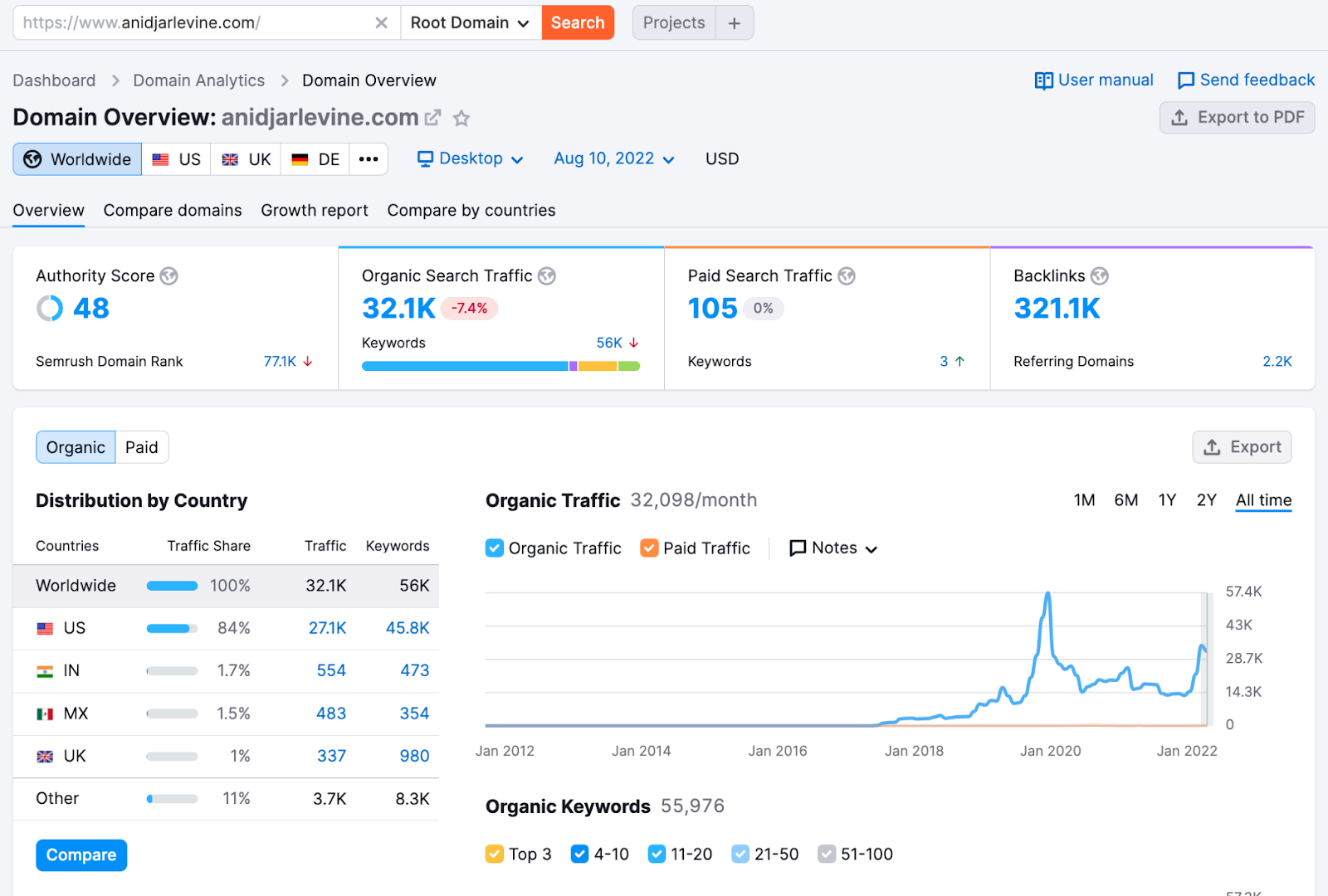 Thanks to this solid content strategy, the website gets over 32,000 organic page views a month and has generated more than 321,000 backlinks as of August 2022. 
Step 4: Highlight Your Client Experience with Success Stories
For smaller law firms, Alex also recommends writing about their own cases in the form of a story with a before and after narrative. These should focus on showcasing the outcome your clients achieved. 
Lawyers have to tread carefully when publishing case studies to protect anonymity. However, if dates and certain identifying or sensitive details can be removed or edited, stories can be valuable for your readership. 
Here's how to do it:
Decide: Outline your objectives and audience. Who is this for, and what do you want them to do after reading the case study? This will help you understand what details you need to share and which calls to action to include. 
Gather: Bring all the materials together. Start with simple question words: who, what, where, when, how, and in what order. These will help make sure what you are sharing is logical and covers all the important bases. 
Evaluate: Decide what is most important. The objective, the outcome, the process, and the experience will all be central points your readership is interested in. 
Also, look at the details you need to omit or edit (i.e., the content that might reveal who your client is, for example).
Structure: 
Begin with the outcome (e.g. Learn how this building firm structured a successful merger). This helps the reader know if it's relevant to them and introduces a certain amount of curiosity.
Include the principal challenges
Share why they chose your law firm
Explain the process and how you approach the project
Reiterate the outcome and share the top takeaways for the reader
Finally, write and review: In terms of story, does the piece achieve what you hoped? 
A Legal Case Study Example From Boundless
In this case study, Boundless—an immigration legal services company with attorney support—shares how they helped a couple from Texas and Chile achieve their dream of legally marrying and living in the United States. 
It explains their decision-making process, their experience at Boundless, and their positive outcome.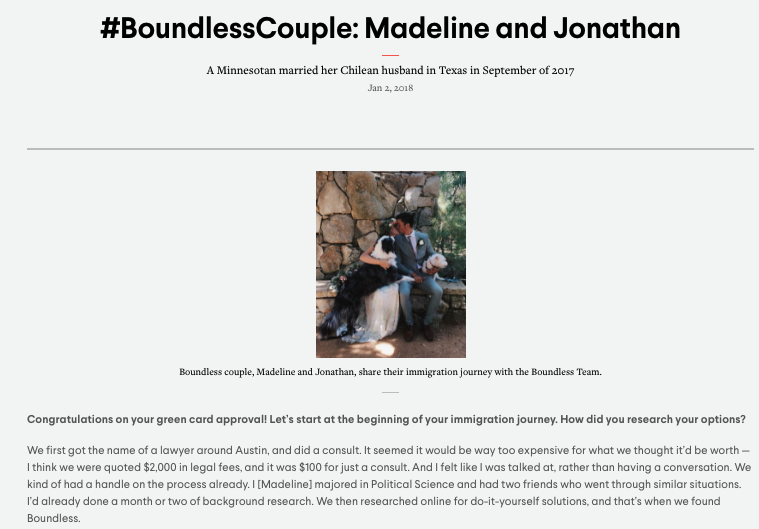 A story like this will resonate with many other couples struggling with immigration and Green Card problems. In turn, Boundless are sure to generate more qualified leads. 
Step 5: Pay Attention to Your Competitors
There are many ways to sneak a peak at your competitors and see what works well for them (and what you could do better). Here's a quick checklist:
See how your competitors position themselves in the search results: Look at their home page meta description (see the example below). This will show you how they are differentiating their practice.

This particular firm focuses on size, scope, and longevity of the firm. 
Follow your top competitors on social media: note which posts get the most engagement, list any interesting comments, pay attention to reviews or testimonials they share. While you should not try to copy their style, you will begin to see the audience's values and the content types that have the most impact. 
Subscribe to their blog or newsletter: You'll start to get a feel for the type of content they share. Use this as a way to keep tabs on their marketing campaigns.
Download their guides: Longer form content like guides and ebooks are a big investment. You'll see what your competitors think their customers value if you download these. This could point you in the right direction.
Perform a full competitive content analysis: This allows you to see how your content compares to others in your industry, identify content opportunities; and find fresh inspiration for your own content.
Taking Your Research Further
Tools like Semrush's Organic Research make it easy to see which articles are performing well already for your competitors. 
Simply enter your competitor's domain and go to the "Pages" report to see their most popular pages. Analyzing them can help you understand what's trending in your niche.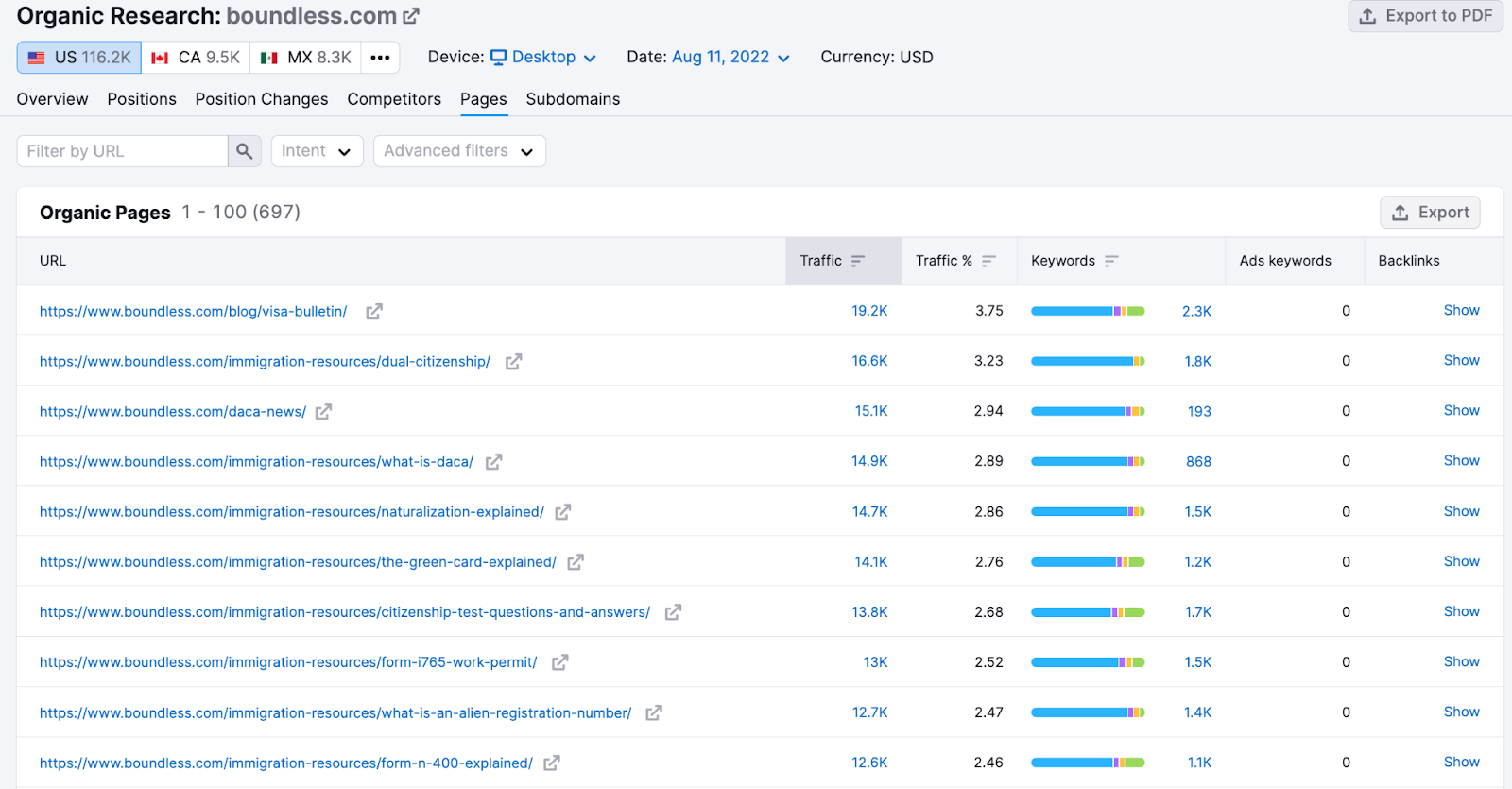 You can also go a step further by analyzing several competitors at once and finding the content gaps for your website. 
This can be done using the Keyword Gap Tool.
First, add your domain along with the domains of your competitors. The tool will then generate a report demonstrating various keyword opportunities for your company. 
Scroll down to learn more. For example, you can find keywords for which your website doesn't rank, but at least one of your competitors does.
Step 6: Create Powerful Foundational and Informational Content for Your Website
For law firms, foundational content is content that increases the visibility and organic search rankings of either your practice area pages or your location page.
On the other hand, informational content helps potential clients select a law firm for their needs. 
Lawyers need to clarify what market they want to compete in and what market they want to provide information for.
Alex Valencia says:
If you're not using a location within your keywords, you're just telling Google that you want to compete for the main keyword, for instance, "personal injury attorney", which is a very difficult keyword to compete against. But if you specify that it's the "Hartford County personal injury attorney", it's a much better keyword to go after because it's specific. Now you're telling Google—I'm the personal injury lawyer in Hartford.
This means that:
Each location that your law firm wants to practice in should have its own content hub
Each of your practice areas should have its own content hubs too
All your informational content on your website should support one of these foundational hubs
Let's dig into an example. 
Imagine someone is looking for a specific type of lawyer (e.g. Hartford Country personal injury attorney).
They will start by drawing up a shortlist of lawyers that meet their specific needs. 
Then, they will look for informational content to determine which of those lawyers to choose. 
"Why should I hire this lawyer?" is probably the most commonly asked question and, therefore, one that every law firm should answer on their website. 
In the example below, you can see how Ben Crump's website is making it easy for users (and search engines) to understand what areas of practice they cover and in which locations.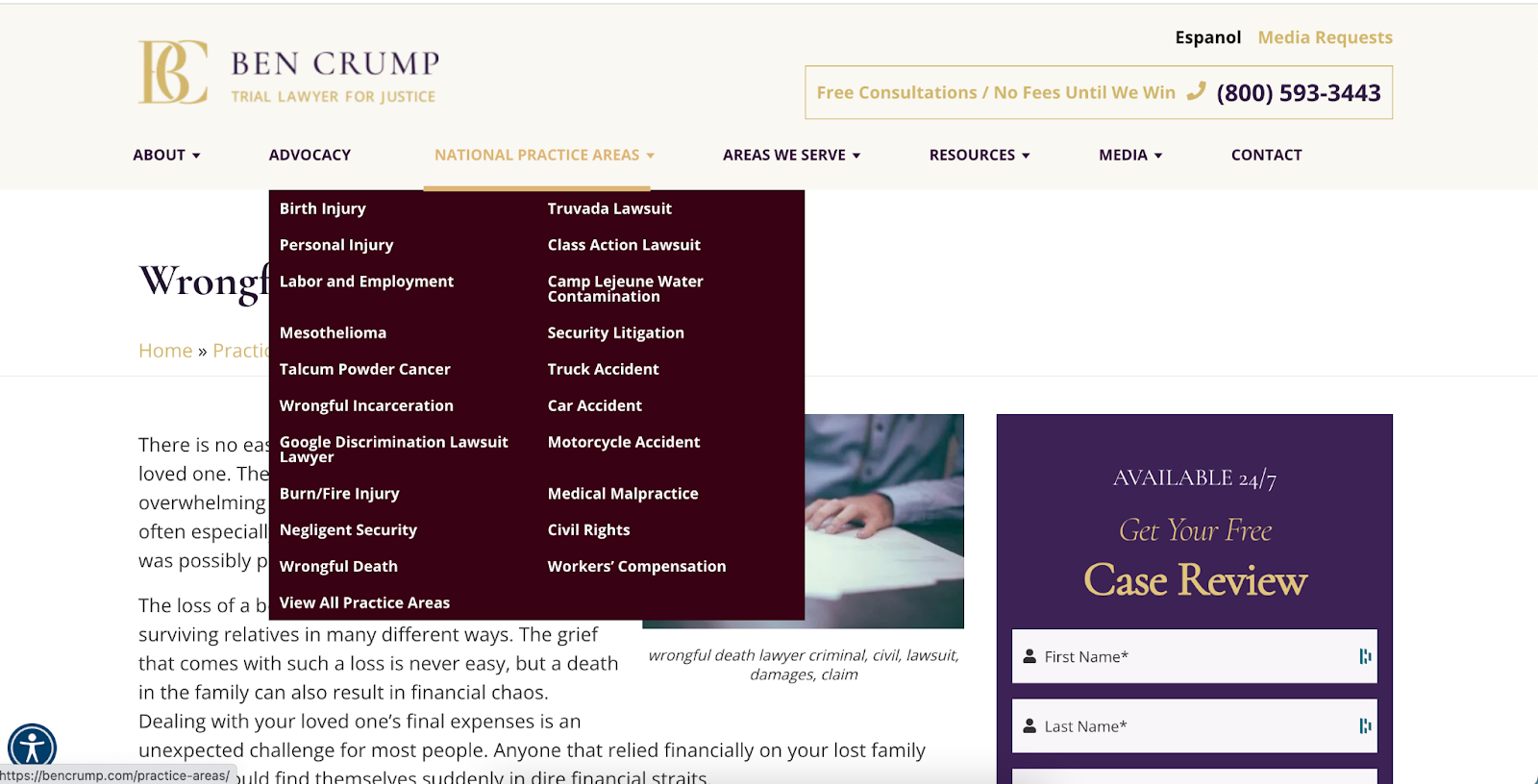 In other words, informational content has little value without foundational content to accompany it. 
Alex observes:
There was a situation where a person just wrote blogs and informational content but never wrote foundational. So people were coming for information but not hiring them. They would say, alright, thanks for the info, but I'm going to this guy because he is offering relevant service.
How Boundless Combine Informational and Foundational Content
In the example blog below, Boundless do an incredible job of merging both content categories by sharing information alongside calls to action.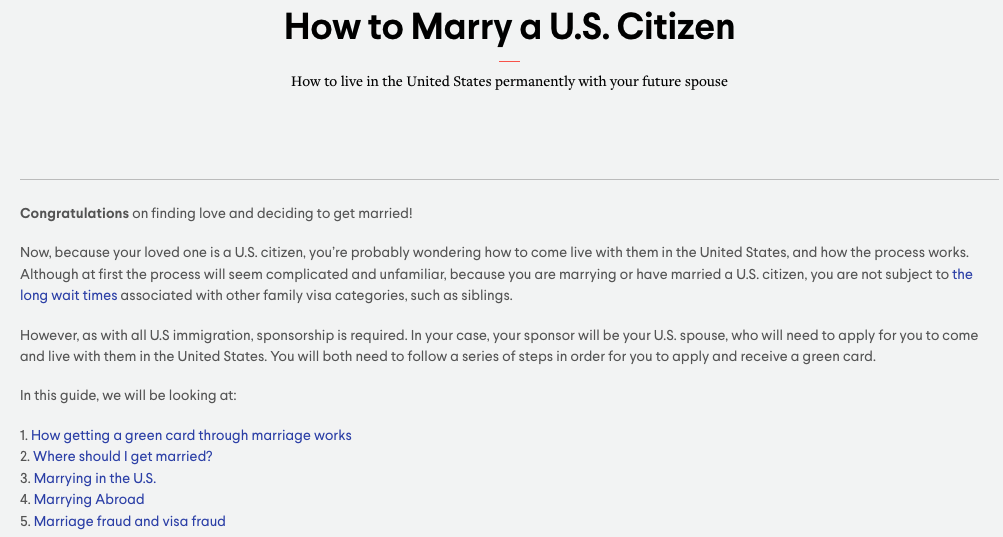 The information they include is genuinely useful for non-US citizens who want to marry someone in the country. 
At the same time, they share their results (i.e. decrease your risk of rejection by a quarter), a downloadable checklist, and a call to action which takes the reader to a landing page and questionnaire. 

The whole website is designed so that the readers can answer all of their questions about the process, learn how Boundless can help them, and request a consultation at the same time.

Step 7: Use Google Featured Snippets to Your Advantage
Google's Featured Snippets are short snippets of text that appear at the top of Google's search results. They serve as a means to quickly answer a searcher's query. 
If you're able to get your content in Featured Snippets, it can give your organic click-through rate a serious uplift. According to Search Engine Land, a Featured Snippet gets approximately 8% of all clicks.
Here's an example of a featured snippet: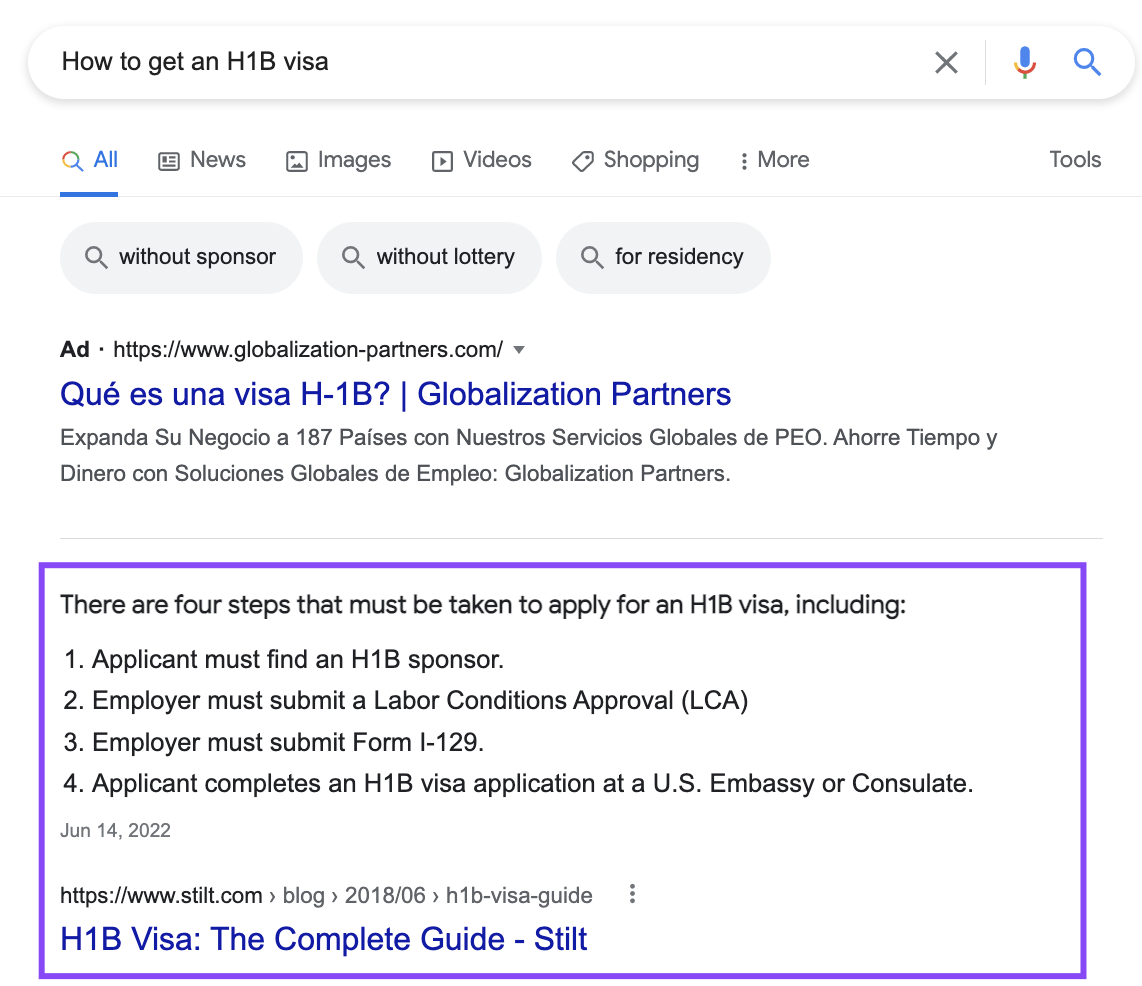 And another that features a graph: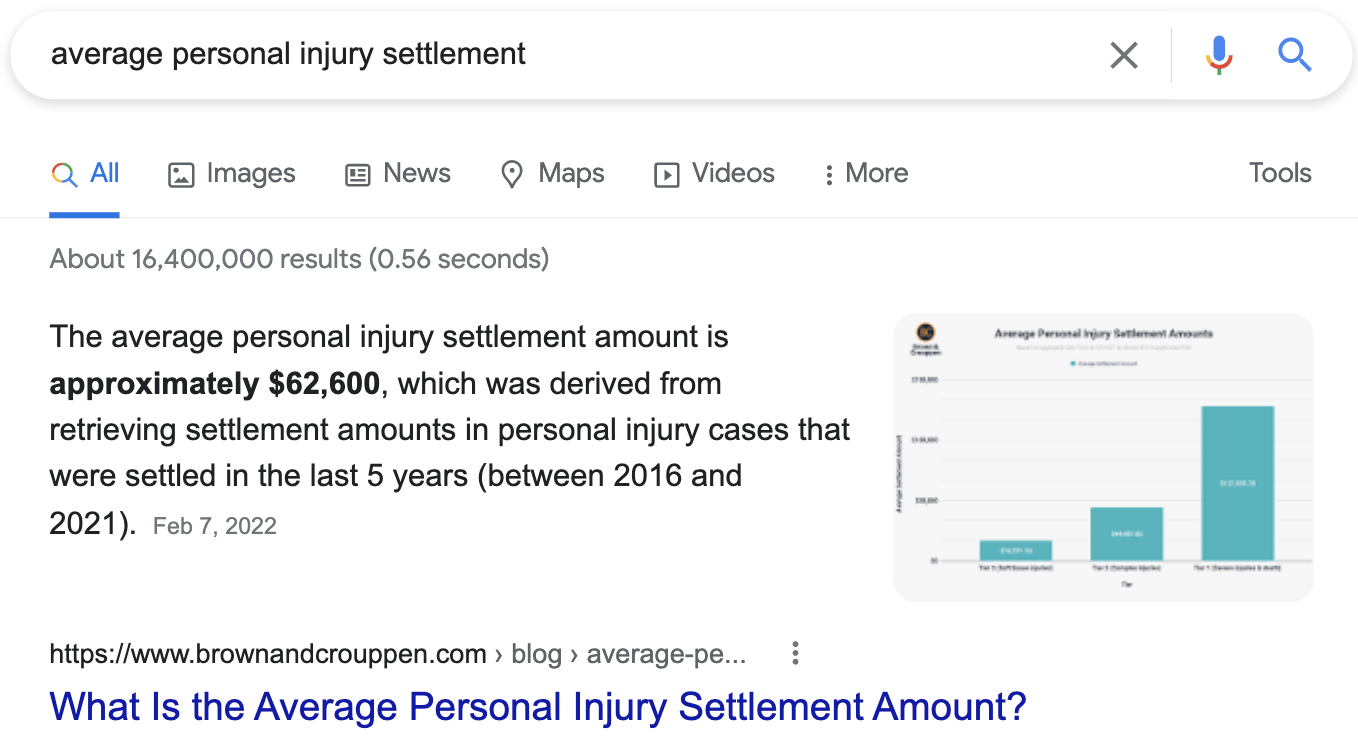 According to Alex, Featured Snippets and People Also Ask questions are great for reverse engineering your foundational content. 
Do this by querying your keyword. 
Select the relevant People Also Ask questions or snippets that are returned and merge them into a single blog post or long-form guide.
For example, the following questions could form the backbone of a comprehensive article on how to dispute a will.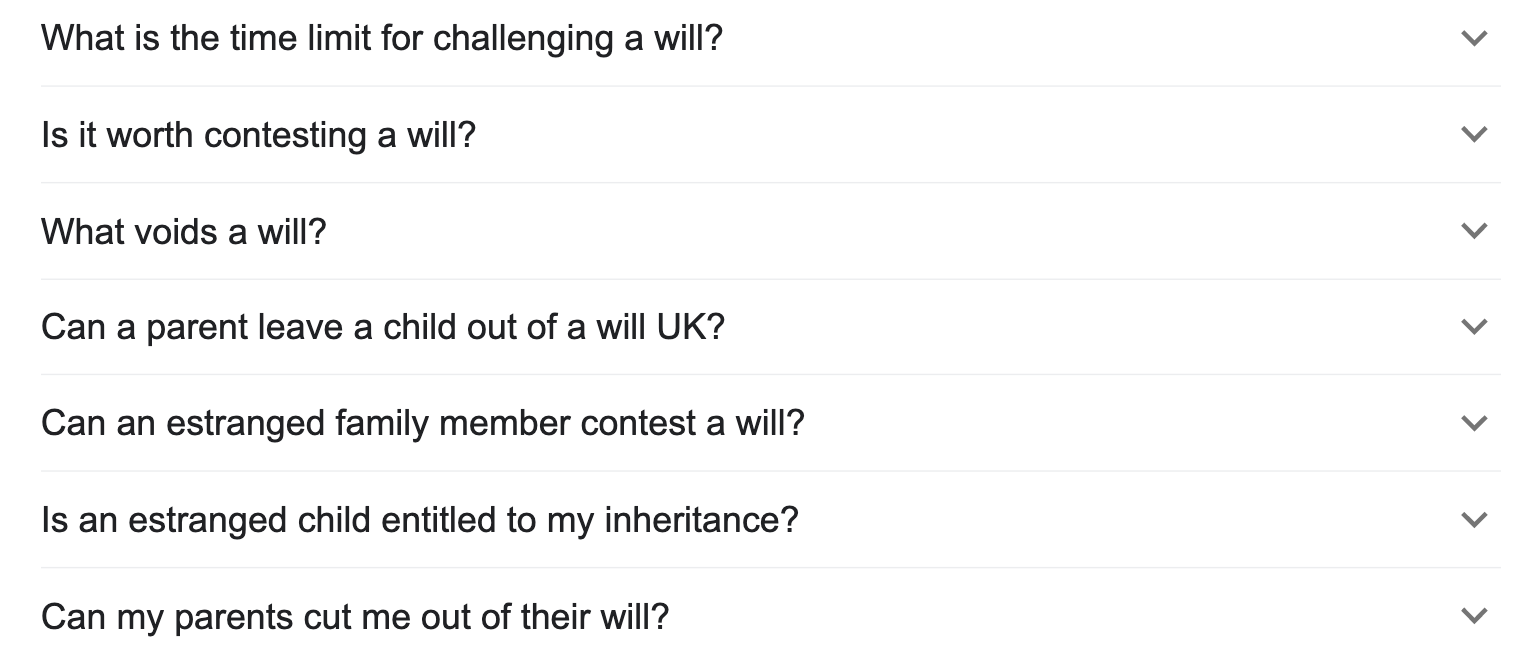 How to Earn Featured Snippets
Choose a keyword. Long tail keywords (i.e. those that are several words long) have more chance of returning a featured snippet.
Featured snippets might come in the form of a list, a table, a paragraph or a video. Search for the keyword you are optimizing for. If you see a featured snippet for that term, you will know what format you have to aim for.
Use question words. According to our research, 29% of keywords that triggered a featured snippet included "why," "do," and "can."
Think about your word economy. Most snippets are around 40-50 words or 250-300 characters.
Step 8: Create Content That Reflects Your Expertise and Authority
Websites that offer products, services, or information that can impact users' happiness, well-being or security are categorized by Google as YMYL—which stands for "Your Money or Your Life."
Ultimately, Google wants to be sure that the YMYL content it surfaces does not mislead or give a negative user experience.
The content published by law firms is a good example of YMYL, because it can have a real impact on the quality of someone's life. 
For such websites in particular, Google's algorithm is trained to search for a variety of qualities that signal the expertise, authoritativeness, and trustworthiness (E-A-T) of their content and the people who created it.
E-A-T is not necessarily a ranking factor but features heavily in Google's Search Quality Evaluator Guidelines. These are the people who evaluate page quality to inform algorithm updates, and so their guidelines give us insight into what Google regards as a premium quality user experience.
John Mueller, of Google, says that "when it comes to these kinds of sites, it's less about the tactics and really more about making sure that it really is a legitimate business and that it's backed up by appropriate trustworthy sources."
In practical terms, this means:
Ensure that your content is always created with the help of the subject matter experts (SMEs)
Always identify your content's author with a byline and bio
List the author's relevant credentials or anything that qualifies them as a subject matter expert (SME)
Make your contact info easy to find. A visible phone number and a contact page should suffice.
List any awards, testimonials, or endorsements that will reassure your visitors that they can trust the information on your website
Below you can see how a law firm showcases that the article was created by an attorney and provides a link to their profile with credentials.

Step 9: Structure Your Content Effectively Using BLUF and Improve Reader Experience 
It's worth considering the BLUF structure—that's Bottom Line Up Front. This is a journalistic style that ensures that the most important information is shared first, and the details come later. 
Imagine, for a moment, an inverted pyramid. You have the broadest information at the top (the headline), and the finer details are added as the pyramid narrows.
In the example below, we can see a very clear headline, which tells us exactly what to expect in the blog, followed by a simple definition and an illustrative image.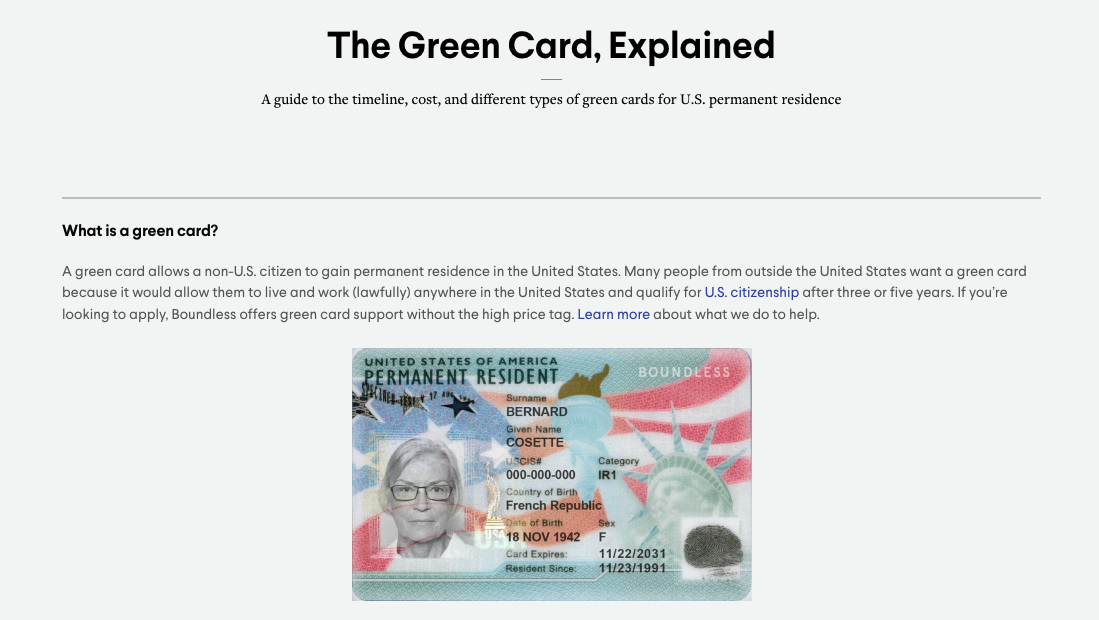 That takes care of the reader experience. But when it comes to optimizing for search, there is more to consider. 
Alex Valencia says:
A lot of attorneys, a lot of people in different industries, get the structure incorrect. They mess them up all day long. They also get their H1s wrong. They don't do H1s. They don't break their content downward. Some people do super long 500-word sentences and it's too much information. You want to be able to scan the page and give as much information as you need because the goal is for them to fill out the form or pick up the phone and call.
Search engine bots like to consume content in a structured way. They understand content better if it's structured in a certain way and, Alex believes, so do human beings. 
In addition to BLUF, your structure should therefore include a headline (H1), headings, subheadings (H2s and H3s), bullet points, tables, and lists, where appropriate. For example: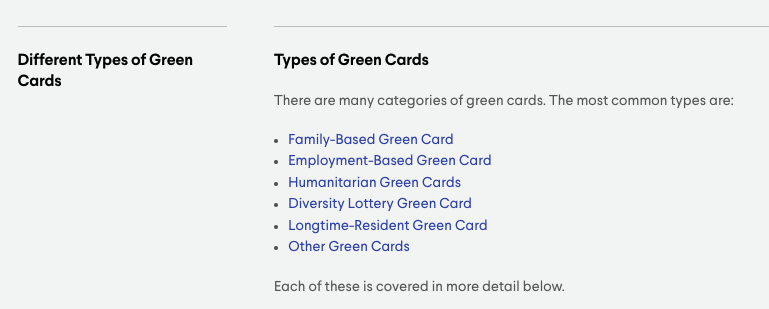 All of these are different ways to make your writing clearer for the reader and, in turn, the search engines. 
In the same blog, we have a table of contents and calls to action interspersed with the copy.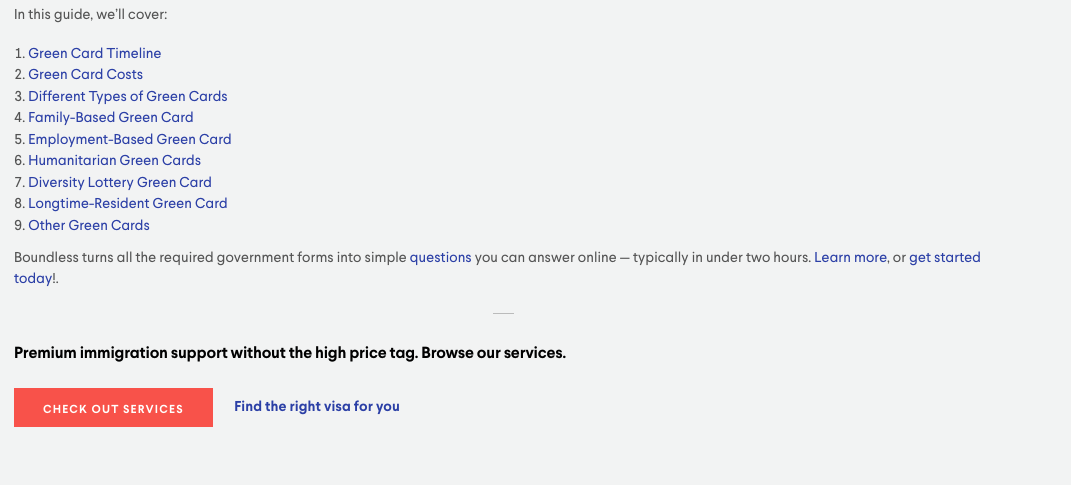 Remember that improving user experience and designing your content in a customer-friendly way will eventually help you rank higher. 
Improving the Reader Experience
Once you've structured your article, you'll want to make sure it offers your readers a good experience – and is optimized for search. Your content should be:
Useful, practical, and based on real-life experience and original research
Optimized for search intent of the users
Comprehensive: each content piece should cover all the questions related to the main topic
Aimed at a specific audience and written for their level of understanding and preferred tone of voice
Enriched with visuals (images, videos)
Optimized for readability: you should focus on creating easy-to-read content with shorter sentences and descriptive headings
To automate the content quality control for your company, you can use SEO Writing Assistant Tool.
Simply paste your copy into the Semrush interface or use our free add-on (available for Google Docs, Microsoft Word, or WordPress). Then the tool will instantly assess your content and suggest improvements. 
You will receive actionable suggestions related to SEO, readability, originality and tone of voice.
Conclusion
Content marketing is a powerful channel for law firms to boost their market visibility and establish credibility with clients. 
However, content creation can be time-consuming, and it's vital that law firms establish a clear content strategy before they start.
This means understanding the audience they want to reach, the topics they want to rank for and the channels that will be most effective. 
Next, they need to master the basics of content writing in terms of structure and how to establish trust. 
To start building an effective content marketing strategy for your law firm and put learning into practice, download our free workbook for effective niche content marketing.