Email is an effective and intimate way to connect with your audience. You put thought, effort, heart and soul into the messages you send to build connections, share what you've made, and ultimately earn a living.
The last thing you want to be thinking about while writing a message is how the editor works. One of our core values at AWeber is to listen to what people say about us and invite feedback, so we asked how we could make the editing experience faster and easier. We got a bunch of great feedback and today we're giving you access to try out the updated email editing toolbar.
Controls are always available right where you need them
We heard that it could be tough finding styling controls like text alignment and making bulleted lists because they were behind the paragraph styling button. Yes, it did make a cleaner writing canvas, but having to click an extra button to get to styles was not easy.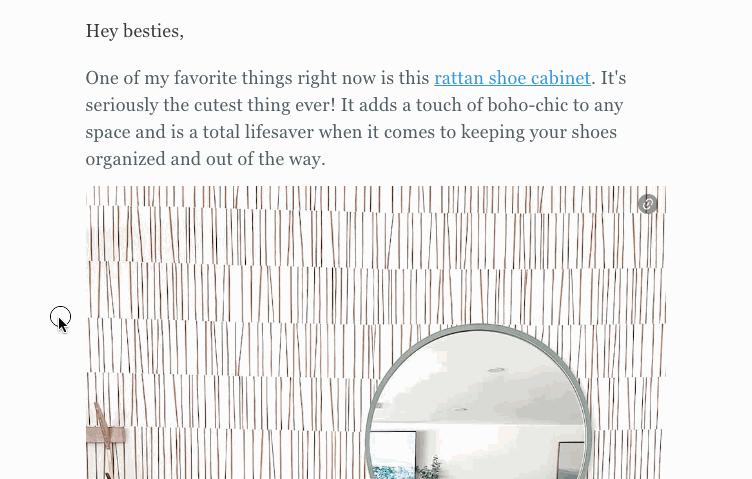 We don't want anything you do in the message editor to be frustrating, so we pulled all of the text styling controls out into a styling bar that is always on screen while you're writing and editing text. You don't have to remember where options are, they're right where you expect them to be.
"I love it! Now all the formatting tools are right there, and I don't have to hold a pull down to get to the center text option. It's not in my way, it's just quietly up there being available when I need it."

Melina VanLone, Author
Updates
Whether you're looking to update the font style, add images, create an image in Canva, or add personalization to speak directly to your subscribers – it's right there in the bar.
The styling controls are modeled after the other content creation tools you use in your day to day, so moving between your tools should feel familiar and natural.
When you select a chunk of text, a mini toolbar appears nearby with convenient formatting options so you can quickly bold, italicize, and link text.
Never wonder about your current styles
We heard requests to make it easier to keep your text styling consistent throughout your messages.
Updates
The text styling bar will always show you the styles (the fonts, font-sizes, colors, paragraph styles, and alignment) of whatever text you're working on so it's easy to check your copy for consistency at a glance – without having to dig through any menus.
"The new experience is MUCH better!  Thank you for listening to the feedback and providing users with a better product."

Sally Zaleski
Edit on any screen size
You're not always in front of your computer when an idea strikes you or – heaven forbid – when you remember a change you need to make in a message scheduled to send soon.
Updates
Now you can jump into one of your messages or create a new one on your desktop, laptop, tablet, or phone without the need for downloading any apps.
The editor isn't just updated for phones, it's been adjusted for a variety of different screen sizes so you get an experience designed for your device.
More space to write
The internet can be a distracting place with all the news, social posts, memes, and more memes flying around and we frequently hear about struggles with getting in the zone for focused writing. With that in mind, we've taken care to minimize noise and distraction in the editor.
Updates
Removed wasted space, grouped related items together, and got rid of unnecessary borders and outlines.
Added subtle animations to make it clear what elements you can interact with so everything feels more app-like and natural.
On a mission to make creating emails faster
These updates come on top of a bunch of recent improvements we've made based on how you've told us you write content.
It's much easier to add images right into your text element so it's easy to build your message without having to leave your flow state. You can drop an image from your desktop into your message, add an image from your gallery, or create an image in Canva and add it to your message without leaving AWeber.
You can also drag and drop any element anywhere in your email without having to make sure it's at the beginning or end of a text element.
Another way the editor has been updated to speed up your process is by adding markdown shortcuts so you can style your text without leaving your keyboard. Some of the most helpful markdown shortcuts are:
| | |
| --- | --- |
| * | start a bulleted list |
| #, ##, ### | set text to a headline of a different size |
| — | create a horizontal line |
| > | make a block quote |
Most recently we added link previews as a way to turn a URL into a fully designed block of content, a button, or a human readable hyperlink without any manual effort on your part.
How to try out the new editor
Just click this link and you'll be brought to a new message in your AWeber account using the updated controls.
If for some reason you want to go back to the current editor, you can reset the editor.
We think you're going to find the updated text editing experience faster and easier to use. None of these improvements would've been made without feedback from people like you who use AWeber to connect with your audience.
Thanks for the feedback (keep it coming) and thanks for trusting AWeber with your business. Now get in there and write something wonderful.