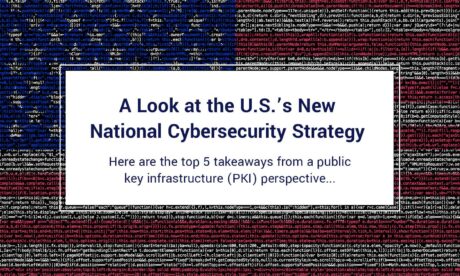 The White House's updated National Cybersecurity Strategy calls for greater regulation and enhanced security of our country's critical infrastructure. Here are our top 5 takeaways from a public key infrastructure (PKI) perspective…
Every day, we see new headlines about cyber attacks, data breaches, and supply chain security issues. Cyber news has become synonymous with poor cyber security processes, a lack of cyber awareness, and the looming threats that await us in the digital world.
Last week, the Biden Administration released a new National Cybersecurity Strategy document. This is one of several cyber security initiatives in recent years that include the IoT Cybersecurity Improvement Act of 2020 and Executive Order 14028 "Improving the Nation's Cybersecurity." It's no secret that we, as a country and part of the larger global community, need to figure out better ways to secure our digital world. This new official strategy serves as a step toward achieving that.
But the new document is getting some mixed reviews (as with most things political, I suppose). Some call the new National Cybersecurity Strategy ambitious while others say it's poised to leave the industry in a worse place in certain ways (particularly for smaller organizations). But we're not here to tell you what to think or discuss politics; you can read the entire strategy document and make your mind up for yourself.
In a hurry and don't have time to read the entire National Cybersecurity Strategy? No worries. We've done it for you. But unlike other articles on the new strategy, our goal is to provide you with an understanding of the role public key infrastructure (PKI) plays in carrying out some of the strategy's objectives.
Let's hash it out.
The post 5 Key PKI Takeaways From the U.S.'s National Cybersecurity Strategy (2023) appeared first on Hashed Out by The SSL Store™.